Do U? Why College Football Needs a Strong Miami Hurricanes Team
June 7, 2012

Doug Benc/Getty Images
College Football is in a bit of a vacuum at the moment.
The vacuum is down South, and it's bringing down titles and TV money with it. At the moment, the Gods of College Football might wax lyrical about the sport being as healthy as it's ever been, but it would be a hell of a lot healthier if one of its biggest franchises wasn't one of its biggest also-rans.
You remember the University of Miami, right? They were the ones that came to your schools, beat the crap out of them, and then—even after you thought you had successfully begged them to stop—came back and beat the crap out of you again. And then, for fun, they walked off with your girlfriend, and the rest of her sorority friends.
Since 1980, the University of Miami has taken home five National Championships. Some Hurricanes fans believe that they were screwed out of No. 6 by the refs in the overtime loss to Ohio State in 2003 in the same way that they were screwed out the chance of going to a National Championship Game in South Bend in 1988.
The Miami teams over about 20 years were a winning dynasty unto itself, playing with machismo, rage and brilliance week in, week out, breaking hearts as they went. Even if you didn't like your in-state rival, you absolutely hated the University of Miami.
And you want good rivalries? People may have talked up the big-time rivalries between Notre Dame and Michigan or Oklahoma and Texas, but Miami's chippy one with the Fighting Irish and the even bigger one with Florida State—often decided in heart-stopping circumstances and the words 'wide right' or 'wide left' stand out as some of the biggest in this bygone era.
The University of Miami was willing to play any school, any time—something that today, simply doesn't happy anywhere in the country. Now, big-time schools will avoid other big-time schools unless absolutely necessary, which is why Pete Carroll's time at USC has to be given the thumbs-up because he wasn't willing not to play a home-and-home against Ohio State when it could very well have cost him a shot at the National Championship (in the end, other factors such as Stanford did).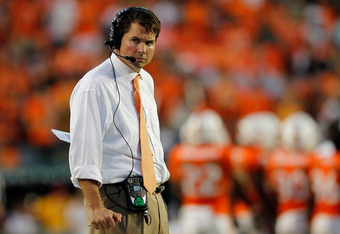 Mike Ehrmann/Getty Images
But let's go back to the U. Since the end of the Larry Coker era, 'The U' quite simply hasn't been as good as it was. Sure, there are still some good players coming through, but the pipeline to the NFL—which has spewed out everyone from Michael Irvin to current stars Ray Lewis, Ed Reed, Frank Gore, Edgerrin James, Devin Hester and Vince Wilfork—is starting to fade a bit, and suddenly Miami is looking more like a rescue project for Al Golden than something that continues to be special.
Oh, and since the Orange Bowl is deader than an executed Ibis, which means Miami has to play its games at Sun Lifeless Stadium, where the awful Dolphins ply their trade (hey, at least they won't have to run through baseball sand anymore).
Oh, and the whole benefits scandal hasn't helped matters, either.
But back on the field, Miami needs to be back for itself because the good recruits from Florida are going elsewhere. While before, Miami was on everyone's list, now the University of Miami is an also-ran, in danger of becoming the red-headed stepchild in the Sunshine State while the blondes and brunettes of Florida and Florida State whip away all the in-state talent.
Miami needs to be back for its student base. Kids were going to school at Miami for the chance of seeing one of the best college football teams play week in, week out (if they could get to an away trip), and now it seems that the Miami season ticket is something given to pledges as part of their fraternity and sorority hazing schedules as a rite of passage.
Plus, there's nothing like being on campus when the school is inspired about its football team. Sooner or later, kids will go where the good football is, and that will mean less money for the University overall to spend on important stuff such as books, scholarships and buildings.
Miami needs to be back for the critics. Miami has lost four out of its last five bowl games (its only victory was a squeaker against mighty Nevada), it hasn't won an ACC title since it joined the conference in 2004, and hasn't been something to talk about since around 2005.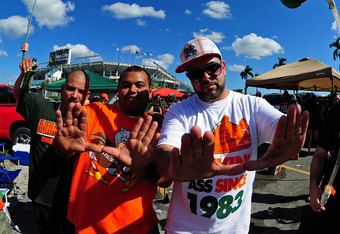 Scott Cunningham/Getty Images
OK, but why does College Football need Miami to be back?
First of all, a good Miami means that the ACC gets more competitive. It won't simply be about Virginia Tech and one of Clemson, Georgia Tech—and now—Florida State. A more competitive ACC means that the media won't drone on incessantly about the wonders of the SEC, and the ACC will suddenly have a voice in not only realignment, but also playoffs.
College Football is desperate to keep the ACC together (if it falls apart, there is a worry about four conferences that eventually will destroy the sport's roots—something that no-one wants), and a good Miami will do that.
Secondly, a good Miami will mean more national interest in the game, and will mean more money from the networks in the long run. And when the playoffs happen, a good Miami will be bigger in the TV scheme of things than the likes of Arkansas being there. (Sorry, John L. Smith!)
Thirdly, college football needs Miami back because it gives a big-time program a really good comeback story after years of living in the gutter. After all, the American public love their comeback stories.