5 Players Who Must Turn Things Around for the Dodgers to Maintain Success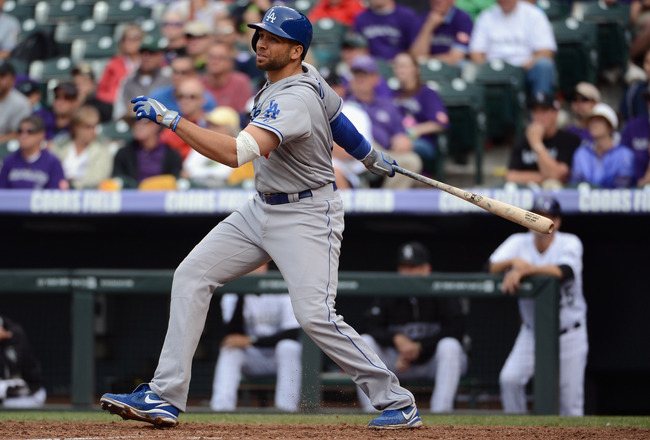 Doug Pensinger/Getty Images
57 games into the 2012 MLB regular season and the Los Angeles Dodgers remain atop the Major Leagues with a record of 36-21. Most impressive of all is the fact that they've done this with NL MVP candidate Matt Kemp, who has spent two separate stints on the Disabled List.
So how is this happening? How is a team thriving with their best every day player sitting on the sidelines? Never underestimate the power of a team's will to win.
As the season progresses and the following 105 games are played, the Dodgers will have all eyes on their surprise success. With the San Francisco Giants likely to turn things around and the Arizona Diamondbacks a notoriously strong second-half team, the attention may be most difficult to handle in their own division.
How will the Dodgers react? More importantly, how will the Dodgers who have been struggling rebound from their weak performances? In order for the Dodgers to maintain this level of success, those players must turn it around.
5. Jamey Wright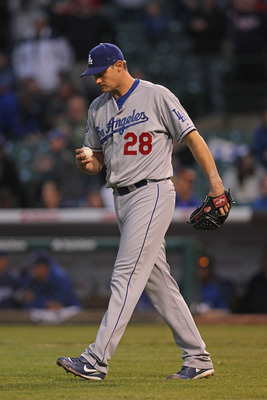 Jonathan Daniel/Getty Images
Position: Relief Pitcher
Age: 37
Height & Weight: 6'6"—230 pounds
16-year veteran Jamey Wright has appeared in 19 games this season, walking away with a 2-2 record and 26 strikeouts. While that appears to be encouraging, Wright has also posted a team-worst 5.01 ERA with a 1.50 WHIP. His latest outing may be the most telling of all.
In 1.2 innings of work, Wright threw 39 pitches and faced 12 batters. The 6'6" righty ended up allowing six hits, walking one and allowing four runs, including three earned. This took the game from a manageable 4-2 deficit to an insurmountable 8-2 lead in favor of the division rival Colorado Rockies.
Since his rocky June 1st appearance, Wright hasn't seen the mound. In all likelihood, Javy Guerra, Matt Guerrier and Ted Lilly will take his roster spot upon their respective returns from injury. Until that transpires or does not, however, Wright must turn it around.
He is too valuable a player in an important role for his numbers to be so dismal.
Season Statistics: 19 GP—2-2—1 HLD—5.01 ERA—1.50 WHIP
4. Chris Capuano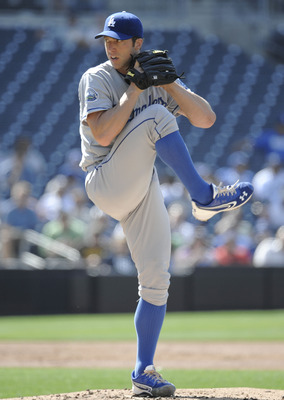 Denis Poroy/Getty Images
Position: Starting Pitcher
Age: 33
Height & Weight: 6'3"—221 pounds
Reacting too soon? That's certainly a possibility. Basing expectations of the future off of performances of the past? That's exactly what's happening.
Chris Capuano has posted an ERA lower than 4.00 just twice in his seven-year career; 3.95 in 2010 and 3.99 in 2005. He's also posted a favorable win-loss record just once in his career, when he went 18-12 in 2005 with that questionable Earned Run Average.
So why expect anything different in 2012?
To date, Chris Capuano has been one of the best pitchers in the majors, posting an 8-2 record with a 2.82 ERA. In three of his past five starts, however, Capuano has allowed at least four runs. Over his past two starts, he's allowed a combined 11 earned runs in just 10.1 innings of work.
If Capuano falters, the entire Dodgers' pitching rotation may fall with him. Weak links are not a possibility on the overachieving Dodgers.
Season Statistics: 12 GS—8-2—2.82 ERA—1.08 WHIP—66 SO
3. James Loney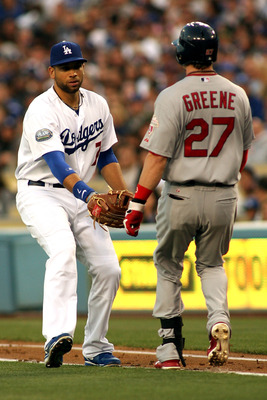 Jeff Golden/Getty Images
Position: First Baseman
Age: 28
Height & Weight: 6'3"—220 pounds
First base is a position with a need for reliability in the field and power at the plate. While Loney's been solid in the field, boasting a .995 fielding percentage, he's been far from a power producer with the bat. In fact, Loney hasn't done much of anything while swinging for contribution.
Loney has never been a power hitter. His career-best is 15 homers, which he tallied back in 2007. What he has been, however, is a consistent source of RBI, reaching at least 88 in three of his past four seasons. Loney's current pace has him set to finish the season with just 47.
With the absence of Matt Kemp and the rise of Andre Ethier, Loney must prove worthy to the trust the Dodgers have placed in his abilities. The career .288 hitter should begin the process by improving his career-low .253 batting average.
The rest will come in time.
Season Statistics: .253 BA—.365 SLG—2 HR—17 RBI—13 2B
2. Dee Gordon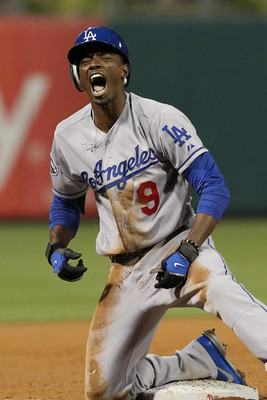 Hunter Martin/Getty Images
Position: Shortstop
Age: 24
Height & Weight: 5'11"—150 pounds
When a team places a hitter at the top of the order, they do so with expectations of consistency in reaching base safely. So far this season, leadoff hitter Dee Gordon has not offered that type of production as he's posted a batting average of .230 and on base percentage of .274.
Time for the catalyst to start setting a positive tone for the rest of the order.
What's encouraging about Gordon's disappointing season is that he has turned things around since a three-game benching in the middle of May. Gordon is hitting .291 since then, raising his overall batting average .022 points from a jaw-dropping .200.
Now it's time for Gordon to get back on the base paths and make Andre Ethier's job a little bit easier.
Season Statistics: .230 BA—.274 OBP—42 SO—23 R—14 SB
1. Chad Billingsley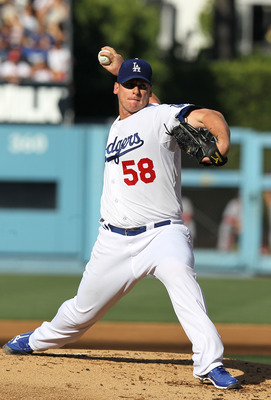 Stephen Dunn/Getty Images
Position: Pitcher
Age: 27
Height & Weight: 6'1"—240 pounds
Chad Billingsley is supposed to be the Los Angeles Dodgers' best starting right-hander. After finishing seven starts with an ERA of 3.32, it appeared that Billingsley was ready to take on the role.
According to his recent string of underwhelming appearances, he isn't.
Billingsley has posted a collective ERA of 3.85, a number that was saved by an impressive turn-around start against the Philadelphia Phillies in which Billingsley threw 7.0 innings of one-run ball. Nevertheless, Billingsley's season ERA has risen to 3.80 on the season.
This number has been coupled with a WHIP of 1.39 and two losses in four decisions.
What's important to note, however, is that Billingsley has posted a GB/FB ratio of 1.12. In other words, the Defiance, Ohio native has kept the ball on the ground and inside of the park, as evidenced by his one home run over that span. In his earlier starts, in which saw better results, he allowed six in seven starts.
So which Chad Billingsley will we see? The one who allows home runs but keeps the rest of the hits at a fieldable distance? Or the one who keeps the ball on the ground, as managers can only ask of him, yet allows strings of hits that lead to runs?
Strange situation, isn't it?
Season Statistics: 12 GS—3-4—3.80 ERA—1.41 WHIP, 63 SO
Keep Reading

Los Angeles Dodgers: Like this team?