Jorge Soler: Miami Marlins Could Be a High Bidder for Cuban Phenom
June 7, 2012

The Miami Marlins are fresh off restocking their farm system by drafting southpaw Andrew Heaney (Oklahoma State, first round), infielder Avery Romero (Pedro Menendez HS, third round) and outfielder Kolby Copeland (Parkway HS, third round), among several others. 
But they aren't finished.
Bruce Levine of ESPNChicago.com is reporting that the Marlins are among a group of teams (including the New York Yankees, Chicago Cubs and Chicago White Sox) expected to be serious bidders for the services of 20-year-old Cuban phenom Jorge Soler. 
Soler projects as a prototypical right fielder with a cannon arm, strong defense, exceptional speed and decent power.
From the Marlins' perspective, this represents an obvious do-over from the blunder that was Cuban sensation Yoenis Cespedes. Cespedes rejected a team offer of six years and $36 million to take a shorter deal for equal money in Oakland back in March. 
Nevertheless, the Marlins will get a second chance to land a potential star who could represent what the club had hoped Cespedes would bring to the city. He could also be a chance to save face with alienated fans after the Ozzie Guillen scandal from earlier in the season.
The bidding war will be more contentious this time around.
While the Chicago Cubs are rumored to be the front-runner for Soler (via WEEI.com), that doesn't necessarily mean they will land him—a lesson the Marlins found out the hard way with Cespedes.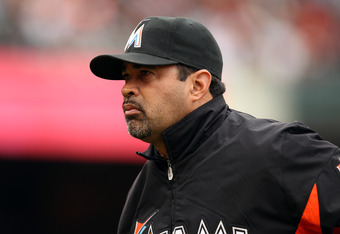 Ezra Shaw/Getty Images
The Baltimore Orioles, Boston Red Sox, Philadelphia Phillies, Texas Rangers and Toronto Blue Jays are another group of teams said to be in on Soler's talents, per Jon Heyman of CBS Sports, with other mystery clubs lurking as potential bidders.
Major league teams will have until June 7 to submit their best contract offer, and Soler in turn will have a deadline of July 1 before the new CBA restricts international signings to no more than $2.9 million.
For the time being, teams can bid with a blank check in hand. 
While the 26-year-old Cespedes got a four-year deal worth $36 million, the same will not be expected for 20-year-old Soler. 
Taking into consideration that Soler likely would have been a top pick in this year's draft, he can expect to see a contract mimicking that of a top pick under the rules of the old CBA—one that did not limit spending.
An obvious comparison would be the seven-year, $18.9 million contract Bryce Harper received from the Washington Nationals in 2010. He was the last position player selected first overall under baseball's old rules for draft signing.
Soler figures to get slightly more than that in a bidding environment, albeit a blind one. The Marlins have the home-field advantage, so to speak, but they struck out with both Aroldis Chapman and Cespedes. 
Might the third time be the charm for the Marlins? They will have to offer at least $25 million to land the five-tool-caliber player, but the investment could end up paying huge dividends.