MLB Draft Results: 10 New York Mets Draft Picks That Could Be Fast Risers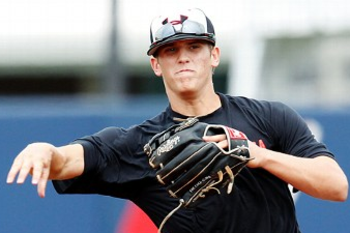 Photo Credit: Metsblog.com
The MLB draft is typically a crapshoot. No matter what the scouts say, they can never really tell when a player is going to be an All-Star or a bust.
Sometimes players get drafted and shoot up the ranks of minor league ball all the way to major league stardom. Sometimes players get drafted and never make it out of A-ball.
The New York Mets made 42 picks in the 2012 draft. Just going by probability, there has to be a handful of guys who will make it to the majors. Some of those guys will make it in a hurry, while others will scratch and claw their way to making the big league roster.
We'll clue you in on who is going to be a fast riser from the 2012 draft class in this slideshow.
1. Gavin Cecchini, SS (No. 12 Overall)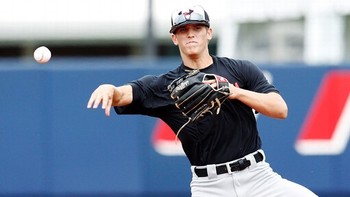 Here's hoping that that Gavin Cecchini doesn't become the next Reese Havens for the New York Mets.
Oh, you don't know who Reese Havens is? He was the shortstop taken No. 22 overall by the Mets in the first round of the 2008 MLB draft. Havens has been tearing the cover off the ball at Binghamton, hitting .158 through 30 games. Just kidding, that's absolutely gruesome.
That's not going to happen to Cecchini, though, as he is a much better prospect at the shortstop position than Havens was.
He's going to be extremely sure-handed in the field, but don't expect his arm to rival that of the Mets' former shortstop who flew south, aka "He Who Shall Not Be Named." Cecchini has a quick bat and doesn't get caught late against hard-throwing pitchers. He's just 18 years old, so he's not going to be in the major leagues anytime soon, but he should be able to move up through the ranks of the organization relatively quickly.
You're never going to see this kid hit 30 homers a year. He's going to become somewhat of a lovechild between Daniel Murphy's bat and Ruben Tejada's glove.
Above-average speed, great glove and arm and a quick bat will be what he makes his career out of.
2. Kevin Plawecki, C (No. 35 Overall)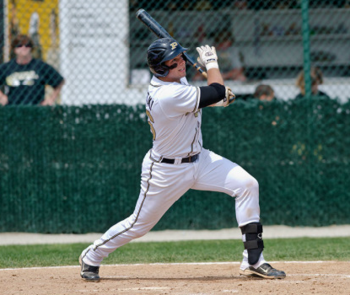 Photo credit: Metsblog.com
Kevin Plawecki is already 21 years old, and the Mets didn't draft this guy so he can rot in the minor leagues and be fully decomposed by the time he's 25 years old.
The Mets are pretty set on making Josh Thole their franchise catcher, but if that doesn't work out, we could see Plawecki shoot up through the minors in a hurry.
He's known for his offense and can mash...then mash...then mash some more. He has a short, quick swing like Thole, and he's probably going to produce the same kind of contact numbers that he does. At 6'2" and 215 pounds, he has a bit of power, but his strength is going to increase with time.
He's the inverse of Thole behind the dish. Thole can throw (a bit) but couldn't play the plate when he first came up, all the way up until last season. Plawecki has a Piazza-like arm (okay, it's not that bad), but he can call a good game and block a ball in the dirt if he needs to.
3. Matt Reynolds, 3B (No. 71 Overall)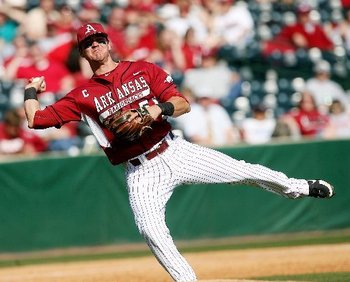 Photo Credit: dailystache.net
Matt Reynolds will be 22 by the end of the year, so the same goes for him as for Kevin Plawecki.
He's a third baseman, so we won't hear much about him getting a call-up until the David Wright era ends in New York, but there's no reason he can't be ready, willing and able to fill that role when the time comes (hopefully that's no time soon).
He can also play shortstop, which certainly doesn't hurt.
Reynolds is a line-drive hitter, a lot like Wright was when he first came up. The only difference between the two is that Reynolds doesn't have anywhere near as much power as Wright. He's a gap-to-gap guy and will use his average to stretch some singles into doubles and some doubles into singles.
Worst-case scenario is that he doesn't get any better at the dish and he becomes a career utility player for the organization. Best-case scenario, this kid becomes more adept with the bat and becomes an adequate staple on the Mets roster in a few years.
4. Matt Koch, RHP (No. 107 Overall)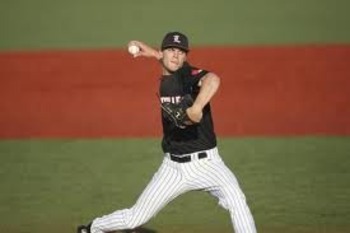 Photo Credit: provationsgroup.org
Matt Koch will be 22 years old by the time Thanksgiving rolls around, meaning that we could see him sometime in the next three years or so.
He split the closers roll at Louisville this season and still managed to get drafted at No. 107. That shows you how impressive his stuff is. What's more impressive is that he only throws two pitches, a fastball and a slider.
His fastball gets up to 94 miles per hour, not overly impressive for a closer, but it's not all about speed. His slider, which he throws for strikes, mind you, has a nice late snap to it. That's going to be deadly to right-handed hitters at the end of games.
Koch isn't a pitcher to come in and mess around like some of the guys in the Mets' very sad bullpen love to do. He goes right after hitters and has confidence in his stuff, a crucial component to a closer's success.
The two plus pitches he has, and the command he displays on both, will vault him into the upper echelons of the Mets farm system.
5. Brandon Welch, RHP (No. 170 Overall)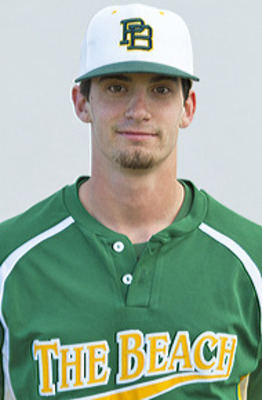 Photo Credit: palmbeachstate.edu
The main concern with Brandon Welch is his size, or lack thereof. He's just 6'1", which means the likelihood of him becoming a durable big league starter is slim to none. It's unfortunate, but it's just so hard for a player's body to deal with the everyday grind of a baseball career unless he has the frame to put up with it (with a few exceptions to the rule).
Something about Welch that's not so concerning is his mid-90s heater that he can put on the black at will. He's not afraid to go after hitters with it, and he has such raw power that some professional pitching coaching will do wonders for him.
He also has a slider that he throws for strikes. The only thing that will keep him from moving up in the system is if one of his pitches tails off and starts to lean towards the wayside. If he's able to develop a third pitch, we could see him in the majors as early as 2014 or 2015.
This was a good pick for the Mets, even if he does turn out to be just a reliever.
6. Jayce Boyd, 1B (No. 200 Overall)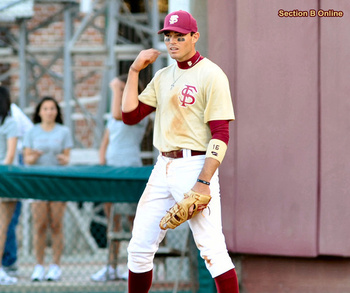 Photo Credit: warchant.zenfolio.com
Jayce Boyd will be 22 years old by the time 2012 is out, and we could see him close to the big leagues a lot sooner than you would think.
He's a right-handed-hitting first baseman, an anomaly of sorts in today's game. Boyd has quick hands, but not a quick stroke. His swing stays in the zone for a long time and he does a great job of keeping balanced at the plate.
You don't see his head move up and down too often during his swing because his stride is just the right size. It's not too short where it's nearly impossible to hit for any power, and it's not too long where he's going to get out in front and roll over the ball often.
His swing is easily repeatable, meaning that he's going to be easily coachable. If a player can repeat what he's doing every time, a coach can tell him what to fix much easier than he could if he switches it up a lot.
If Ike Davis keeps hitting the way he's hitting, we could see this kid very soon (ha...ha...ha).
7. Corey Oswalt, RHP (No. 230 Overall)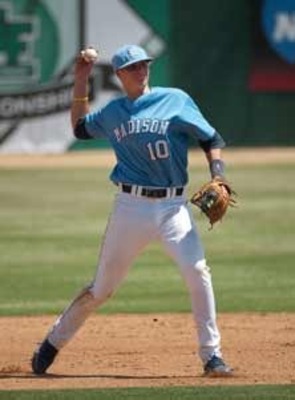 Corey Oswalt is a big dude at 6'4" and 210 pounds. That's right in the range of Justin Verlander and Stephen Strasburg. I'm not making those comparisons yet, or ever probably, but that is the perfect frame for a starting pitcher.
Oswalt has a nifty two-seamer that typically sits around 88 to 91 miles per hour. That's not overwhelming, especially for a pitcher his size, but it looks a lot faster when the pitcher is throwing down on the batter.
He has a breaking ball that is somewhere between a curveball and a slider. I'm tentative on calling it a slurve because it's more of the former than the latter. It has a nice late snap to it, and if it can be refined, it won't be long before we start hearing about his minor league success.
He was originally a shortstop up until a short time ago, so he's got a long way to go as a pitcher in terms of mechanics and overall feel for pitching. It's definitely not going to be his physical assets that limit him from becoming a successful major league talent in the future.
8. Matthew Bowman, RHP (No. 410 Overall)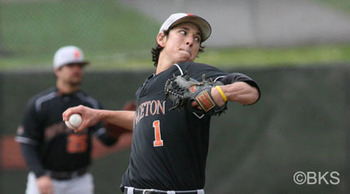 Photo Credit: blogs.princeton.edu
Matthew Bowman earned All-Ivy League Honorable Mention at the shortstop position and as a pitcher during his junior year at Princeton. While Princeton doesn't immediately make you think of baseball excellence, this kid has a pretty good chance of making a name for himself down the road.
He's going to be a pitcher at the next level, you can bank on that. He'll need to put on some weight, as he only weighs 165 pounds, and at 6'0", that's not going to hold up for an extended period of time.
Bowman has a fastball that doesn't normally get past 89 miles per hour, but he can get it up to 91 when he really rears back. One huge plus from him—well, three huge pluses—is that he throws three pitches to complement that fastball.
The Princeton alum boasts a changeup, a curveball and a slider. He's really wiry, which means that he's only going to increase his velocity once he starts to fill out in the future.
This could be looked back on as a steal if Bowman can bulk up and polish his three complementary pitches to throw them for strikes.
9. Connor Baits, RHP (No. 710 Overall)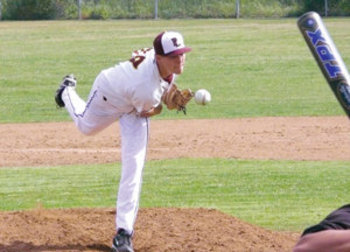 Photo Credit: sdnews.com
Talk about a power pitcher body. Connor Baits is a whopping 6'5", 210 pounds. He's only 18 years old, so he's going to fill out a lot more and will increase on his velocity that already hovers around 90 miles per hour.
His delivery is mechanically sound, which is always good for durability and working with coaches. Because of his size, coaches are going to fall in love with him early on, and if he takes the criticism that he's going to get the right way, he'll probably be in Double-A before 2014 is halfway done.
He doesn't quite have a 12-to-6 curveball; it's more of the 11-to-5 type. He knows how to throw it, though, and that's more than can be said for a lot of 18-year-old draft picks.
Baits also has a changeup. It's not a Bugs Bunny-type changeup or a Johan Santana-esque pitch, but the bottom falls out pretty quickly once it's close to the plate.
From what I've seen, he puts a lot of effort into what he does and is a good student. Those two things alone tell you that he's going to be making waves.
10. Jared Price, RHP (No. 1010 Overall)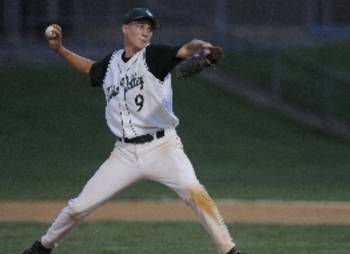 Photo Credit: readingeagle.com
Jared Price has good size at 6'3", 205 pounds, and he'll be 19 years old by the end of the year.
In his final high school season at Twin Valley High School, he usually hung around the low 90s and got it up to 93 in dire straits. He's committed to the University of Maryland, but players who get drafted don't always stick to their original guns.
He also has a curveball at hovers in the mid to upper 70s, usually from 75 to 78 miles per hour. He has a nice, mechanical delivery that gives him a lot of torque when throwing to the plate. He can pitch from the stretch, something that a lot of young pitchers can't do because they're used to dominating the competition their whole lives.
He's always around the plate with his two pitches, and his wind-up leaves him in a good fielding position after the fact.
It's hard to find a quality MLB-caliber pitcher when you hit the quadruple digits in the draft, but we'll just have to wait and see with Price.
Keep Reading

New York Mets: Like this team?