NBA Free Agency 2012: Why Miami Heat Must Opt for Big Man over Steve Nash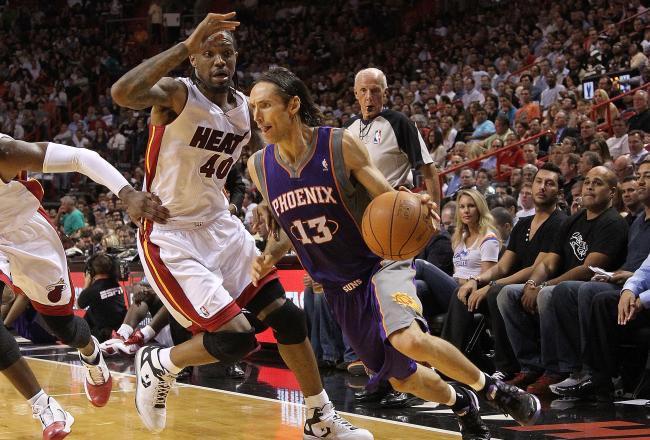 Mike Ehrmann/Getty Images
Steve Nash is a free-agent that few teams should run away from, but the Miami Heat are one of them.
With Nash openly expressing his interest in South Beach prior to the start of the NBA playoffs, it's more than easy for the Heat, and the rest of Miami, to become enthralled at the prospect of adding another All-Star to their future Hall of Famers party.
But doing so isn't a smart move. It's an impulsively intriguing course of action, but not the right avenue to pursue.
The Heat need a center. Not Chris Bosh playing out of position or Joel Anthony masquerading as an athlete with something to consistently offer, but a true, coordinated center.
It doesn't have to be Chris Kaman—though convincing him to sign at a steep discount would be a huge catch—nor does Miami have to bring in a big name via trade, they just need a competent big man.
Names like Robin Lopez, Nazr Mohammed or even Greg Oden hardly generate as much anticipation or excitement as Nash's arrival would, but they do suit the Heat better.
Miami grabbed a shade over 41.6 rebounds per game during the regular season, good for 21st in the league. For a team that boasts perhaps the league's best rebounding guard and small forward in LeBron James and Dwyane Wade, that's absurd. And not in a good way.
But it goes beyond rebounds as well. What made the Heat so incredibly vulnerable against the Indiana Pacers? And what has Miami on the brink of elimination against the Boston Celtics Thursday night?
Truth be told, a number of different things, but none more pressing than the absence of a fundamentally sound big man.
The Heat have no answer for guys like Kevin Garnett and Brandon Bass who can both bang in the low post and step out to hit the jumper. James can defend all five positions, but he cannot guard all five at the same time.
Sure, Miami streaked past the Pacers and all hope is not yet lost against the Celtics, but a team can only go so far without a big man to anchor in the defense. The Heat may come as close as any adequate center-less team has to winning a title, but they won't get over that championship hump without one, league MVP and all.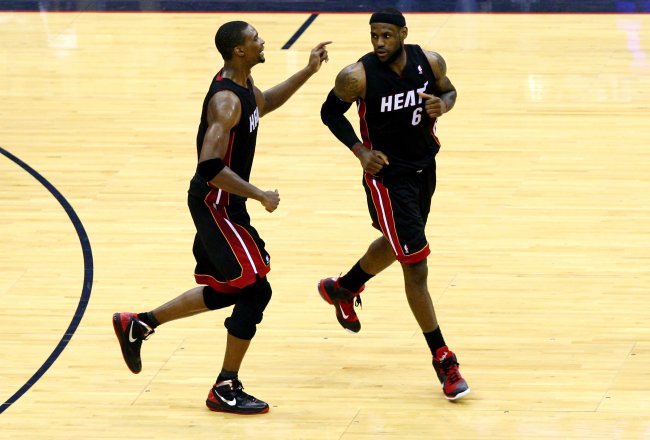 It's unnecessary and counterproductive for the Heat to expect Chris Bosh and LeBron James to handle the responsibilities of a center.
Chris Chambers/Getty Images
Signing Nash, another player who needs the ball in his hands to be successful, would seem to create more problems than it solves.
While both James and Wade are more effective off the ball than most gave them credit for prior to this season, they're at their best with the ball in their hands, isolating their opponent and driving toward the basket, creating opportunities for both themselves and their teammates
The addition of Nash not only hinders the Heat's ability to embrace isolation and the Big Two's playmaking craft, but it takes minutes away from one of their better rebounders and all-round defenders in Mario Chalmers.
Was it slightly painful to read that last line? It should have been, because Miami has relied on players like Shane Battier, Chalmers, Wade and even James to handle defensive duties that they're undersized for.
Should the Heat forget about Steve Nash and focus on signing a big man this summer?
Nash's presence only increases the already heavy burden upon their shoulders in that regard, and that's in addition to putting an unnecessary strain on the Heat's already shaky offensive dynamic.
A center who spreads the floor on offense and provides a physical, low-post presence on defense, is what should be—strike that, needs to be—Miami's top priority heading into the offseason.
Not breaking up the big three, not amnestying or dealing Mike Miller and most certainly not a point guard.
Even if it is Nash.
This article is
What is the duplicate article?
Why is this article offensive?
Where is this article plagiarized from?
Why is this article poorly edited?

Miami Heat: Like this team?