8 NBA Coaches on the Rise
Marc Serota/Getty Images
Magic Johnson had Pat Riley. Isiah Thomas and the Bad Boys had Chuck Daly. Michael Jordan, Kobe Bryant and Shaquille O'Neal all had Phil Jackson.
In other words, for every great player, there is an outstanding coach to make sure the ship heads in the right direction.
As the Phil Jacksons, Pat Rileys and Jerry Sloans depart, the Gregg Popoviches age. As a result, a new class of NBA head coaches is upon us. Some are proteges of these former coaches, while others have worked hard to take their places amongst the coaching brotherhood. Regardless of how or why they got there, they're looking to make names for themselves.
Some are young, while others are simply inexperienced in a head-coaching position. No matter their differences, all of these coaches are on the rise.
8. Dwane Casey, Toronto Raptors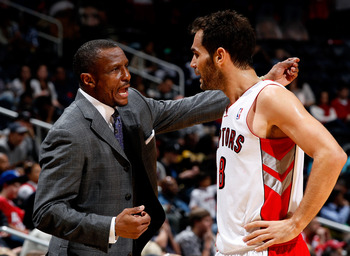 Kevin C. Cox/Getty Images
Age: 55
Head Coaching Experience: Three Years
In 2011, the Toronto Raptors ranked 26th in the NBA in allowing 105.4 points per game. In 2012, Casey's first season with the team, the Raptors ranked ninth in the NBA with just 94.0 points allowed per contest.
With the same core as before he took over.
While the Raptors' season record of 23-43 was none too encouraging, the improvements made by this young Toronto team have to instill a sense of hope for their future. They must also result in some well-deserved praise to Dwane Casey, one of the best defensive minds in the NBA.
Career Win-Loss Record: 76-112
7. Monty Williams, New Orleans Hornets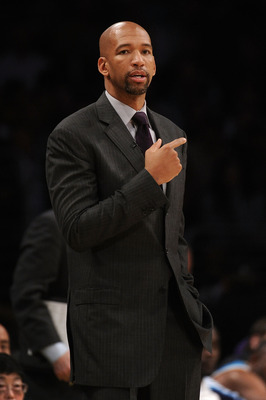 Harry How/Getty Images
Age: 40
Head Coaching Experience: Two Years
Monty Williams and the New Orleans Hornets may have had a disappointing win-loss record, but never could you question his team's enthusiasm and energy. Considering the fact that a team with a .318 winning percentage lost 26 of its 45 defeats by single digits, including three in overtime and 27 of 45 to playoff teams, it's hard to debate that fact.
It's also important to note that 10 of the Hornets' 21 victories came against playoff teams.
Rather than collapsing and entering the draft lottery on a sour note, Williams coached his team to an 8-6 record over the final month of the season. This included victories over three playoff teams, a two-point loss to the Los Angeles Lakers and a rise in production from young players Al-Farouq Aminu, Marco Belinelli and Gustavo Ayon.
Don't forget, Monty Williams is the same coach who led Chris Paul and the David West-less Hornets to a near first-round upset of the Los Angeles Lakers. Now, Williams will lead Anthony Davis and another lottery pick to a potential duplication of that success.
Career Win-Loss Record: 67-81
Postseason Record: 2-4
6. Tyrone Corbin, Utah Jazz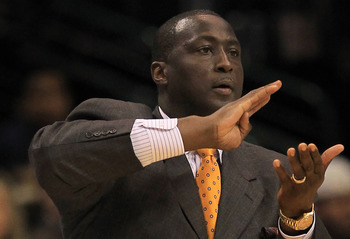 Ronald Martinez/Getty Images
Age: 49
Head Coaching Experience: Two Years (One Full Season)
Just over 11 years ago, Tyrone Corbin wrapped up a 16-year career that included 81 playoff games and two deep runs into the postseason with the Utah Jazz. In 2012, Corbin has just finished an improbable playoff run as the coach of the very Utah Jazz he once played for.
Entering the season, very few had playoff expectations for the rundown Jazz. Devin Harris hadn't impressed at all since joining the Jazz, and Deron Williams was a distant memory, leaving a stellar frontcourt and very little else to help.
That frontcourt just so happened to be enough to lead the Jazz to the postseason.
The man to thank for this is Tyrone Corbin, who coached forward Paul Millsap to a career year. Corbin also helped bring Derrick Favors on at a rapid pace towards the end of the season. This is the man for the job in Utah, as evidenced by his phenomenal coaching to date.
Career Head Coaching Record: 44-50
Postseason Record: 0-4
5. Lionel Hollins, Memphis Grizzlies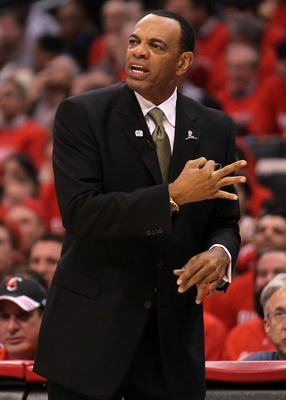 Hollins has completed just three full seasons as a head coach.
Stephen Dunn/Getty Images
Age: 58
Head Coaching Experience: Six Years (Three Full Seasons)
Lionel Hollins is a name that has been thrown around the NBA for quite some time. As a head coach, however, he has completed just three full seasons at the helm of an NBA team.
And what a job he's done.
Hollins has turned the Memphis Grizzlies around in a major way, winning the franchise's first playoff series in 2011. He's since turned the Grizzlies into a trendy pick to break out, utilizing high defensive pressure and fundamental offense.
While Hollins' crew may have come up short against the Los Angeles Clippers, he and the Memphis Grizzlies have as promising a future ahead of them as any team in the NBA. It won't be long before we see this team in the conference finals.
Career Head Coaching Record: 158-175
Postseason Record: 10-10
4. Frank Vogel, Indiana Pacers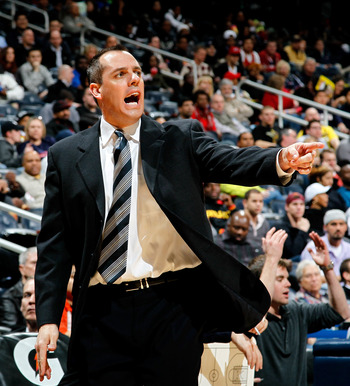 Kevin C. Cox/Getty Images
Age: 38
Head Coaching Experience: Two Years
Let me make one thing perfectly clear:
Frank Vogel has the ability to rank over any name on this list.
You simply cannot put down what the following coaches have been able to accomplish. Now for some praise.
For some strange reason, many around the NBA were shocked at how well the Indiana Pacers played the Miami Heat. Considering the Pacers finished the season third in the Eastern Conference, ahead of the Boston Celtics, Orlando Magic and Atlanta Hawks, they shouldn't have been.
Vogel's team was the single most improved team in the NBA. Their margin of improvement in terms of win percentage was greater than the Charlotte Bobcats' .106 winning percentage. Their points allowed per game went from 100.9 in 2011 to 94.4 in 2012. Their head coach went unnoticed in the Coach of the Year voting.
Time to give the man some recognition. Frank Vogel is on the rise.
Career Win-Loss Record: 62-42

Postseason Record: 7-9
3. Erik Spoelstra, Miami Heat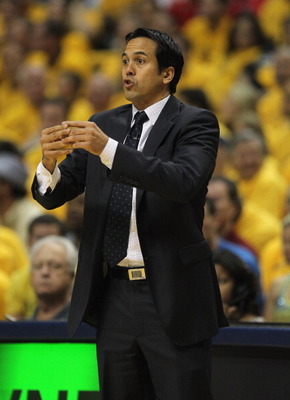 Jonathan Daniel/Getty Images
Age: 41
Head Coaching Experience: Four Years
For one reason or another, the popular belief amongst NBA fans is that Erik Spoelstra has found the postseason by merit of the talent on his team. Considering Spoelstra and Dwyane Wade made the playoffs in each of his first two seasons, thus doing so with very little talent to support them, that theory is proven to be a myth.
In each of his first two seasons, Spoelstra led the Miami Heat to an increase of regular-season wins. In 2011, Spoelstra took on the most talented core in the NBA but also the most egotistical. He was under constant fire for the Heat's early struggles, and it didn't get much better when Rick Carlisle outcoached him in the NBA Finals.
As if very many coaches league-wide could outdo Carlisle.
Nevertheless, Spoelstra has come back with a vengeance in 2012, leading the Miami Heat to their second consecutive NBA Finals appearance. How he will fare against another coach on the rise is yet to be seen.
Career Win-Loss Record: 194-118
Postseason Record: 30-21, Two NBA Finals Appearances
2. Scott Brooks, Oklahoma City Thunder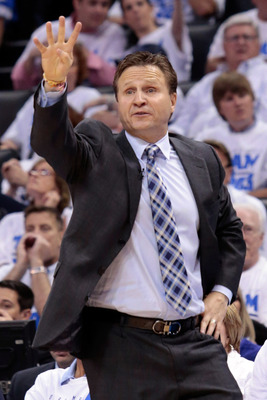 It's taken just four years for Scott Brooks to reach the NBA Finals.
Brett Deering/Getty Images
Age: 46
Coaching Experience: Four Years
In just four short years, Scott Brooks has transformed the Oklahoma City Thunder from basement dwellers into the gold standard. To think that he's done this with a bunch of 22- and 23-year-olds just takes it to another level.
In Brooks' first three years, the Thunder made two playoff appearances. Coincidentally, both of the teams that they ended up losing to went on to win the NBA championship. In Brooks' fourth year, the Thunder will repeat the feat or become the champions themselves.
Brooks' Thunder are poised to take on the mighty Miami Heat. It's a true clash in styles, as one franchise was built from the ground up via calculated risk in the draft and the other from free-agent acquisitions.
What's most interesting, however, is that Erik Spoelstra is Pat Riley's protege and Brooks is one of Bill Musselman.
If you're ready to ask who that is, you're not alone. Scott Brooks is a self-made coach, just as the Thunder are as a franchise.
Career Coaching Record: 174-125
Postseason Record: 23-15, One NBA Finals Appearance
1. Tom Thibodeau, Chicago Bulls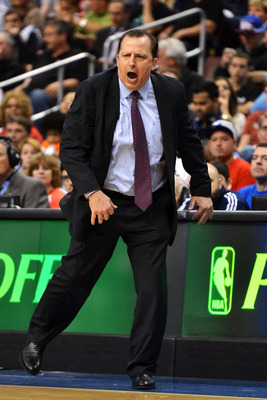 Drew Hallowell/Getty Images
Age: 54
Head Coaching Experience: Two Years
Does anything really need to be said about Tom Thibodeau, who has developed Derrick Rose at an unbelievable pace and maintained the Bulls' status as the Eastern Conference's best regular-season team even without Rose in the lineup?
Thibodeau may just be the best defensive coach in the NBA, but what's most important is his balanced use of personnel. He knows as well as any coach when a player should or should not be on the floor and makes adjustments according to the situation.
He's also one of the few with the guts to bench a star in favor of a hot hand. Which, of course, is the best move to make.
It doesn't matter what your name is if your shots aren't falling and the other guy's are.
Thibodeau may have struggled in the 2012 postseason, but what he was able to accomplish in Derrick Rose's absence is truly remarkable. Thibodeau is not only the fastest-rising coach in the NBA, but he's also already one of the game's elite.
Career Win-Loss Record: 112-36
Postseason Record: 11-11 Playoffs
Keep Reading