Introducing Bleacher Report's All-Time NFL Choke Team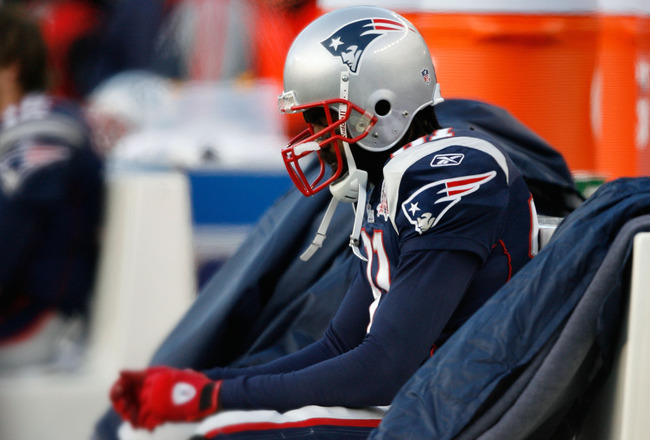 Elsa/Getty Images
You know what really gets people going? Calling one of their favorite players a choke artists.
Well fans, it's time to get ready—because we're introducing Bleacher Report's all-time choke team.
Don't get me wrong, most of the players on this list I would love to have on my favorite team, despite them being chokers and never being able to win the big game.
There are just some players who are all-time greats, but they simply couldn't handle the pressure and weren't able to produce in the game's greatest spotlights.
Here's Bleacher Report's all-time NFL choke team.
Quarterback: Dan Marino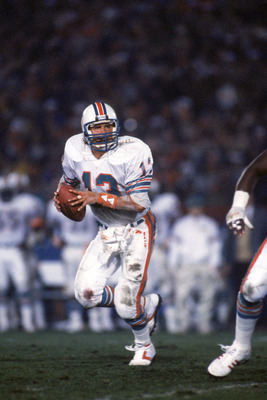 George Rose/Getty Images
It not might be all Dan Marino's fault that he never won a Super Bowl—but how can you be considered arguably the greatest quarterback to ever live but never be able to win a Super Bowl?
It doesn't take rocket science to realize that the quarterback has the greatest impact on the game—so if Marino was so great, why does Trent Dilfer have more Super Bowl rings than he does?
Because he's a choker.
In Marino's lone Super Bowl appearance, he was far from special—he was pedestrian-like. Marino completed just 29 of his 50 passes for 318 yards while tossing one touchdown and being picked off twice. Marino finished with a putrid 66.9 quarterback rating.
You might call Marino an all-time great, but he's also an all-time great choker.
Runningback: LaDainian Tomlinson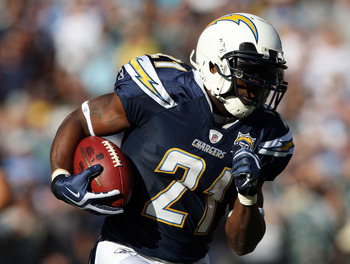 Donald Miralle/Getty Images
If it's a meaningless regular-season game, then I most certainly want LaDainian Tomlinson on my team—but if it's the playoffs, then it looks like I'm screwed.
Tomlinson could very well be the greatest running back to ever play the game, but when it comes to the playoffs, he's like Casper the friendly ghost—he's invisible.
Through seven career playoff games, L.T. averages just 3.4 yards per carry while punching in just four touchdowns.
I hate to say it, but the stats don't lie, and it certainly appears that Tomlinson can't handle the spotlight. He's a huge choke artist.
Wide Receiver: Randy Moss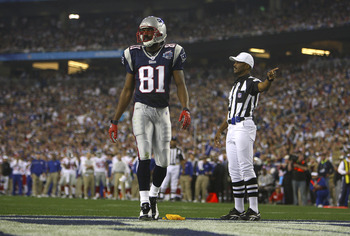 Donald Miralle/Getty Images
Throughout Randy Moss' 12 career playoff games, Moss virtually showed up for just two: 1999 with the Minnesota Vikings against the St. Louis Rams when he caught nine passes for 188 yards and two touchdowns and in 2000 with the Vikings against the New Orleans Saints when he caught two passes for 121 yards and two touchdowns.
Other than that, Moss' playoff performances have been far from what we would have expected.
Take away those 11 receptions, 309 yards and four touchdowns, Moss then just has 36 receptions for 556 yards and six touchdowns—nothing to brag about.
In Moss' greatest season as a pro back in 2007 with the New England Patriots when he caught an NFL-record 23 touchdowns, he failed to be an impact throughout their run to the Super Bowl. Moss caught just seven passes for 94 yards and one touchdown.
In conclusion: Moss is a choker. The pressure gets to him.
Tight End: Jackie Smith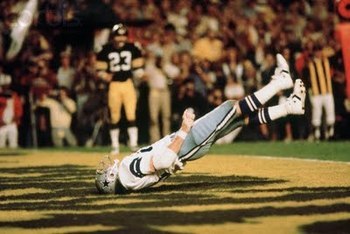 Jackie Smith is one of the greatest tight ends to ever play the game as he produced godly numbers with the St. Louis Cardinals, but in his moment to shine with the Dallas Cowboys in Super Bowl XIII, he failed to come through in the clutch. He failed.
Smith dropped a wide-open pass which was a sure touchdown which would have tied the game with the Pittsburgh Steelers at 21. However, the Cowboys went onto lose the game 35-31—which those four points could have certainly been covered by Smith's dropped touchdown.
Offensive Line: 2007 New England Patriots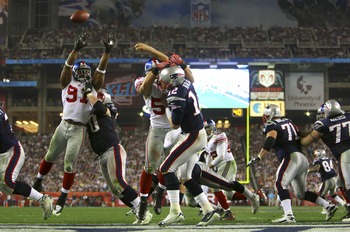 Donald Miralle/Getty Images
If you want to point any fingers as to why the undefeated New England Patriots lost against the New York Giants in Super Bowl XLII, then you have to point right at New England's offensive line. It was was dreadful.
Matt Light, Logan Mankins, Dan Koppen, Stephen Neal and Nick Kaczur really bit the big one in the biggest games of their life as they allowed a whopping five sacks while New York's defensive line simply ate them alive.
They were no match for the Giants defensive line as they completely choked.
Defensive Line: 1987 Denver Broncos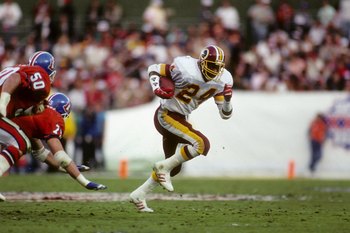 George Rose/Getty Images
The 1987 Denver Broncos entered Super Bowl XXII with one of the top defenses in the NFL as they allowed just 19.2 points per game while also allowing opposing rushers to 4.4 yards per carry—those numbers did not seem to prove much in the Super Bowl.
Denver's starting defensive line, Andre Townsend, Greg Kragen, Rulon Jones and Simon Fletcher apparently had no interest in attempting to tackle Washington Redskins running back Timmy Smith that game as he ran for a Super Bowl record 204 yards.
All in all, Washington ran for 280 rushing yards while averaging an amazing seven yards per carry. They could not be stopped.
I guess the Broncos never stood a chance.
Linebacker: Shawne Merriman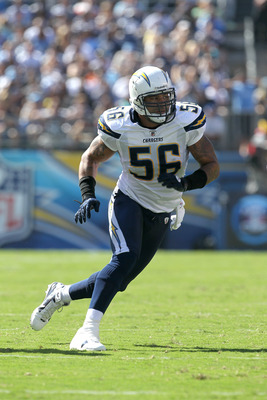 Stephen Dunn/Getty Images
We all know Shawne Merriman as a PED user, but we also know him as a huge choke artist.
Out of all the linebackers in NFL history, Merriman is the greatest choker. He simply could never back up his talk. He just failed to show up in games that meant the most.
Merriman has a career 44.5 sacks, which is pretty impressive, but in the five playoff games that he's played in, "Lights Out" has just recorded two sacks.
Now that's pathetic.
Cornerback: Eric Thomas
Many of you might not have a clue who Eric Thomas, but he was an All-Pro cornerback and reached stardom for just one season, his rookie season, and was completely embarrassed by Jerry Rice in the Super Bowl.
Thomas was drafted by the Cincinnati Bengals in 1987 and proved to be one of the NFL's better cornerbacks—but he choked miserably in Super Bowl XXIII against Jerry Rice and the San Francisco 49ers.
Thomas was responsible for covering Rice—and that did not go so well. Rice recorded an incredible 11 receptions for 215 yards and one touchdown.
Thomas just didn't show up to the game. Rice ran wild.
Strong Safety: Dennis Smith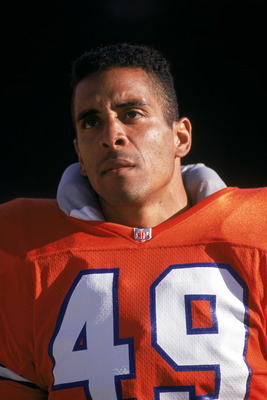 George Rose/Getty Images
Similar to Dan Marino, Dennis Smith was one of the best strong safeties in the NFL when he played from 1981 until 1994 with the Denver Broncos, but he never was able to win a Super Bowl.
Smith played in six Pro Bowls though, but simply doesn't have a ring—which is all that matters.
Smith certainly did have his chance to win a few rings, as he played in Super Bowl XXI, XXII and XXIV, but the Broncos lost all three and allowed an average of 45.33 points per-game—that's putrid.
Free Safety: Ed Reed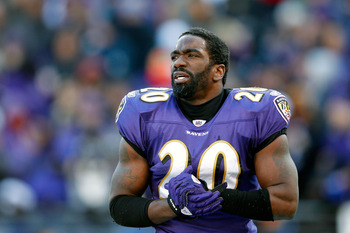 Rob Carr/Getty Images
Ed Reed certainly can talk the talk, but when it comes playoff time, he can't walk the walk. But to be more specific, when Reed and the Baltimore Ravens advance out of the first game of the playoffs, Reed ultimately disappears.
All but one of Reed's eight career playoff interceptions have come in the early rounds—so when the stakes get higher, Reed chokes.
Reed is an eight-time All-Pro safety, he's been named Defensive Player of the Year once and is considered one of the greatest safeties to ever play the game—but he has no rings to show for it.
Ed Reed is nothing short of a choker.
Special Teams: Scott Norwood
George Rose/Getty Images
Scott Norwood is on this list for a few reasons:
For special teams, it's kind of hard to label a punter as a choker, so I had to go with just one player, and that's a kicker.
Norwood's infamous "wide right."
Norwood was just a few inches away from winning Super Bowl XXV, but he was just "wide right" with his 47-yard field goal attempt.
Keep Reading