I can't write about the NBA playoffs tonight, as good as they've been. I'm drawn to the story that ranks as the most horrific I've ever seen in sports. Jury selection is underway in the child sex-abuse trial of former Penn State assistant football coach Jerry Sandusky.
It seems like such a long time ago that this story dominated for far more than just a 24-hour news cycle. It was the nightmarish result of a team being idolized. Worshipped. Kids trusting an adult who was someone held in such high esteem in State College, PA because he was a Penn State football coach. So many adults letting those kids down by not doing more to stop an alleged horror.
I went to State College a couple of months ago for the first time. The scene as you drive in is surreal given what's gone on. As you drive in, the thing you see sitting high above the rest of the town is Beaver Stadium, home to the Penn State Nittany Lions. A symbol of the importance "Happy Valley" puts on their team.
An unhealthy importance.
Day one saw many of the jurors selected with ties to Penn State. One woman said her husband worked with the father of former Penn State assistant coach Mike McQuery who said he saw Sandusky in the shower inappropriately with a young boy. Her family has had Penn State football season tickets since the 1970s.
A man who earned both his Bachelor's and Master's degrees from Penn State.
A Penn State junior who works in the athletic office and whose cousin played football for the Nittany Lions.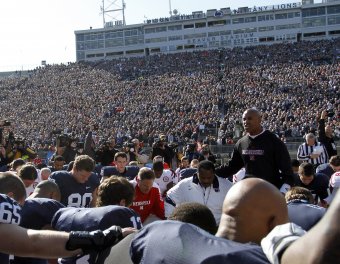 Justin K. Aller/Getty Images
A retired Penn State professor.
A woman who works in the Penn State engineering department.
A woman who has been a dance instructor at Penn State.
A woman who has been a professor at Penn State for 24 years.
A woman who heard Jerry Sandusky speak at her Penn State graduation.
A man who graduated from Penn State.
This is out of 12 jurors and four alternates.
I'm not a legal expert. I know some would say that the ties to the university don't necessarily help Sandusky. I don't know. The whole situation seems twilight zone like to me.
Follow me on Twitter@sprtsramblngman