2012 NBA Mock Draft: Highlighting Defensive-Stoppers and Offensive Stars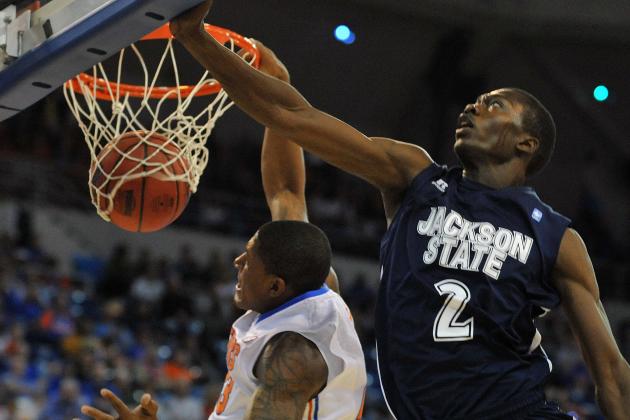 Al Messerschmidt/Getty Images

Several players in the NBA draft, from Bradley Beal to Festus Ezeli, will be sought by teams that are interested in their prowess on a particular end of the court. Beal is an intriguing prospect because of his all-around shooting ability. Ezeli sparks interest because of his shot-blocking ability.
Lottery teams that struggle to score, like the Cleveland Cavaliers and the Washington Wizards, could be hoping for a shot at getting Beal to revamp their offense. Teams drafting in the late first round that need help defensively could be interested in taking Ezeli.
Following is a mock draft that highlights players like Beal who are fantastic scorers and some who are showstoppers on defense.
Begin Slideshow

»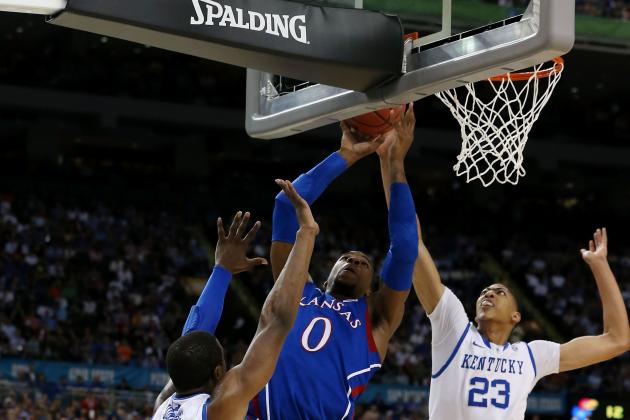 Jeff Gross/Getty Images

Picking which aspect of Anthony Davis' game is most remarkable is difficult—that is, until one realizes that he swatted a shot once every six minutes and 54 seconds.
That's right. Davis averaged 5.8 blocks per 40 minutes and 4.7 per game.
He has a 7'4" wingspan and incredibly long arms that allow him to put his hands up and contest almost any shot, even if he's a couple feet off his man.
Those long arms also allow him to pull down numerous rebounds; of his 10.4 rebounds per game, 7.4 were on the defensive end.
Davis is quick enough to make sure his man can't get around him. He's also a disciplined player, averaging two fouls per game.
The Hornets could certainly use Davis' defense as well as his offense in order to rebuild. Their No. 8 ranking in scoring defense (93.4 points per game) belies their inability to stop teams, which allowed teams to put them away well before reaching 100 points. What's more significant is their slippery No. 15 ranking in points allowed per 100 possessions (105.1).
To ensure that teams don't run away from them, the Hornets will need to pick up Davis.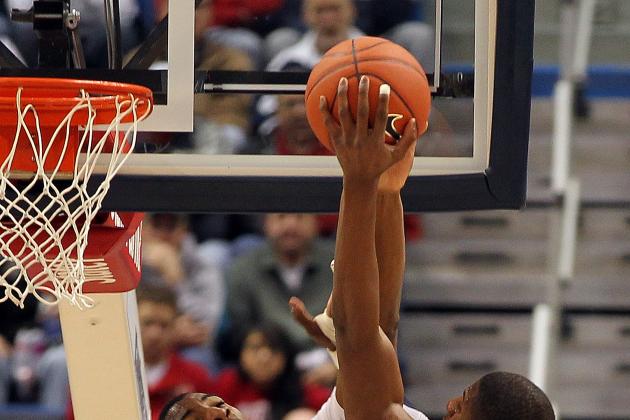 Jim Rogash/Getty Images

Andre Drummond can do a bit of damage hitting inside shots, but his specialty is on the defensive side. He is a prolific shot-blocker who averaged 2.7 blocks per game and 3.8 per 40 minutes.
It isn't that he's huge (he's 6'10"), but Drummond is long, with a wingspan similar to that of Anthony Davis.
And, as his DraftExpress.com profile points out, he shows good quickness on defense and can recover quickly from picks. He does well defending guards as well as big men.
Drummond also can get after loose balls, which not every big man can do.
All of his defensive tools will be appreciated by the Charlotte Bobcats, which were 27th in points allowed per game (100.9) and dead-last in points allowed per 100 possessions (110.4). They'll desperately need him star on the defensive side in the NBA.
Chris Graythen/Getty Images

Thomas Robinson has his fair share of tools to use on both ends of the floor. He has a nice stroke, hitting 50.5 percent from the field in his last season at Kansas, and he has the type of quickness and big frame that make him tough to defend.
Robinson's defense is quite impressive as well. He pulled down nine rebounds per game on the defensive end, and that production can stand on its own. He also averaged 1.1 steals per game, which is impressive for a power forward.
Robinson's remarkable lateral quickness on defense also makes him a scary guy to face on that end.
The Washington Wizards should be excited by all of his tools when they see them at the No. 3 pick in the draft.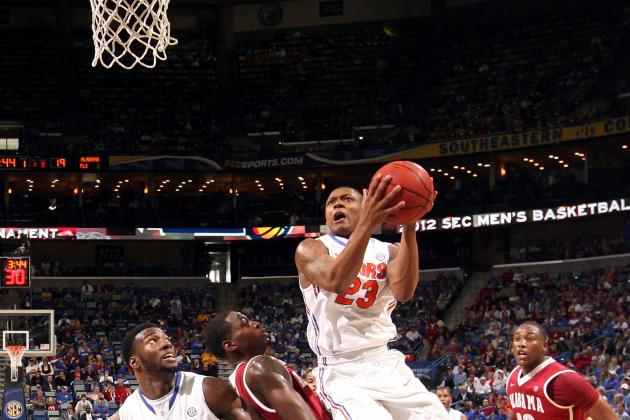 Chris Graythen/Getty Images

The Cleveland Cavaliers are thirsting for fresh offense, especially since Antawn Jamison is unlikely to re-sign with the Cavs, according to Tom Withers of the Associate Press.
So, as the Cavs look to quench that thirst, the man they desire is Bradley Beal.
Beal is an unquestioned talent. He's a terrific shooter who can shoot from various spots on the floor. He shot nicely in his year at Florida, hitting 44.7 percent from the field.
The gulf between his two-point and three-point shooting was wide, though; he shot 54.1 percent from inside the arc and 33.9 percent from beyond the arc. However, Beal's three-point shooting is thought to be better than he showed at Florida.
Beal's also a good decision-maker, so the speed of the NBA game shouldn't faze him.
Getting Beal would take a good amount of pressure off Kyrie Irving, and it'd boost Cleveland's ability to compete late in games.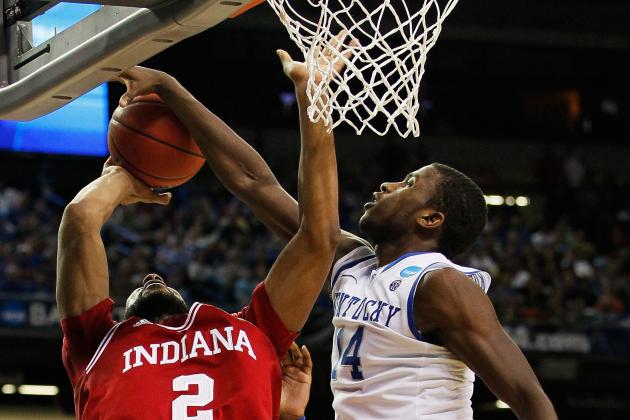 Kevin C. Cox/Getty Images

Michael Kidd-Gilchrist sticks out on defense. He's long, quick and aware, and he's a terrific rebounder for a small forward, averaging a solid 4.9 per 40 minutes.
A smart player, he doesn't get fooled on defense. Kidd-Gilchrist plays hard and can defend almost any position.
The Kings would be very happy to take MKG considering their struggles on defense this season. They were last in scoring defense (104.4 points allowed per game) and 29th in points allowed per 100 possessions (109.8). Adding him would significantly help shape things up on that end.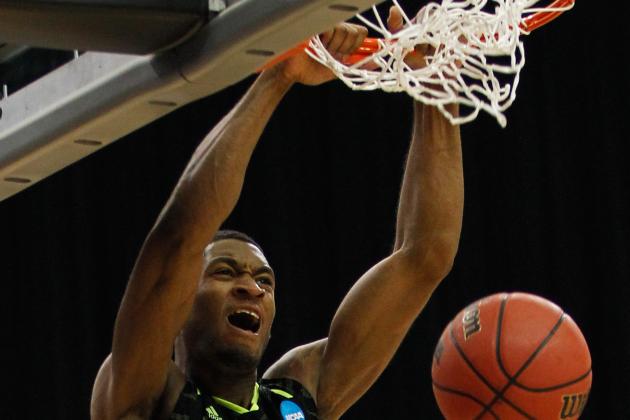 Streeter Lecka/Getty Images

If Perry Jones shows how much he can make his talent come through, he'll jump up the boards a bit.
Jones' offensive ability is something to behold. He's big, strong and athletic, and he can shoot well; his ability to break it down in the post is scary.
Portland Trail Blazers fans must wonder what the Baylor product can do for their favorite team.
But before believing Jones to be an offensive star, they'll have to ponder whether or not he'll put in the effort to make himself a star. Still, he just might be able to impress people enough to jump up the board a couple spots.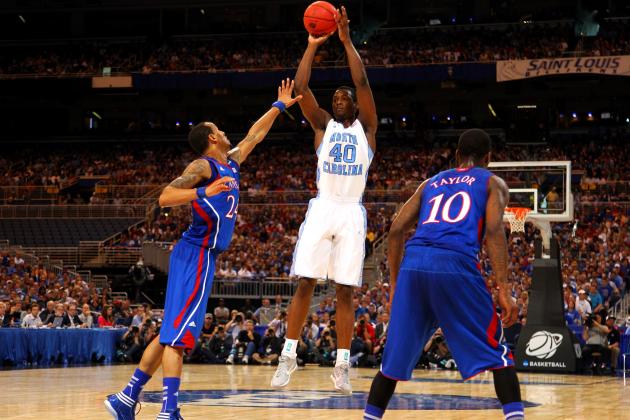 Dilip Vishwanat/Getty Images

With Monta Ellis gone, the Golden State Warriors are lacking in scoring.
Taking that into consideration, the Warriors have no choice but to draft Harrison Barnes at No. 7.
Barnes is a remarkable offensive player. He's great at creating for himself, driving to the hole and going one-on-one. Barnes also has great moves to break down defenders.
His scoring ability is unquestioned, as he averaged 23.3 points per 40 minutes in his final season at North Carolina. As his DraftExpress.com profile notes, Barnes isn't the type who should become a go-to scorer right away. However, he could certainly grow into that role.
The Warriors should be deeply interested in Barnes. They can't survive while leaning on David Lee and Stephen Curry for scoring.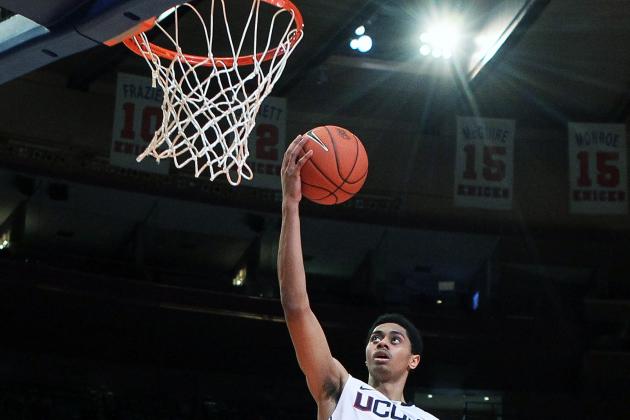 Jim McIsaac/Getty Images

Jeremy Lamb might become a dynamic scorer in the NBA. The Toronto Raptors would hope so, as they were 23rd in field-goal percentage (44 percent), 28th in scoring (90.7 points per game) and 29th in points per 100 possessions (100.8).
Lamb is a terrific shooter, hitting 47.8 percent from the field, and his rate would have been better if his shot selection had been better. He tended to force shots up when the Connecticut offense was struggling.
That tendency could live on in Toronto with the inefficiency of its offense. If Lamb doesn't manage to fete out his bad offensive habits, he might not reach his potential.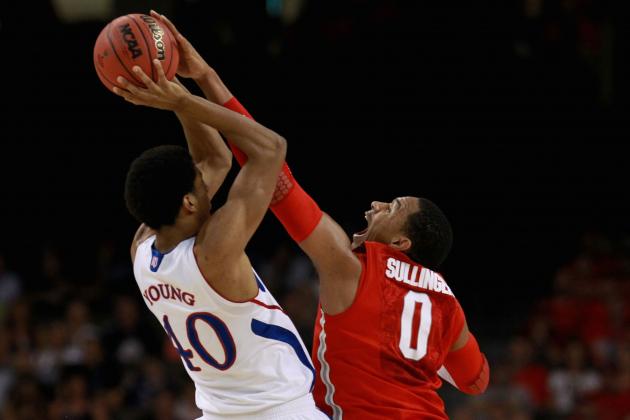 Jeff Gross/Getty Images

Jared Sullinger has the package, even if he is a bit short for a center at 6'9". He's fairly long, with a 7'1" wingspan, and he has a terrific physique on his wide, 280-pound frame.
That helps Sullinger out on both ends. His great frame gives him an opportunity to duplicate his 17.5 points and 9.2 rebounds per game from last season in his NBA career. His moves and positioning are terrific, and they also could offset his somewhat short height for the position.
The Detroit Pistons would be proud having Sullinger up front playing next to Greg Monroe.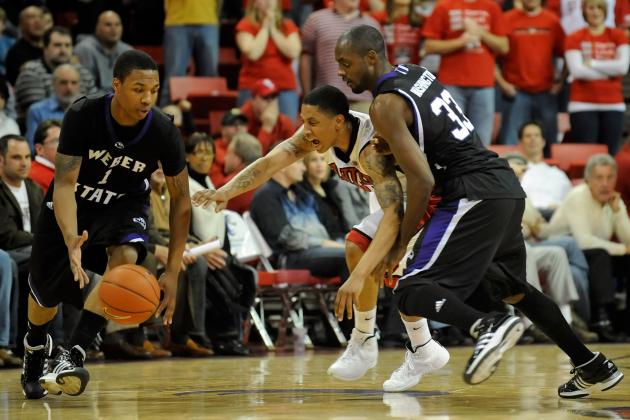 Ethan Miller/Getty Images

Some might dismiss Damian Lillard's 24.5 points per game as a product of playing in the Big Sky Conference for Weber State.
However, there's no mistaking how dynamic that number is.
Lillard is a spectacular shooter. He hit 46.5 percent from the field, including 40.9 percent from three-point range.
Lillard's offensive skills are tantamount; he's explosive while running with the ball, and he breaks the lane with tremendous skill. He also doesn't turn the ball over much at all, just once every 10 possessions.
Granted, Lillard's passing comes into question when one considers the fact that he only averaged four assists per game last season. Still, he does have very good passing skills.
Lillard's efficiency, shooting ability and passing skills make him an outstanding point guard prospect. With their need for a dynamic point guard, the Hornets have little reason not to take him.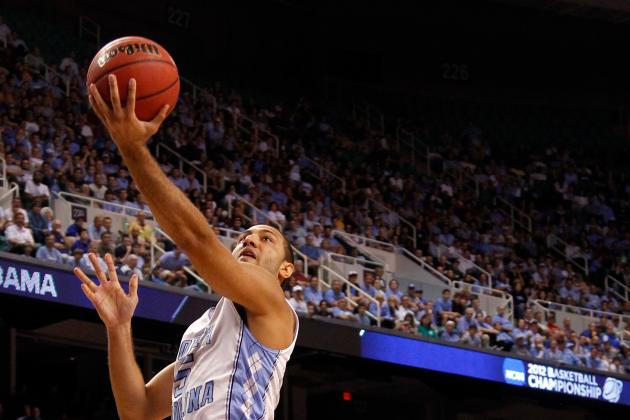 Mike Ehrmann/Getty Images

Kendall Marshall isn't quite as dynamic as Damian Lillard since he doesn't score as much as Lillard, but he certainly is headed to becoming a star point guard.
Marshall has remarkable passing skills. His DraftExpress.com profile describes him as a great manager of the game who sees the court well, finds open players and makes plays for others in transition.
Marshall's numbers are amazing. He put up 10.7 assists per 40 minutes and had a 3.51 assist-to-turnover ratio.
The Trail Blazers have been at a loss at point guard since Brandon Roy's knees caused his career to fade away. Grabbing Marshall would turn things around right away at that position.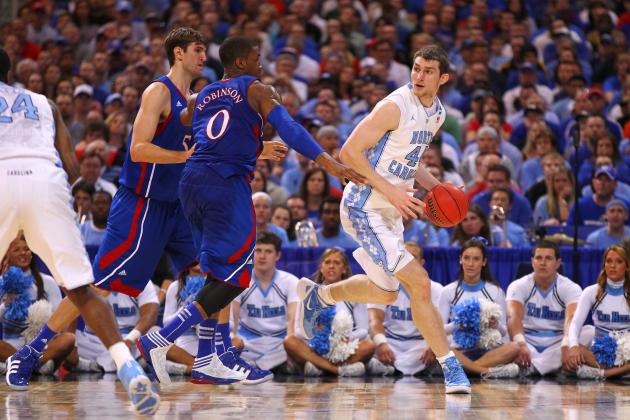 Dilip Vishwanat/Getty Images

Tyler Zeller is just what the Milwaukee Bucks need to replace Andrew Bogut, as his impact is felt on both ends of the floor. He averaged 16.3 points per game while hitting 55.3 percent from the field. Zeller is also a solid free-throw shooter, hitting 80.8 percent from the line.
On defense, he's certainly a difference-maker. Zeller averaged 5.8 defensive rebounds, 1.5 blocks and 0.9 steals in just 28.2 minutes per game.
Zeller makes up for not having a physically imposing body by playing smart and with awareness.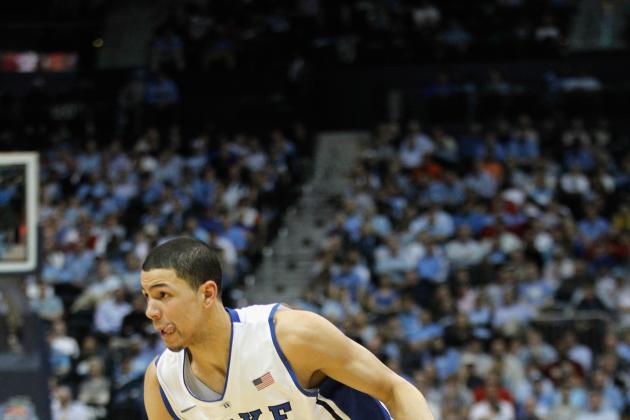 Streeter Lecka/Getty Images

Austin Rivers has remarkable skills on offense. He can create for himself, driving to the basket and working in isolation.
Rivers was stifled while at Duke, being encouraged to take more three-pointers than what is good for him. He also was deterred from taking shots when he wanted to.
That won't be the case in the NBA. If he goes to the Phoenix Suns, Rivers will have full license to run rampant on offense, where he'll be able to flex his excellent dribbling and shooting skills.
Defenders will have to be very careful defending his drives.
Rivers is easily one of the most spectacular offensive stars-to-be in this draft.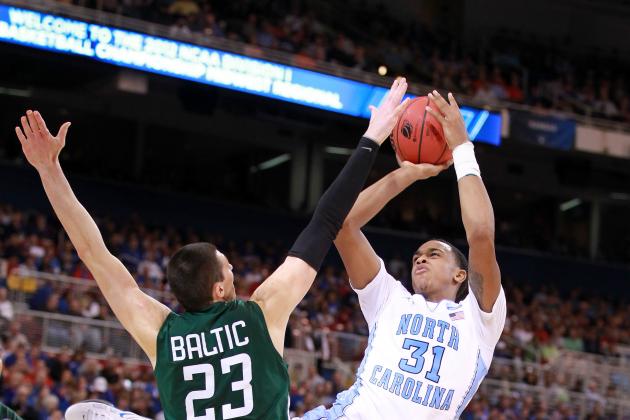 Andy Lyons/Getty Images

The Houston Rockets would be able to count on John Henson to produce a fair amount offensively. He finishes well inside, and he shoots well.
However, the Rockets would be able to bank on Henson's great defensive prowess. He had 2.9 blocks per game and 3.6 blocks per 40 minutes. His DraftExpress.com profile notes that his length keeps players from shooting over him and allows him to trap opposing ball-handlers.
Henson would be a great contributor for the Rockets on both ends, but his mark will be made more noticeably on the defensive end.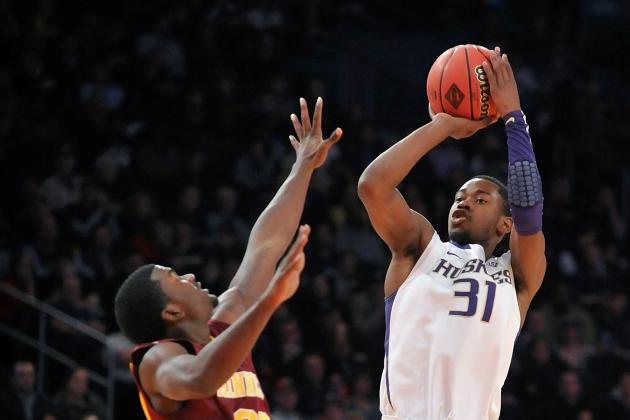 Jason Szenes/Getty Images

Terrence Ross might be able to become a solid offensive player in the NBA and one who could make a difference for the Philadelphia 76ers. Ross shot a nice 45.7 percent from the field and hit a decent 37.1 percent from beyond the arc. His 16.4 points per game in his last season seems impressive.
However, Ross isn't much more than a perimeter shooter. His DraftExpress.com profile describes him as "largely limited" in driving to the basket due to his skittish ball-handling and pedestrian basketball IQ.
He's limited at perimeter shooting, too. He can't shoot off the dribble.
If Ross can refine his game, then he might turn some heads. But he will have a great deal of work to do to get somewhere as a scorer.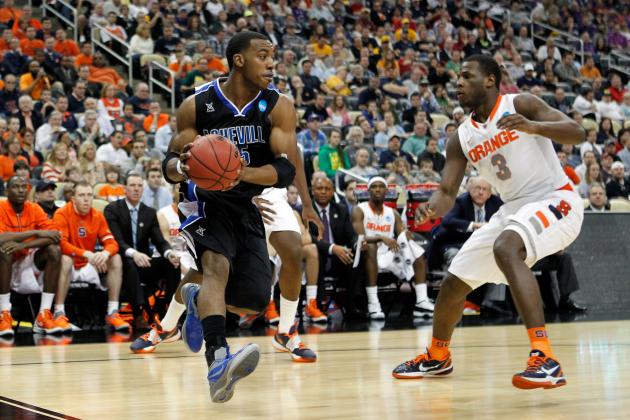 Gregory Shamus/Getty Images

While the Rockets will get a strong defensive player in John Henson at No. 14, they'll get a guy who's more of a defensive specialist in Dion Waiters.
Waiters is a true, shutdown defender, who averaged 1.8 steals in just 20.9 minutes per game. According to Sports Illustrated, Waiters created a turnover in 38 percent of the possessions in which he was directly engaged through Feb. 7.
With those numbers, ball-handlers will have to be very careful dribbling and passing near him.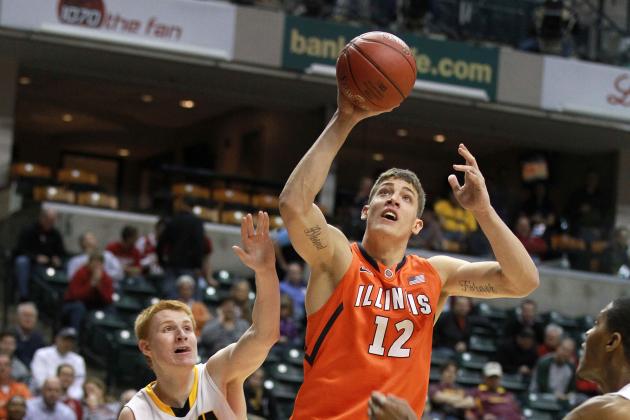 Andy Lyons/Getty Images

Meyers Leonard can do a fair amount on both ends. He did well shooting the ball during his last year at Illinois, hitting 58.4 percent from the field while averaging 13.8 points per game.
Leonard was a little more productive on defense, averaging 5.9 of his 8.2 rebounds per game on defense and picking up 1.9 blocks per game.
Leonard hangs with a number of big men, although he isn't tough enough to be a true defensive-stopper.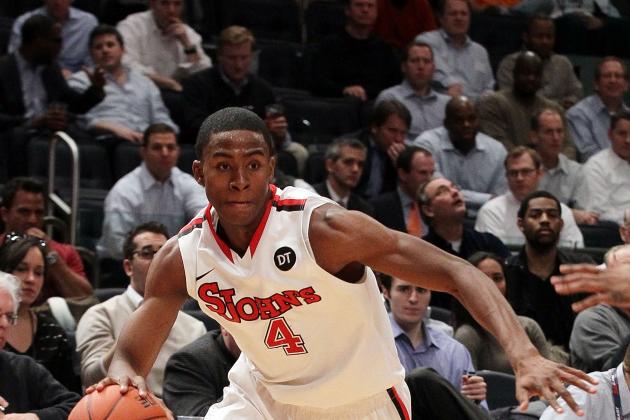 Jim McIsaac/Getty Images

A poor shooting team with a 43.3 field-goal percentage this season (27th in the NBA), the Timberwolves could use Moe Harkless' scoring. Harkless shot quite well in his last season at St. John's, hitting 45 percent from the field.
However, he has a long way to go to be a dynamic scorer. His DraftExpress.com profile notes that he isn't that great at creating his own shots and isn't a consistent shooter.
Harkless has good ability on defense, utilizing his size and athleticism well. He averaged 1.6 steals and 1.4 blocks per game.
The problems for him on defense are that he isn't very strong, and he doesn't always stay on his toes.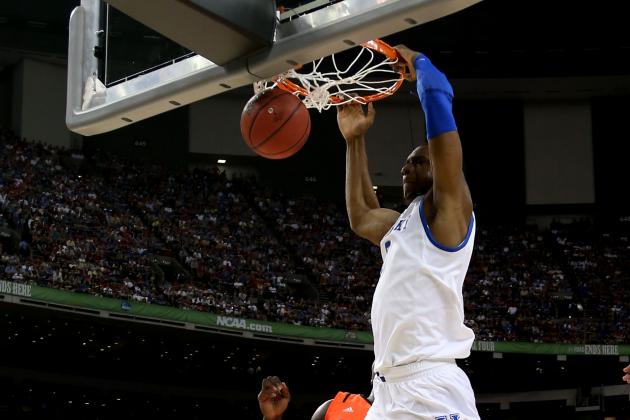 Chris Graythen/Getty Images

Terrence Jones was quite impressive offensively at Kentucky. In 2011-12, Jones shot 50 percent from the field. He was efficient enough, scoring 12.3 points per game on 9.3 field goal attempts per game.
Defensively, Jones was strong as well, averaging 1.3 steals and 1.8 blocks per game. His 7'2" wingspan definitely helped him in denying opponents. Jones can defend the perimeter and keep guys in front of him inside and out.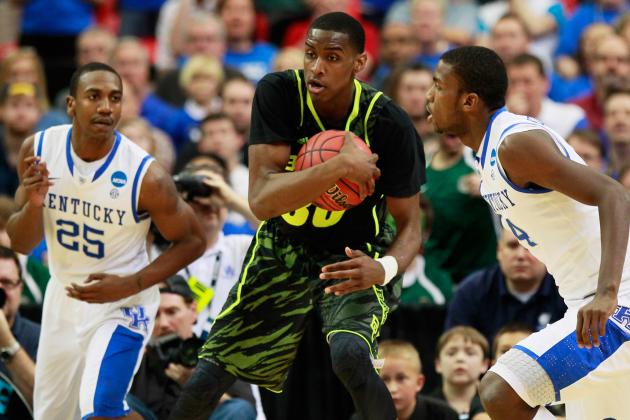 Kevin C. Cox/Getty Images

Quincy Miller's skills stand out the most on offense. He averaged 10.6 points in 24.4 minutes per game, and he showed some explosiveness and ability to break inside.
However, Miller is still recovering from his ACL tear. Maybe he'll be a strong scoring threat in the pros, but he's still a risk.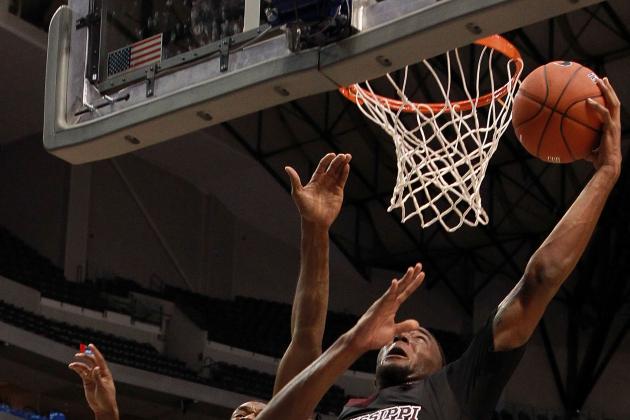 Ronald Martinez/Getty Images

Arnett Moultrie is the offensive dynamo who can help the Boston Celtics survive after Kevin Garnett leaves. Moultrie could put up numbers effectively. He averaged 16.4 points per game on 54.9 percent shooting in his final season, and he also shot 78 percent from the line.
Moultrie pulls down 3.7 offensive rebounds per game. He follows the ball well and takes good positioning.
At the outset, Evan Fournier seems like a good scorer for the future for the Celtics. He can score effectively and efficiently. He's strong and handles the ball well.
Plus, the Celtics will appreciate his solid 6'7", 206-pound frame.
Fournier does have his setbacks, though. His DraftExpress.com profile notes that he tends to rush shots. If the Celtics can get him to focus on his strengths, then he could be a solid player.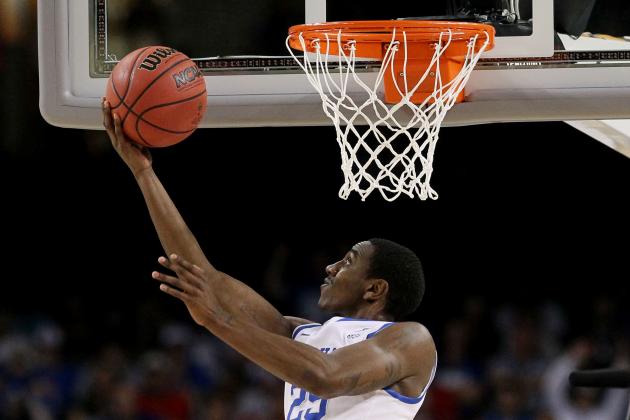 Jeff Gross/Getty Images

Marquis Teague would be a nice addition to the Atlanta Hawks backcourt, supplanting the aging Kirk Hinrich.
Teague is a capable scorer who can break to the basket and run in transition. He has good awareness and makes some good passes.
However, Teague has some drawbacks. He's inefficient, with a sub-2.0 assist-to-turnover ratio and 10 points per game on 8.8 field goal attempts per game.
The Hawks would have to hope Teague can focus more on his attempts if they take him.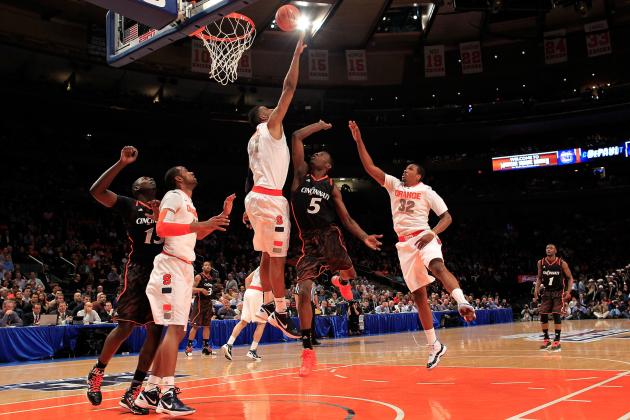 Chris Trotman/Getty Images

Fab Melo is the right guy to help the Cavaliers at center. He's big at 7'0" and 250 pounds, and he has a nice 7'3" wingspan.
Melo is a solid shot-blocker with his long arms; he had 2.9 blocks per game in 2011-12. He stays at home in the post and gets aggressive when opponents invade his ground.
The Cavaliers would like having Melo help boost their No. 29 ranking in blocks.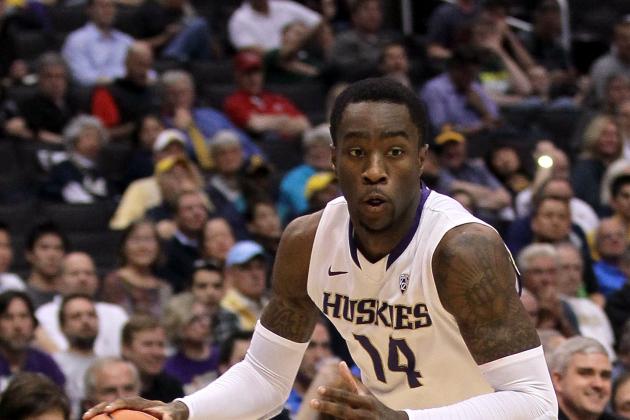 Stephen Dunn/Getty Images

Tony Wroten would add a fair amount offensively to the Grizzlies, who were 20th in scoring (95 points per game) and 19th in points per 100 possessions (104).
Wroten is an aggressive scorer, averaging 16 points on 12.8 field goal attempts per game. As his DraftExpress.com profile notes, Wroten relies on attacking the basket. He works in isolation and plays inside-out.
Wroten's issue is efficiency. He turned it over 3.8 times per game in his last season at Washington.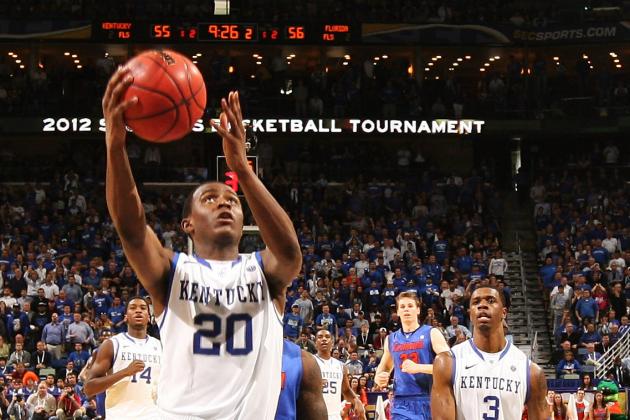 Chris Graythen/Getty Images

Doron Lamb is the type of shooter to boost an Indiana Pacers offense that was 24th in the NBA in field-goal percentage (43.8 percent).
Lamb is a solid shooter. He hit 47.4 percent from the field in 2011-12. He plays smart and knows how to drive to the hole without getting stuffed.
Another plus is his efficiency; Lamb turned it over only 1.1 times per game.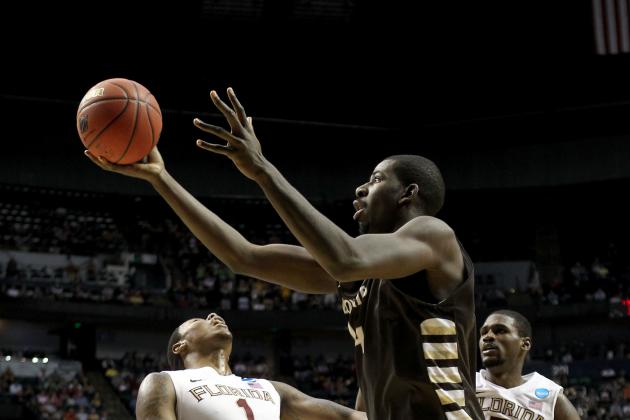 Jamie Squire/Getty Images

The debate has raged on over the past couple years regarding which end of the floor Andrew Nicholson excels more.
Granted, the debate has mostly been waged by friars with whomever is willing to engage them at St. Bonaventure and other Franciscan enclaves.
However, as a gradually growing number of people have come to see, Nicholson makes a somewhat bigger impact on offense. His tendency to foul hurts his terrific shot-blocking ability a bit.
On offense, Nicholson is scary all-around. He hit 57.1 percent from the field, including 59.3 percent on two-pointers and 43.4 percent on three-pointers. His 18.5 points per game looks spectacular.
Nicholson can hit shots from various spots on the floor and back down and throw it down.
The Miami Heat can't pass on Nicholson with their need for improvement on the inside. His scoring ability, among his numerous other gifts, would help the Heat become a more well-rounded team.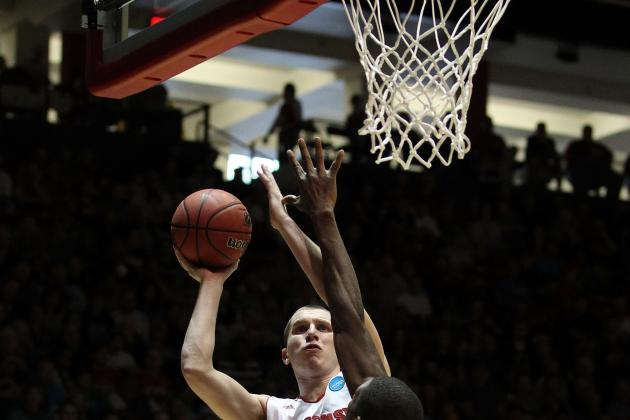 Christian Petersen/Getty Images

Festus Ezeli is an intriguing prospect for the Oklahoma City Thunder, who could provide depth in the frontcourt by drafting Ezeli.
Ezeli is a nice shot-blocker, swatting away two per game. His strength is a huge asset on defense, although the Thunder would want to see him become more physical.
His DraftExpress.com profile notes that he is great at denying entry passes and keeping opponents honest going one-on-one. Ezeli can get stronger and more aggressive, but he'd be helpful for an already strong team on the inside.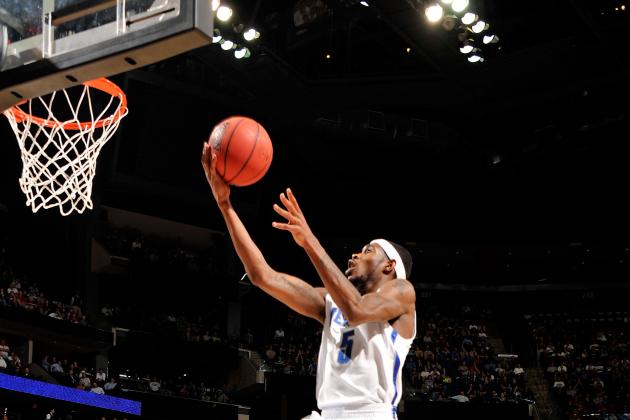 Jamie Sabau/Getty Images

Will Barton would be a great addition to make up for the losses of Luol Deng and Derrick Rose to injury. He's an amazingly efficient scorer, averaging 18 points per game on 12.9 field goal attempts per game. He shot very well, hitting 50.9 percent from the field.
As his DraftExpress.com profile notes, Barton selects shots well and knows how to find the right lanes going to the basket to aid his attacking style. His effectiveness would help the Chicago Bulls get through the thin days they could face with Deng and Rose out.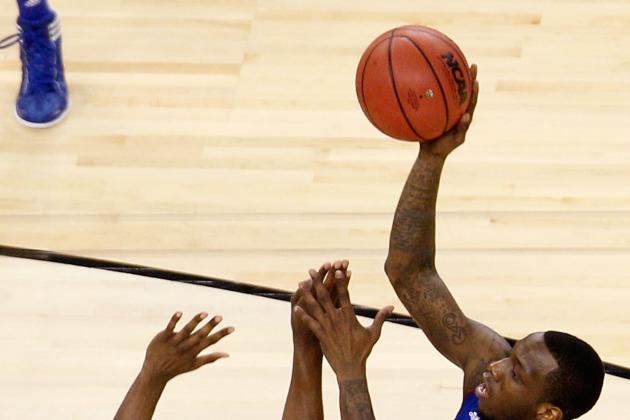 Chris Graythen/Getty Images

Darius Miller is just the guy to help spread the floor for the Warriors. He specializes in knocking down jump shots, and he's good at that, hitting field goals at a 47.4 percent clip and three-pointers at a 46.6 percent rate.
Miller is steadily improving, and the Warriors would benefit from his exciting shooting ability.