Best Defensive Arms in Major League Baseball Today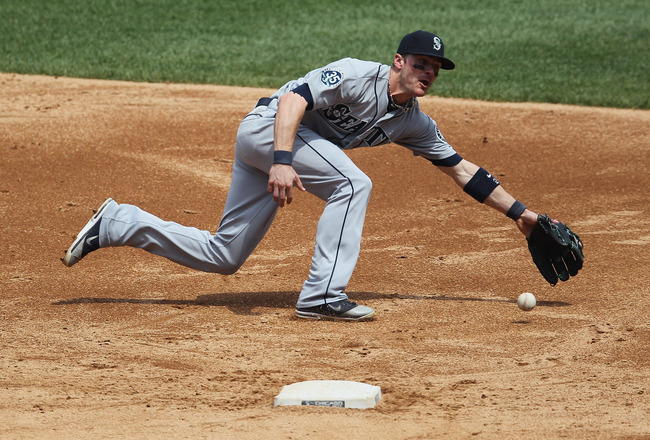 Jonathan Daniel/Getty Images
In baseball, we all know the power hitters of teams and those that can bring runs in with a simple swing of the bat. At least for some casual fans, defense and great defensive players can be overlooked.
Sure, the all-time greats like Brooks Robinson and Ozzie Smith are remembered, but those who are simply good defenders or great in the short term may be forgotten. That isn't the case with this slideshow.
Here are 10 of the best defensive arms in baseball right now.
Brett Lawrie
Brett Lawrie is a simply solid offensive piece for the Toronto Blue Jays, and his attitude could use a bit of work, but when it comes to defense, he may already be the best defensive third baseman in baseball in only his second season.
He has been making web-gem plays left and right, and his 2.5 Defensive WAR is the best in baseball easily. Yes, he already has eight errors on the year, but it's because he tries to make crazy plays like the one in the video.
Michael Bourn
While I don't use Gold Gloves to figure out top defensive players, those who have them, who actually are great defensively, look that much better, and Michael Bourn fits into that.
The center fielder is lights out in the outfield and has been a web-gem magnet on top of being, perhaps, the team MVP of the Atlanta Braves thus far.
Bourn's 1.5 defensive WAR is second in the NL.
Brett Gardner
It's funny to think that a Yankee would be unheralded for his work, but for as much as many others are lauded, Brett Gardner is actually underappreciated for his incredible defense.
Gardner is able to make plays that not many left fielders can, and if a ball gets by Derek Jeter, he can handle it easily.
Despite a first-place WAR finish in 2010 and a top-10 one last year, he's still looking for that first Gold Glove, which he's more than deserved.
Yadier Molina
When you think of a defensive catcher, you think of the guy hitting .210 on the bench who does play well behind the plate but is meant to give the starter days off more than anything. In Yadier Molina's case, he's the complete package.
One of the best offensive catchers happens to easily be the best defensive catcher in the league right now. Four straight Gold Gloves are backed by great range, few errors and a caught stealing percentage that regularly leads the league.
Brendan Ryan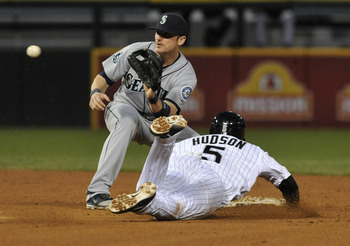 David Banks/Getty Images
When the Seattle Mariners originally acquired Brendan Ryan, I remember being a bit confused since they needed offensive help, and Ryan's hitting has been awful this year. I never criticized his defense, though, since he has one of the best arms in baseball at any position.
He has amazing range at shortstop, and it's a travesty that he hasn't won a Gold Glove yet; he's more deserving than Erick Aybar and infinitely more deserving in a down year than Derek Jeter at his best. His defensive WAR of 2.2 is second in baseball.
Unfortunately, I could not find any videos of a live-action web gem, but by the sheer number of YouTube uploads of him making those types of plays in MLB: The Show, clearly he's known for that.
Darwin Barney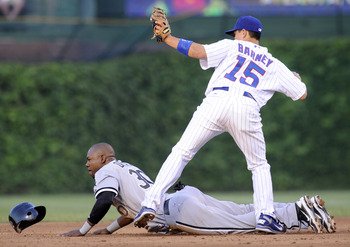 David Banks/Getty Images
The rising stars on the Chicago Cubs all seem to have great defense. Starlin Castro was a name I tossed around, but he still makes too many errors, even if he makes plenty of great catches.
As for Darwin Barney, he's making the great plays without the extra errors. His diving catch last year to end Dan Uggla's long hitting streak got him out there, and his continued improvement means he could soon be a perennial Gold Glove at second base.
J.J. Hardy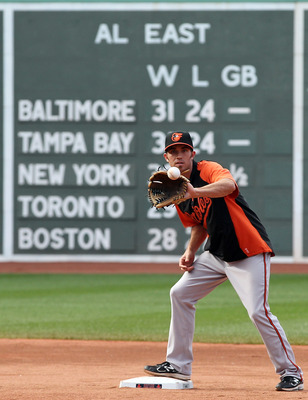 Jim Rogash/Getty Images
J.J. Hardy is, perhaps, best known for his home run hitting, having hit 30 last year, but in reality, he's not only the most underrated defensive shortstop in the league, but among the best.
He's never had a poor defensive season, unlike some on the list who have had off years, and he has amazing range. He doesn't make quite as many web-gem plays as others, and that could be why he's not quite as known for that.
Gerardo Parra
Norm Hall/Getty Images
Gerardo Parra was nearly relegated to fourth outfielder on the Arizona Diamondbacks. It's a good thing he wasn't, since his Gold Glove plays are some of the best in baseball.
Parra has some of the best range of any corner outfielder in baseball, and he's able to keep senseless errors from happening on top of it. If he keeps his arm strength up, he should remain among the best defensive outfielders for a long time.
Evan Longoria
I said originally that Brett Lawrie was becoming the best defensive third baseman in the league, and while that's still a very real possibility, he has to beat out Evan Longoria first.
Longoria has been one of the best on defense since his debut, consistently having some of the best range in baseball at third base. While the clip shown my be staged, it's a realistic person to use, as Longoria does have catlike reflexes and can get to the ball easily.
Troy Tulowitzki
When Troy Tulowitzki suddenly made a slew of errors with his glove this past April, it was truly a shock. Someone like him losing a grip on defense made no sense.
Why was this? Well, defensively Troy Tulowitzki is easily the best shortstop in the game, and he may be overall. He has top range and can convert double plays and make dives like the best of them. Excluding April, he rarely makes senseless errors.
Keep Reading