Novak Djokovic: Highlighting the Most Important Aspects of Djoker's Game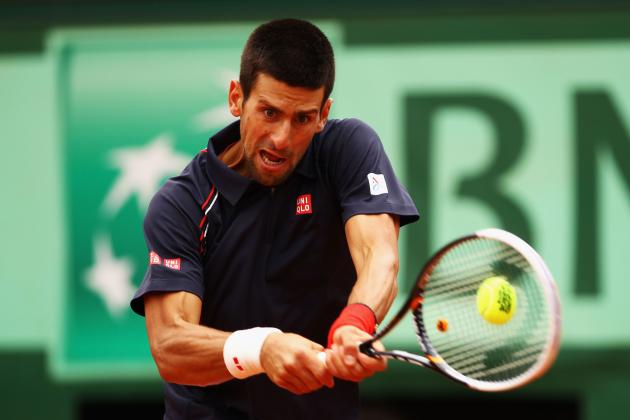 Clive Brunskill/Getty Images

Novak Djokovic is No. 1 in the world for good reason: he has the best backhand in tennis.
Gone are the days of the versatile one-handed backhands made famous by Ivan Lendl and John McEnroe. With Djokovic's powerful and penetrating two-handed backhand, the Serbian has risen to the top in the world.
While his backhand is his biggest weapon, Djokovic has some other vitals tools in his arsenal that make up his world-class game.
Let's take a look as I count down the most important aspects of Djokovic's game.
Begin Slideshow

»
Players with two-handed backhands usually aren't very good at hitting one-handed drop shots, but Novak Djokovic uses his athleticism to make the drop shot look natural.
Djoker typically employs a well-disguised backhand slice drop shot after pulling his opponent off the court with a penetrating backhand down the line.
He has been known to use this slice shot a bit too often, but the overall effectiveness of the drop shot makes it one of his best tools.
Take a look at this video, and you can see for yourself how expertly Djokovic pulls his opponent off the court and then finishes him off with a delicate, well-placed backhand drop shot.
In the 2012 French Open, Novak Djokovic struggled as he was pushed to five sets against Andreas Seppi and Jo-Wilfried Tsonga. Djoker came out with wins from both matches, however, because unlike his opponents, he was able to perform under pressure.
Djokovic currently boasts a 7-1 record when playing in the deciding set (either the third set for ATP tournaments or fifth set for Grand Slam tournaments) and has a fifth set record of 2-0.
Clearly, the Serbian can handle the heat, and this video above shows that not only can he thrive under pressure; he prefers it. Specially, scroll to 2:28 to hear Djokovic discuss how "pressure is a privilege."
After a shaky service game in 2009, Novak Djokovic has worked to refine his motion and develop very effective first and second serves.
The issue with Djokovic's serve was a mechanical one; he was dropping his elbow too low, resulting in far too many double faults.
Now, Djoker has a flat and piercing first serve that wins him many free points. If that fails, Djokovic has a big kick second serve that is sure to pull his opponent off the court.
In the five rounds that Djokovic has played so far in the 2012 French Open, he has only five double faults to his name. His record speaks volumes, proving how big of a weapon his serve is.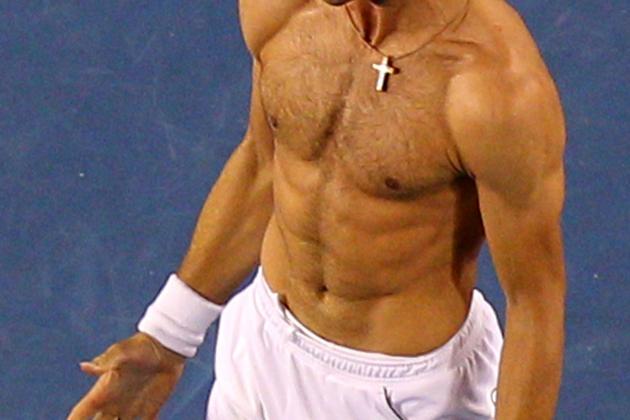 Cameron Spencer/Getty Images

When Novak Djokovic first came on the scene, he would get worn down by the end of three-match sets. He often looked winded on the court and struggled to keep the same high quality of play throughout an entire match.
Thanks to Djoker's new fitness coach Gebhard Phil-Gritsch, Djokovic has improved his stamina and can now get through matches more easily. Djoker's footwork has also developed into a great tool, allowing him to have quicker side-to-side movement.
Djokovic has become extremely agile on the court because of his improved fitness, and he has some of the best court coverage in the game today.
And come on, just look at him.
Hands down, Novak Djokovic's biggest weapon is his backhand.
Everything about that stroke is textbook. Djokovic gets his racket head lower than most players, which allows him to brush up on the ball more and increase the topspin on the ball. Plus, by using two hands instead of one, Djokovic generates more pace, causing his shots to land deep in the court.
As I mentioned before, Djokovic's backhand is most effective when hit down the line. This causes his opponent to be pulled off the court and the rest of the court to open up.
After years of practice, Djokovic has developed great control over this shot, causing each backhand to be hit with extreme precision.
Take a look at this video of Djokovic hitting a passing shot by Federer. In slow motion, you can see just how low Djokovic gets his racket and the resulting perfect backhand.