Liverpool Transfer News: Why Reds Can Still Earn Top-4 Spot Without Dirk Kuyt
June 7, 2012

Ian Walton/Getty Images
Dirk Kuyt's recent transfer to Fenerbahce is a loss that Liverpool did not need.
With new manager Brendan Rodgers signaling his desire to give every player in the squad a chance at redemption, Kuyt would have had a chance to prove himself once more at Anfield—an opportunity he simply wasn't being afforded under Kenny Dalglish.
That was until he invoked a clause in his contract rendering the Reds helpless to any offers he would receive from abroad. 
According to Soccerway.com, the Dutch striker had 22 appearances in the Premier League this year, with over half of those occurring when he was substituted in to the game. He scored just two league goals and was a largely ineffective element of the Reds' season—largely due to his use as a substitute.
One can speculate all they want as to how Kuyt's season would have gone had he been used as a started more and had he been afforded the luxury of playing in the middle of the pitch as opposed to on the wing. 
Yet at the end of the day, Kuyt's season was what it was. He was a substitute and decided to leave the club at the end of the year in order to receive more playing time.
He has been a faithful servant to Anfield, but he will not be missed next season.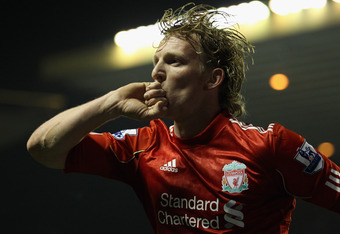 Clive Mason/Getty Images
His rich history and memories with the Reds will be missed—no doubting that—but as far as effectiveness on the pitch, Kuyt did not offer any more than the likes of Luis Suarez, Andy Carroll and Steven Gerrard can offer.
Losing Kuyt is not ideal, especially considering Rodgers' plans to give every player a new chance at proving himself, but at the end of the day it really isn't that big of a loss.
Liverpool's next season in the English Premier League will be tactically different to what we've come to expect from the Reds, with Rodgers sure to change the dynamic of their attack. They will press more and build more from the back, controlling the play and breaking down their opponents.
Kuyt wouldn't have been effective in that scheme.
He doesn't have the pace required to break down the wing and was unable to capitalize on opponents' errors with the same efficiency that he once had.
Plain and simple—Kuyt was past it.
Thus, whilst losing him is not ideal, it's not going to affect the Reds too much at all. They will still be tough to break down and will still frustrate their opponents right across the pitch. In terms of attack, there is nothing that Kuyt can offer that their other go-to players cannot.
If Liverpool were going to rectify their disappointing eighth-place finish with Champions League qualification next year, they were going to do it with or without Kuyt.
The Reds have all the pieces it takes to put together quality performances week in and week out; it's simply a matter of transposing those pieces on to the pitch every week. Just how to do that is a matter for the Liverpool coaching staff and players to figure out.
It certainly wasn't going to come down to Kuyt.
Liverpool will be sad to see one of their favorite sons go, but in reality they will know that they already milked the best years they could out of him. There was a reason he was a substitute all year, and there was a reason that he wasn't getting the minutes that we wanted.
Kuyt wasn't making an impact on the pitch, and he won't make an impact on Liverpool's Premier League chances either. 
As sad as it is to see him go.
Do you think Liverpool still has a top-four chance without Dirk Kuyt?
Comment below or hit me up on Twitter: