Has Roy Halladay Fallen off MLB's Pitching Pedestal for Good?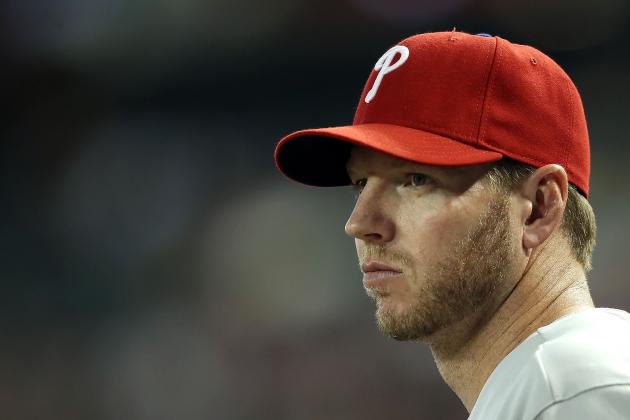 Christian Petersen/Getty Images

As baseball fans around the country know by now, Roy Halladay is hurting, both literally and figuratively. Doc currently sits on the 15-day DL with a latissimus dorsi strain that could keep him out for six to eight weeks. And when he was pitching, he posted a 4-5 record with a 3.98 ERA. Not the 2012 that Doc nor baseball and Phillies fans were envisioning.
Halladay hasn't been on the DL since 2009, and he hasn't been on the DL for an arm-related issue since 2004...until now. In spring training, there were concerns that Doc's fastball velocity had been dropping, but the reason why was unclear. Possibly aging, possibly wear and tear—after all, Doc has logged just over 2600 innings throughout his career, and he's led his league, if not all of baseball, in complete games each of the last five years. Simply put, he's a workhorse.
In light of these recent events, is it still fair to consider Doc among the league's elite starters? Is Roy Halladay truly an ace anymore? Or is he just falling from grace earlier than expected?
I'd say yes to those questions, but more arise just as quickly. But is Doc's reign of supremacy over the rest of baseball coming to a close? One could argue that Halladay's career—which was seemingly improving following his trade to Philadelphia from Toronto before the 2010 season—is now on the downturn, and that within the next couple of years, Doc could call it a day and ride off into the sunset known as retirement.
Let's take a look at whether Doc Halladay has still got it or if his best days are behind him.
Begin Slideshow

»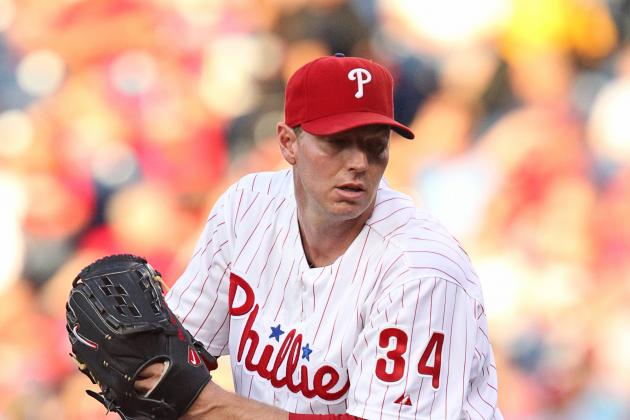 Hunter Martin/Getty Images

Building on the introductory slide, Roy Halladay hasn't been the pitcher this season that Phillies fans and fans everywhere are used to. While wins and losses aren't necessarily the pitcher's fault—take Cliff Lee's 0-3 record this season (due to lack of run support) for instance—Halladay's record sits at under .500 at 4-5. That's not horrible, but it sure could be better, especially for a pitcher of Halladay's caliber.
Additionally, Halladay's ERA is 3.98 right now and his WHIP stands at 1.15. Although his WHIP this year is close to his career number of 1.17, it's not like him in recent years (1.04 WHIP in both 2010 and 2011). And his ERA is not atrocious by any standards, not just those for Halladay. Granted, it's not over 4.00 (which is my general definition of a terrible ERA), but when you take into account who Roy Halladay is and what he does, it's surprising. That, and Doc's surrendered two grand slams this season, which is extremely unlike him. Lastly, his WAR (according to FanGraphs) on the year is 1.5, well below his usual standards.
Looking at more advanced stats (sorry for the average Joe; sabermetricians, enjoy), Halladay's FIP, or fielding independent pitching, is 3.22, and his xFIP, or expected fielding independent pitching, is 3.48. That means that, assuming the defense behind him was perfect or even nonexistent, those respective numbers would be equivalent to Halladay's expected ERA. Even his SIERA, which is skill independent ERA (considered to be the most accurate advanced ERA stat out there), is 3.45. These are all better than his current ERA, but by Doc standards, they're subpar. For his career, Halladay has an xFIP of 3.17 and SIERA of 3.26.
Could these numbers just be because of an off year from a nagging shoulder, or is this the beginning of a new Roy Halladay, one who isn't as great as he used to be? These numbers aren't far off from Halladay's career averages, which is good news, but if Doc begins to stray away from those averages over the next few seasons, it could spell disaster for both Halladay and the Phillies.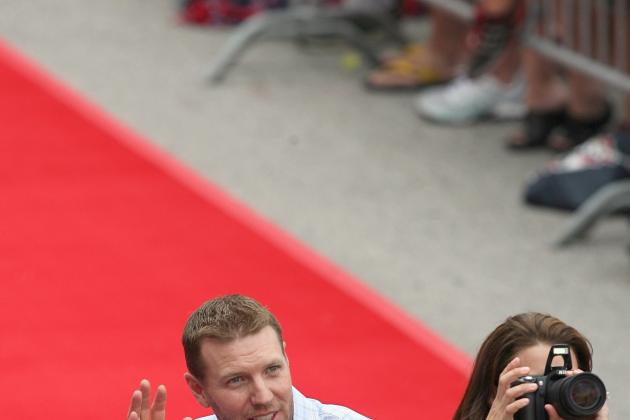 Dilip Vishwanat/Getty Images

Over the span of his career, Roy Halladay has been an eight-time All-Star, two-time Cy Young Award winner, and pitcher of a perfect game and postseason no-hitter. He's tossed 66 complete games over his career, 20 of them being shutouts. Doc's eight wins away from 200 for his career. And since 2006, he's thrown at least 200 innings every season.
While his 200+ innings streak is bound to end this season thanks to his current DL stint, there's no questioning what Doc has done over his career. Among current starting pitchers, Halladay is arguably the most likely to be voted into Cooperstown when all is said and done, and he's still got a few more years to go. That tells you something.
Now 35 years old, it also tells you that Halladay's had to go through many ups and downs throughout his career. He spent 12 years on the Toronto Blue Jays, not once getting a taste of postseason play. And as a member of the Phillies, he was nearly perfect in his first playoff start, but even so he has yet to be able to say he's got a ring.
It also shows that, being a seasoned veteran, Halladay's put a lot of wear and tear on his body. Although he's known throughout baseball as having one of the sport's best work ethics, racking up over 1,200 innings in just six years will inevitably have its consequences. That, and the aforementioned 2,600 innings for his career, is no laughing matter. Eventually, it will take its toll, and it appears as though the beginning of "eventually" has potentially arrived.
As I mentioned before, Doc hasn't been on the DL for an arm-related issue since 2004. After the 2004 season, Halladay had 974.2 innings to his name. Since then, he's compiled an additional 1628.2 innings on top of that, accounting for over half of his career innings pitched. That's a lot of pitching, and with that comes wear. Halladay has been fortunate enough to avoid any serious arm injury since 2004, but after leading the NL in complete games last year, needless to say Halladay's arm is likely gassed.
Does this necessarily mean that injuries will further derail Halladay's career? No. But I will say this: if injuries do persist in the future, it wouldn't be a shocker. At least not to me. Given the factors, injuries would be inevitable for most anyone except a player like Halladay. But nonetheless it's still possible.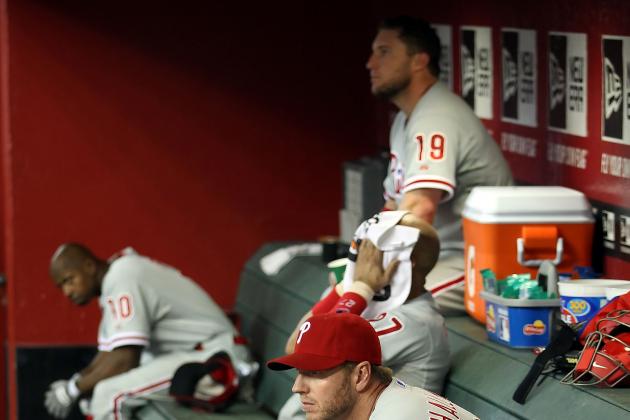 Christian Petersen/Getty Images

So far, we've covered Halladay's stats this season and his career stats, which has led into the discussion of whether Halladay could experience injury in the future. Now it's time for that discussion.
From the last slide, I made the point that the amount of innings Halladay's racked up over his career makes future injuries a lingering possibility. Even someone with Halladay's work ethic is vulnerable at some point, and it appears as though Halladay finally fell victim to injury either because of lack of conditioning or his innings catching up to him. Given the circumstances and Halladay's tendencies, I'll presume the latter.
However, where else could Halladay have problems? Taking a look at Halladay's injury history, he's had more issues than you might think.
To start, Halladay has been on the DL six times now in his career. And while he hasn't been on the DL from an arm injury since 2004 (tired of that phrase yet?), that most recent 2004 DL stint was a 60-day issue corresponding to what else? Halladay's shoulder. Even before his shoulder strain that caused him to miss a third of the 2004 season, Doc spent time on the 15-day DL a month before his 60-day stint for shoulder soreness, which was likely the precursor to his 60-day DL issue.
In 2006, Doc had two forearm strains that didn't call for any time on the DL, but they nevertheless were an issue, causing Halladay to miss either three or four starts solely from that. The other injuries Halladay's dealt with have mainly been freak accidents—a broken bone from a line drive off his left leg, appendicitis, an elbow bruise, and the more-recent heat exhaustion problems. It's primarily the shoulder that's been an issue for Halladay and likely will be the source of future problems (if I may say so myself), but I wouldn't be surprised if an elbow issue shows up sometime in the distant future.
So what are the chances of future injury to Halladay? Well, if his shoulder rehabs well enough that he's back to his usual, dominant self, Doc might not have much to worry about at all. But if there's a slight tweak or a problem (whether stat or pain-related) of sorts, Doc could see more time on the DL in the future. I wouldn't call it likely—far from it—but I wouldn't call it out of the question, either.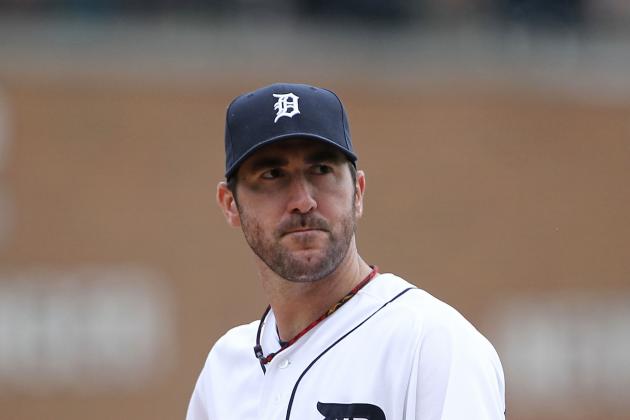 Leon Halip/Getty Images

Back in 2003 when he won the AL Cy Young Award, Roy Halladay was still building up his reputation. Nowadays, he's considered one of baseball's best. But will that prestigious label remain with Doc for much longer?
If you'd asked me this question in 2010, I'd have said yes without battering an eyelash. But now that Halladay's two years older and there's more emergence of other top starting pitching talent, I'd have to think about it before giving you a solid answer.
Take Justin Verlander, for instance. Before last year, he was considered to be a good pitcher, an ace for most teams. then came 2011, where he was considered baseball's best pitcher and won both the AL MVP and Cy Young Award.
You've also got Clayton Kershaw, who won the NL Cy Young Award last season and won the NL Pitching Triple Crown. And don't forget about guys like Jered Weaver, David Price, Cole Hamels, and Matt Cain, either. They'll be considered among the likes of Verlander and Kershaw before long.
Speaking of the Triple Crown, do you remember who was the most recent pitcher to attain the feat before Kershaw? In case you don't know, it's Jake Peavy, who reached that accomplishment in 2007 when he was a San Diego Padre. Considered one of baseball's best at the time, the only thing that could have stopped him was an injury. And sure enough, one did: his entire lat muscle detached, and with the help of a revolutionary surgery, Peavy was back in just under a year's time.
There's also Brandon Webb, winner of the 2006 NL Cy Young Award as a member of the Arizona Diamondbacks. Also considered to have a bright future, injuries derailed his career as well. Unlike Peavy, though, he hasn't thrown off a major league mound since the beginning of the 2009 season.
Halladay is still considered to be in the same boat as Kershaw and Verlander. But will that be the case in a year or two? Even if it's not the result of an injury—just less finesse as he ages, for example—Halladay could lose his grip on being one of baseball's best in a few years' time. And it might not be because he's gotten worse—just that others have gotten better.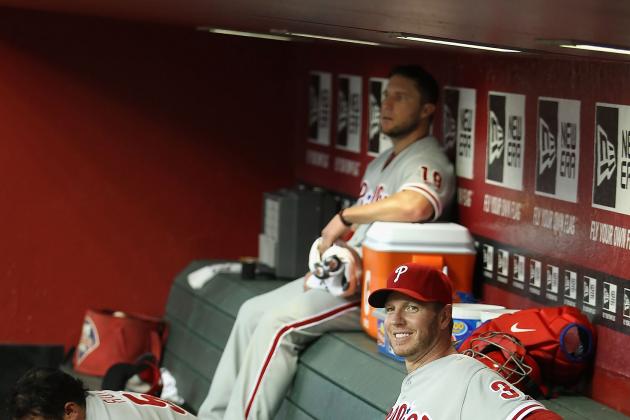 Christian Petersen/Getty Images

Smile all you want Doc, because after six to eight weeks, you should be good to go.
Roy Halladay has had a tough season, to say the least. But he's far from losing his status as an elite starting pitcher. There's just too much he's accomplished to say otherwise. When you're dealing with a guy who leads active pitchers in wins, has eight All-Star nods, two Cy Young Awards (one in each league, mind you, and many top five finishes), and two no-hitters to his name, how could you not consider him to be among the game's best?
Sure, Halladay's had his struggles this year. A 3.98 ERA isn't good at all, and the blame is primarily on Doc for his 4-5 record. But don't all pitchers have bad stretches? Keep in mind that Doc started out the year 3-0 with an ERA under 2.00. This year, Justin Verlander has lost his last three starts, and in April last year, he had more losses than wins. Look how that turned out.
To remove Halladay from the pedestal of the league's best pitchers would at least be premature at this point. I wouldn't doubt a possible injury in the future that could cause some trouble and diminish Doc's dominance on the mound. But as for the issue he's got now...wait it out!
We have no idea how he'll pitch with the shoulder fully rested. Considering that his decreased velocity likely came as a result of the shoulder troubles and that he's pitched through the problem whilst racking up a handful of wins this season already, there's little reason to worry...yet. If Doc comes back and has these problems, then we can all go into panic mode. But seriously...don't sweat it yet!
So go ahead Roy, rest up. While you rehab your shoulder, us Phillies fans will be anticipating your return, because we know that without you, this team is much worse off. But we know that, when you do get back, you'll be as good as new (or should I say old, since he's been better with age?). Take it easy, don't come back before you're ready, and just be the pitcher we all know you are when you finally do get back. Until then, we'll be waiting for one of the game's few undisputed aces to take the mound once again.