2012 MLB Draft Results: Biggest Winners and Losers of Complete MLB Draft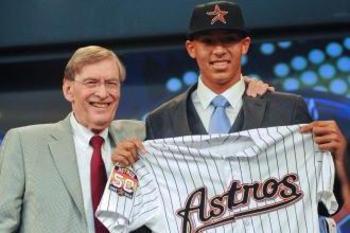 Photo Credit: Sporting News
Like most drafts, the 2012 MLB draft was full of surprises. It will take a while for many of the players to reach the majors and for the draft to be effectively fully evaluated, but we can crown the early winners and losers based on where players went.
Some teams saw players they never expected they would be able to draft fall to them. Others made some picks that caused people to scratch their heads.
With the new slotting system in place, signability became more important this year, as the teams have a limited bonus pool that they can access. This could help explain some of the surprising moves of the 2012 MLB draft.
Winner: Carlos Correa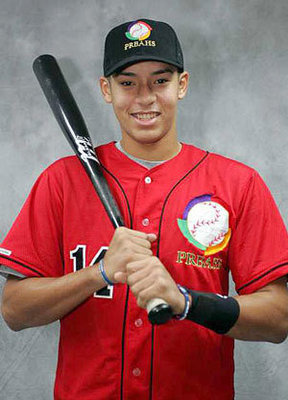 Photo Credit: Los Angeles Times
When he was selected by the Houston Astros to begin the draft, Carlos Correa became the first Puerto Rican player in MLB history to be picked first overall. His draft spot was certainly warranted, as he has drawn comparisons to Alex Rodriguez.
Correa is still a long way from the major leagues, but he will be a big piece of the Astros' rebuilding process. He's closing in on a deal with the Astros, according to reports from the Associated Press (via ESPN).
Loser: Mark Appel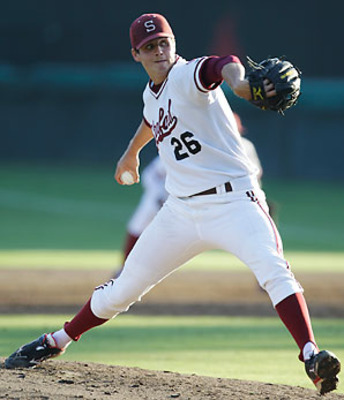 Photo Credit: Sports Illustrated
There were some thoughts that Mark Appel could go to the Houston Astros when they made their selection at No. 1, but Houston passed on him—and so did a number of other teams.
The Pittsburgh Pirates finally selected Appel with the eighth pick in the draft. The Stanford product is represented by the notorious Scott Boras, and Appel did not give any indication as to whether he will sign with the Pirates in a statement he released after the draft.
The pitcher's slide was arguably the most surprising development of the draft.
Winner: Seattle Mariners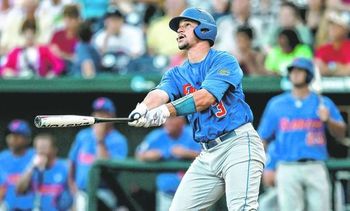 Photo Credit: The News Tribune
Mike Zunino was one of the most polished players in the draft class, and the Seattle Mariners will not have to wait long to see the catcher in the majors. Zunino has a lot of offensive talent and is very good behind the plate.
Seattle also added a number of good players with their later picks.
They chose Joe DeCarlo, a shortstop with a good amount of power potential who should sign with them. Additionally, they picked up Blake Hauser, a reliever out of Virginia Commonwealth who could be on a fairly fast track to the majors.
Loser: Philadelphia Phillies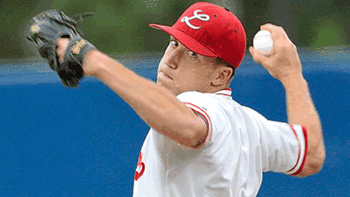 Photo courtesy: Williamsport Crosscutters
Not having a first-round pick certainly hurt the Philadelphia Phillies this year. Their first selection was the 40th pick overall.
They selected Shane Watson from Lakewood High School (Calif.) with their first pick. Watson is a decent option, but he needs to improve his pitches.
Philadelphia took on a number of risks this year, such as picking Alec Rash, who is a bit of a project, and choosing Dylan Cozens, a player who has a football scholarship offer for the University of Arizona.
Winner: Washington Nationals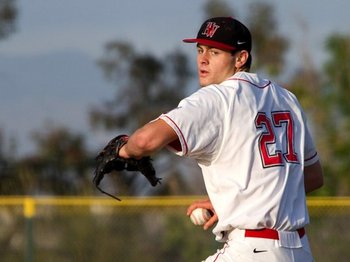 Photo Credit: Yahoo
For the past three years, the Washington Nationals have certainly been winners of the MLB draft. That trend continued in 2012.
Washington was able to select a player who entered the year as a potential No. 1 overall pick with the 16th pick in the draft. Lucas Giolito of Harvard-Westlake (Calif.) fell to the Nationals due to a previous strained UCL.
Some of the other highlights of the draft for the Nationals were Tony Renda, a second baseman with a quick bat, and Robert Benincasa, a closer out of Florida State.
Loser: Cincinnati Reds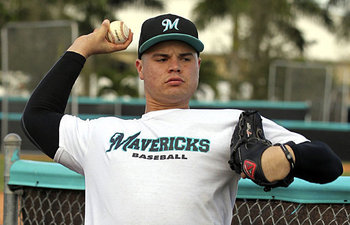 Photo Credit: Miami Herald
Many high school pitchers are pretty raw and have a long way to go in their development before they reach the major leagues.
And that is no different with Nick Travieso, the 14th overall pick in the draft, who has a lot to work on. The Cincinnati Reds' pick has a phenomenal fastball that can reach 99 mph, but his secondary pitches are not there yet.
With their third pick of the draft, the Reds chose Jeff Gelalich. At times, the UCLA product struggled at the plate, but he is supposed to be an offensive contributor.

Winner: Pittsburgh Pirates
Photo Credit: Sports Illustrated
While Mark Appel may have had a rough day because he slid to the No. 8 spot, the Pittsburgh Pirates were the beneficiary of his drop.
The next time the Pirates were on the clock they chose Barrett Barnes, an outfielder from Texas Tech. Barnes has a lot of power, but his defense is not great. His bat should carry him through the minors, though.
In addition to picking up a few high school players in the middle rounds, the Pirates also drafted Brandon Thomas, a power hitter from Georgia Tech.
Loser: Cleveland Indians
Photo Credit: Chasing Omaha
The Cleveland Indians' draft was not exactly a bad one, but they certainly could have done better. They made a number of safe picks.
With their first pick, the Indians chose Texas A&M outfielder Tyler Naquin, though there were a number of high-ceiling players ahead of Naquin.
Cleveland could have used some collegiate products to help restock their farm system. Instead, they chose high school arms like Mitch Brown from Rochester Century High School (Minn.) in the second round and Caleb Hamrick from Cedar Hill High School (Texas) in the eighth round.
Winner: Toronto Blue Jays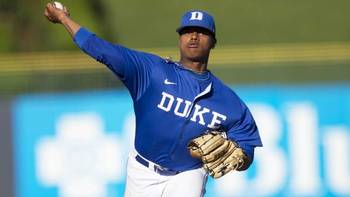 Photo Credit: Duke University
It is certainly a luxury when a team has two draft picks in the first round, really giving the team the chance to roll the dice on its selections. The Toronto Blue Jays already have a very strong farm system, and they added two first-rounders this year.
D.J. Davis is a speedy outfielder taken at No. 17 overall. Jonathan Mayo of MLB.com reported that one scout believes Davis could be one of the best players in this year's draft class.
Toronto selected again with the 22nd overall pick, and they were able to grab Duke pitcher Marcus Stroman. He could be the most MLB-ready pitcher from this year's draft, and it would not be surprising if he reaches the majors as a reliever this year.
Later in the draft, the Blue Jays selected a few high-ceiling guys out of high school. Solon High School pitcher Matt Smoral (Ohio) and third-round pick Anthony Alford of Petal High School (Miss.) may be difficult signings, but they will be big additions to the Blue Jays system.
Loser: Los Angeles Angels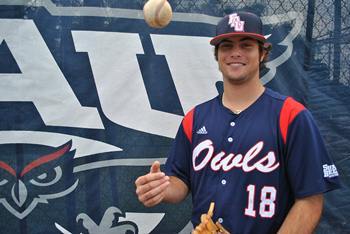 Photo Credit: FAU Owl Access
As a result of their signings of both Albert Pujols and C.J. Wilson, the Los Angeles Angels were left without a draft pick in either the first or second round. Obviously, this means they are missing out on a number of good players.
The Angels finally went on the clock with the 114th pick of the day. They picked R.J. Alvarez, a reliever from Florida Atlanta University. While relievers do have value, the Angels should have gone after a boom-or-bust player with their first pick due to their draft position.
Eight of the Angels' first 15 picks were pitchers. Almost all of them were relief pitchers. This was an area of need for the Angels, but they would have been better off going for the best player available with their first few picks.
Keep Reading