Nick Diaz: Will a One-Year Suspension Affect His Career?
June 6, 2012

As a boy, my grandmother always used to blast me with this or that Biblical saying, and one of her favorites was "Idle hands are the devil's workshop."
As I think about Nick Diaz and what this year long suspension holds for him, I can't help thinking that my grandmother's sayings—pearls of wisdom, one and all, to be sure—simply don't apply.
That's why the elder Diaz is an interesting study in human nature.
The same trait that would get most other fighters in trouble may keep Diaz out of trouble, and even see him grow during his time off.
Most fighters who have established their name enjoy the money that comes with being a proven commodity, but they fall into error if they have too much time on their hands.
When there is no master to directly serve, they begin to serve themselves, and a self-serving man is almost always feeding his desires instead of mastering them.
Nick Diaz has never really seen anyone or anything as his master, and he's always done whatever he wanted. Now with a year off, things may actually become more peaceful for the man.
Not everyone handles fame and pressure the same way. Some internalize it, others rebel against it.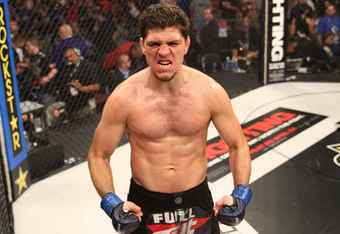 Nick is a rebel.
He's always served himself, and he's notably gotten into more trouble when on an active fight schedule than when not.
Some men don't need solitude. When left to their own devices, they self-destruct, one vice at a time. Diaz will thrive in solitude.
Diaz may have many faults, but being unfaithful to himself is not one of them.
It's hard to imagine Diaz doing anything different in a long layoff than he would normally, because he's his own man. He's always done what he wanted, and always will.
What is more probable is that he comes back with a renewed fire, refreshed and ready to fight for a legion of devoted fans who are always ravenous for his toe-to-toe style.
In the downtime, he'll probably stick to some kind of daily routine of leisure: enjoying a cool two mile swim, take a four mile run to clear his head, ride his bike, teach, be taught, corner his little brother, and smoke a great deal of weed, stress free for many a month.
Who knows, we might even find out he's been working on his wrestling.
It might sound like a suspension, but there are many who would look at it as well deserved vacation.
Of course, his name will be missed, but not forgotten, especially with his younger brother near the top of the lightweight division.
Yes, a year off means missed monies and more importantly, missed opportunities to cement his claim at being the best welterweight in the world, but the division will be waiting for him when he gets back.
And with the excitement Diaz always brings to the cage, it will no doubt welcome him back with open arms.
God knows I will.