How Adam Jones' Contract Extension Affects David Wright's Future
June 7, 2012

Mike Stobe/Getty Images
On the heels of Baltimore's young, impending free agent Adam Jones signing the biggest deal in Orioles franchise history, the Mets have a similar situation at hand with David Wright.
It's important to note that Jones has played every season of his big-league career on one-year contracts. His long-term extension with Baltimore was only a matter of time. 
The Orioles extended Jones with a six-year, $85.5 million contract on May 26, eliciting a collective sigh of relief from the Baltimore fan base.
With Jones now under contract until 2018, and Nick Markakis under contract through 2014, the next issue for the Orioles is to sign C Matt Wieters to a long-term deal.
Now let's take the Mets. GM Sandy Alderson allowed free agent Jose Reyes to walk at the end of 2011, only to see him sign a lucrative contract with the Miami Marlins. While the loss of Reyes has not hurt the Mets in the standings so far, the loss of a franchise icon is still apparent.
The left side of the infield is missing its other half. Wright has been forced to step up, and has responded magnificently. The Mets can ill-afford to let another homegrown superstar leave in his prime.
The Orioles value their young talent, and are clearly interested in seeing those players grow together with sights on a pennant. Judging by their recent moves, the jury is still out on the Mets.
However, with high-quality pitchers polishing their abilities in the minors, the Mets seem to be poised to make a run within the next few seasons. It makes sense that Wright would factor heavily into the future success of this team.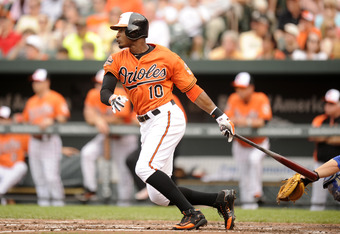 Mitchell Layton/Getty Images
Let's make the not-so-bold assumption that the Mets tender an extension to Wright at the end of this season. Using Adam Jones as a barometer, we can gauge the potential value of a player like Wright to the Mets.
Keep in mind that Jones is 26 years old, and is now under contract until he turns 33 in August of 2018. Wright signed his six-year deal at the age of 24, and is now poised for his one shot at a monster contract.
At 26, Wright had better offensive numbers across the board than Jones—who is now at the same age—and it's not even close.
Since turning 26, Wright has regressed in each of his last two seasons. Before 2012 began, there was a sentiment among fans that hoped Wright would regain his form so that Alderson could trade him and get better value in return.
Well, that's exactly what has happened, but now fans want to hold onto their hero.
It's understandable, but it will be costly. Wright has been a better player than Jones throughout his career—better average, better slugging percentage, better on-base percentage, better on-base plus slugging, you name it.
That being said, the starting point for Wright's potential extension will be the $85.5 million contract Jones has received. That number appears to be the floor for the upcoming offer.
Length is a different story. A deal that takes Wright into his age-36 season would seem reasonable, but knowing this is his last chance at a career-defining contract, Wright may push for more.
When all is said and done, it seems likely that Wright's next contract will push the $100 million benchmark.
It is Sandy Alderson's first opportunity as GM of the Mets to make a truly franchise-defining move. Unfortunately, we won't have an answer until after the season, as Wright has expressed his intentions to hold off any contract talk during the season.
Hopefully all Mets fans will have at least some of their fingernails remaining by the time they have their answer.