MLB Draft 2012: Day 3 Grades for Every Team
USC pitcher Jordan Hershiser, taken by the Los Angeles Dodgers with the 1,046th pick, is the son of former Dodger great Orel Hershisher. Photo courtesy smoaky.com
Day 3 of the MLB draft is now complete, and it was easily one of the busiest and most frenetic days of the draft.
Rounds 16-40 were completed on Wednesday, meaning that 750 players have been selected overall. As seems to be the rule of thumb each year, some of the picks were family-related, with sons of former greats such as Cal Ripken Jr., Dale Sveum, Kirk Gibson, Mickey Hatcher and Orel Hershiser being selected.
That's not to say they were favors like Mike Piazza in the 62nd round of the 1988 MLB draft, which turned out pretty well, by the way.
We will take a look at how each team fared on Day 3 and attempt to grade their results.
Begin Slideshow

»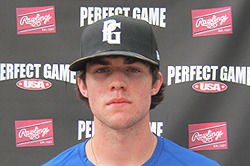 High school shortstop Landon Lassiter was the first pick for the Diamondbacks on Day 3. Photo courtesy perfectgame.org
Arizona Diamondbacks had a very eclectic selection of picks on Day 3, with a balanced mix of pitching (13) and position players (12). Eight of the 25 picks chosen were high school players.
Four middle infielders, three corner infielders, four outfielders, 10 right-handed pitchers and three left-handed pitchers were taken by the D-Backs, the most notable pick of the day being OF Cameron Gibson from Grosse Point South HS (Mich.), the son of current manager Kurt Gibson.
I'm not overly enthralled by any of the picks here, and it seems like the D-Backs went heavy with lower-tier college guys to fill lower level minor league rosters.
One intriguing pick for the D-Backs was 25-year-old Yogey Perez-Ramos, a Cuban outfielder who elected to play at Miami-Dade Junior College (FL) rather than go the free-agent route. Perez-Ramos hit .444 with nine triples and 27 stolen bases, but has limited upside, and his age will certainly work against him moving forward.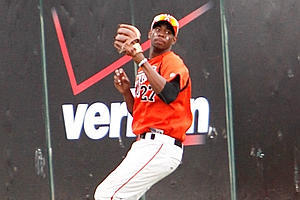 High school outfielder Fernelys Sanchez was the first choice for the Braves on Day 3. Photo courtesy nypost.com
Day 3 of the MLB Draft was interesting for the Atlanta Braves, using their final nine picks on high school players.
In all the Braves chose five middle infielder, two corner infielders, one catcher/outfielder, seven outfielders, 10 right-handed pitchers and just one southpaw pitcher. The Braves chose 10 high school players altogether.
One interesting pick was in the 31st round, with the Mets selecting Southern Polytechnic State (GA) pitcher Matt Kimbrel, younger brother of Braves closer and 2011 Rookie of the Year Award winner Craig Kimbrel.
Younger brother Matt doesn't have the blazing fastball like his brother, but does have a solid 91-92 MPH fastball with sink, and according to big brother Craig, better offspeed stuff.
Baseball America editor John Manuel referred to the Braves' overall draft as "middle of the pack."
"It's not a draft class that I'm looking at and thinking 'Wow the Braves had a great draft,' but it's not one I'm looking at saying 'What were the Braves doing' either," Manuel said. "It's just in that bell curve of middle of the pack."
Ryan Ripken, son of Cal Ripken Jr., was chosen by the Orioles in the 20th round. Photo courtesy perfectgame.org
The Baltimore Orioles selected a solid mix of players on Day 3 of the MLB draft.
10 pitchers, five catchers, one corner infielder, three middle infielders and seven outfielders were chosen by the O's, with only six from the high school ranks, meaning less of a chance of losing draft picks to college.
A couple of intriguing picks stood out—in the 20th round the Orioles selected first baseman Ryan Ripken, son of Oriole Hall of Famer Cal Ripken Jr. Ryan hit .377 with 25 RBIs in his senior season at Gilman in Maryland, and has committed to play ball at South Carolina.
With their 17th round pick, the Orioles selected Cal Poly pitcher Nick Grim, whose stock actually dropped after being selected by the Miami Marlins in the 14th round last year. Grim has a very lively arm but had more walks than strikeouts at Cal Poly this spring.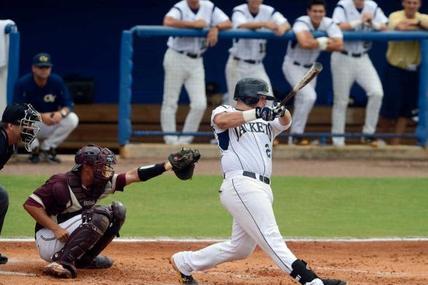 Georgia Tech first baseman Jake Davies was a 21st round selection by the Boston Red Sox. Photo courtesy chronicle.augusta.com
The Boston Red Sox stocked up with arms on Day 3 of the draft, as they picked up six college pitchers and six prep hurlers.
Only one southpaw was selected, however, giving the Red Sox only three southpaws total in this year's draft.
With their 21st round pick, the Sox selected Georgia Tech first baseman Jake Davies, younger brother of former Kansas City Royals pitcher Kyle Davies. Jake was named Atlantic Coast Conference tournament MVP this spring and has a solid approach from the left side of the plate.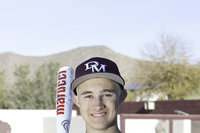 Third baseman Rustin Sveum, son of Cubs skipper Dale Sveum, was selected in the 39th round. Photo courtesy perfectgame.org
The Chicago Cubs followed a very similar trend as our first four teams in this presentation—a healthy mix of pitching and position players.
The Cubs chose 11 right-handed pitchers, two southpaws, three catchers, two middle infielders, four corner infielders and four outfielders. Nine of their selections were high school picks.
With their 39th round pick, the Cubs paid homage to their skipper Dale Sveum by selecting his son Rustin, a third baseman from Desert Mountain High School in Arizona. The six-foot, 175 pound senior switch hitter is largely expected to start his college career this fall at Dixie State University in St George, Utah.
The Cubs' 19th round pick, Damek Tomscha, has now been drafted three times, previously by the Phillies in the 50th round of the 2010 draft and by the Marlins in the 36th round of the 2011 draft. At Iowa Western Community College this spring, Tomscha hit .438 with a .522 OBP to go with 64 RBI, 72 runs and 23 doubles in 61 games.
Catcher Blake Hickman, the Cubs' 20th round pick, was solid as well. At 6'5" and 215 pounds, he's built a bit like A.J. Pierzynski and can hit a bit as well. Hickman has been praised for his leadership and character, which has become a priority for Theo Epstein and the Cubs' management team.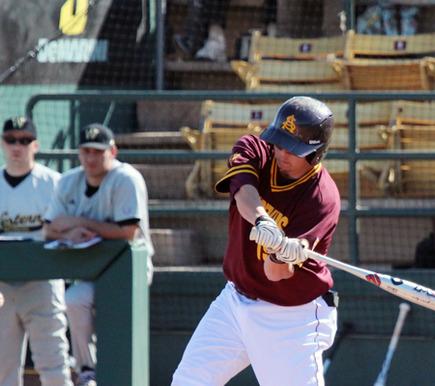 Abe Ruiz, White Sox 16th round pick. Photo courtesy statepress.com
The Chicago White Sox changed up strategy a bit on Day 3 of the MLB draft by largely drafting college seniors.
With their 16th round pick, the White Sox selected first baseman Abe Ruiz, a senior from Arizona State University, who overcame a torn labrum in his shoulder that caused him to miss his entire junior year. He bounced back this year to hit 13 HR with a .965 OPS. Intriguing power bat option there.
Adam Lopez, a right-hander from Virginia Military Institute, is intriguing as well. Lopez underwent Tommy John surgery last season, yet struck out 146 batters in 119.1 innings at VMI. A raw fireballer.
I liked the switch in strategy very much for Day 3.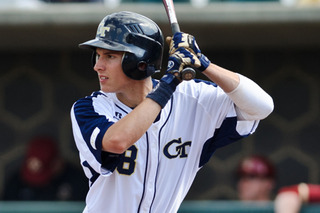 Georgia Tech outfielder Kyle Wren was taken in the 30th round by the Reds. Photo courtesy ramblinwreck.com
The Reds went much heavier with pitching than most teams on Day 3, with 19 hurlers chosen out of 25 picks.
One position player chosen in the 30th round was Georgia Tech outfielder Kyle Wren, son of Atlanta Braves GM Frank Wren. At 5'10" and 165 pounds, Wren is a speedster with a solid arm and great range, but very little pop.
A definite commitment to pitching ruled this year's draft for the Reds, who have lagged in that department for years in the National League.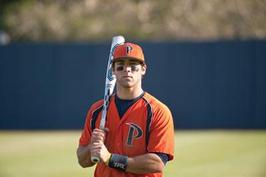 Joe Sever, second baseman from Pepperdine University, was the 21st round pick for the Cleveland Indians. Photo courtesy malibutimes.com
The Cleveland Indians drafted 13 right-handed pitchers, one southpaw pitcher, two catchers, five middle infielders, two corner infielders and four outfielders on Day 3.
Intriguing picks include 21st rounder Joe Sever, a second baseman from Pepperdine University. Sever picked his average up nearly 100 points from his sophomore to junior year (.279/.370) and was a solid run-producer in their offense.
Oh, and he's the nephew of former Denver Broncos quarterback John Elway.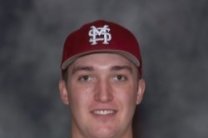 Jeff Popick, 16th round pick for the Rockies. Photo courtesy fanbase.com
The Colorado Rockies rounded out their draft on Day 3 with nine right-handed pitchers, two southpaws, two catchers, six middle infielders, three corner infielders and two outfielders.
Intriguing picks of the day included 16th round selection Jeff Popick, a left fielder from Mesa State in Colorado. Popick produced a .424/.524/.663 this spring, and at 6'4" and 190 pounds possesses both speed and strength. Great local pick here.
20th round pick Anthony Seise could be very good as well. At West Orange High School in Winter Garden, FL this spring, Seise showed off a solid three-pitch repertoire including an 88-91 MPH fastball, sharp-breaking curve and decent changeup. He's considered signable, only having a commitment to junior college in the fall.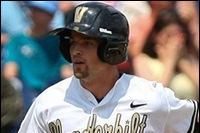 Tigers' 31st round pick Connor Harrell. Photo courtesy vanderbilt.scout.com
A very solid Day 3 for the Tigers in the MLB draft, as they selected six left-handed pitchers to add to their overall total of eight. Eight right-handers were also taken, as well as two catchers, three middle infielders, one corner infielder and five outfielders.
The best pick of the day may have been their first pick of the day—Baylor University southpaw Josh Turley.
Turley won't blow anyone away with his fastball, but he epitomizes the description of crafty. Turley allowed one earned run or less in 10 of his 14 starts through the Big 12 Conference tournament. A great pick by the Tigers here.
I also like their 31st round selection, Vanderbilt outfielder Connor Harrell. He'll strike out a lot, but generates a ton of power with his 6'3", 215-pound frame. Harrell can also fly and has great range in the outfield.
Excellent last day for the Tigers.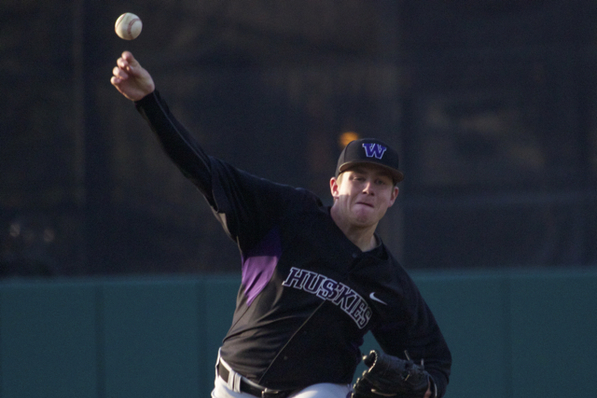 Aaron West, 17th round pick for the Houston Astros. Photo courtesy collegebaseballdaily.com
The Houston Astros stuck with mainly college-level players on Day 3, rounding out what has turned out to be a terrific draft for first-year GM Jeff Luhnow.
Nine right-handed pitchers, three southpaw pitchers, three catchers, four middle infielders, three corner infielders and three outfielders were selected on Wednesday.
Their 17th round pick, junior right-handed pitcher Aaron West of the University of Washington, might be the best of the bunch.
West underwent Tommy John surgery in his sophomore season, and rebounded nicely this year, going 7-5 with a 2.53 ERA and 65 strikeouts against just 18 walks over 96 innings. West has a nice moving low-90s fastball that touches 95, a low-80s slider with late tilt and a developing changeup.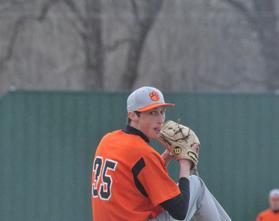 Matt Strahm, 21st round selection for the Kansas City Royals. Photo courtesy mobile.westfargopioneer.com
The Kansas City Royals concluded their draft on Wednesday with a day heavy on pitching and very light on infielders.
In fact, the Royals didn't select a single middle infielder, who opted for 16 pitchers, six outfielders, two corner infielders and one catcher.
The cream of the crop just might be 21st round selection Matt Strahm, a left-handed pitcher from Neosho County Community College in Kansas. Strahm led his team to their first Junior College World Series since 2003, possesses a lively high-80s fastball that touches 92 MPH and a hammer for a curve. Strahm led the nation with 124 strikeouts in 92 innings and 10 complete games on the juco circuit.
24 pitchers selected overall by the Royals, but only two second baseman and no shortstops.
Creighton catcher Anthony Bemboom was taken by the Angels in the 22nd round. Photo courtesy gocreighton.com
The Los Angeles Angels kept a heavy emphasis on college talent on Wednesday, repeating their strategy of Day 2 in the MLB draft.
Five catchers were selected by the Angels on Wednesday, a clear indication that they're not at all happy with what they currently have available in their system.
The backstops taken on Wednesday were Anthony Bemboom from Creighton at No. 687, Sam Mulroy from Princeton at No. 1,017, Zachary Livingston from Arizona Christian University at No. 1,047, along with Pizarro and Morhardt, Pedro Pizarro from Louisiana at No. 1,077 and catcher Justin Morhardt from Connecticut at No. 1,197.
They join two catchers taken on Day 2 as well.
The Angels recognized a huge need, considering that none of their current catchers even rank in the top 20 of their organization.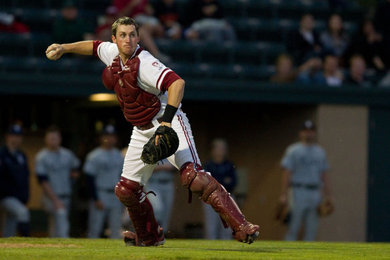 The Dodgers used their 18th round pick to select Stanford catcher Eric Smith. Photo courtesy lacanadaonline.com
The Los Angeles Dodgers showed good balance in their drafting during the first two days of the MLB draft, and they continued in that vein as well on Wednesday.
Six right-handed pitchers, three southpaws, five catchers, three middle infielders, four corner infielders and five outfielders were taken by the Dodgers' draft team on Wednesday.
Of particular note was 18th round selection Eric Smith, a junior catcher for Stanford University who is fairly new to the position but taking to it like a duck to water. Smith has been widely praised for his skills behind the plate and his handling of the pitching staff, and his Cardinal squad is on its way to Florida to take on No. 3 Florida State in NCAA Super Regional play, which begins Friday.
Smith was a leader on offense as well, hitting .330 with two HR and 32 RBI.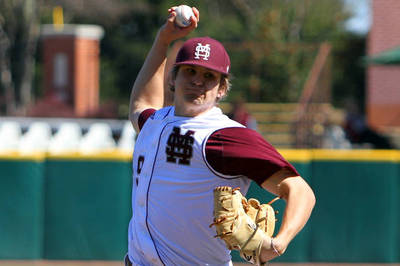 Kendall Graveman, 36th round pick for the Miami Marlins. Photo courtesy hailstate.com
The Miami Marlins decided that pitching would be their focus in this year's draft, and they didn't deviate from that on Wednesday, selecting 14 pitchers on Day 3.
One of them is a local product, St. Thomas University right-handed reliever Dane Stone, selected in the 25th round.
35th round pick Kendall Graveman could be a diamond in the rough as well. Pitching alongside first-round draft pick Chris Stratton at Mississippi State, Graveman complements a high-80s fastball with a solid changeup and slider. Graveman is a control guy, walking only 19 batters in 86 innings.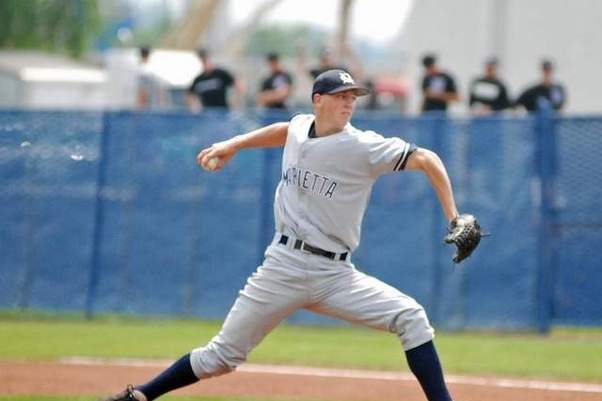 Austin Blaski, 21st round pick for the Milwaukee Brewers. Photo courtesy postcrescent.com
The Milwaukee Brewers wrapped up their draft with a heavy emphasis on college talent, selecting just five prep stars on Day 3.
Seven right-handed pitchers, four southpaws, five catchers, four middle infielders, three corner infielders and two outfielders were taken by the Brewers on Wednesday.
The best of the bunch might be their 21st round pick, right-handed pitcher Austin Blaski out of Marietta College. Blaski led all Division III pitchers in wins (13), ERA (0.88) and starts (15), leading his team to the D-III World Series. Blaski is a strike-thrower with a nice three-pitcher repertoire, including an 88-92 MPH fastball, tight slider and changeup.
The Twins selected Jacksonville University outfielder Jonathan Murphy with their 19th round pick. Photo courtesy judolphins.com
Catchers and outfielders were the rule of the day for the Minnesota Twins on Day 3 of the MLB draft.
Texas Tech catcher Bo Altobelli was the 21st round pick for the Twins. Altobelli led the Red Raiders with 71 hits, batting .346 with three HR and 33 RBI. Altobelli is a bit raw behind the plate, but scouts love his physical makeup.
If you listen to infielder Daniel Murphy of the New York Mets, the Twins made a great selection in the 19th round, selecting Murphy's brother Jonathan, an outfielder out of Jacksonville.
"I square the ball up just a little more than he (Jonathan) does," Murphy said. "But he's got more juice, he's more power, got a better arm, runs better. Pretty much anything out in the baseball field, he does it better than I do."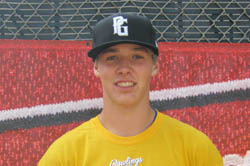 Connor Baits, 23rd round pick for the New York Mets. Photo courtesy perfectgame.org
I'm guessing the New York Mets just aren't crazy about the pitchers currently assembled in their farm system, because they went heavily in that direction on Day 3 of the MLB Draft.
Thirteen pitchers were taken on Wednesday, and at least a couple of them offer some hope, if the Mets can actually sign them.
Conor Baits, their 23rd round pick, is committed to UC Santa Barbara. Jared Price, their 33rd round pick, is committed to Maryland. Brad Markey, their 35th round pick, is committed to Virginia Tech. And David Gonzalez, their 40th selection, is committed to Georgia. Unless the Mets pony up more bonus money than they bargained for, it could be a moot point.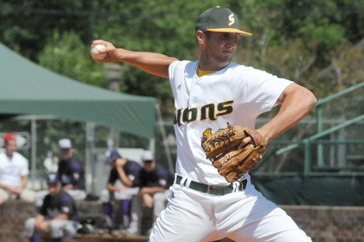 Southeastern Louisana closer Stefan Lopez was the Yankees' 16th round pick. Photo courtesy collegebaseball360.com
In what has become a recurring theme, the New York Yankees, much many other teams thus far, went heavy on pitching during Day 3 of the draft.
Stefan Lopez presents an intriguing option with the 16th pick. Lopez led the nation in saves with 19 in 2012 for Southeastern Louisiana University, doing it essentially with one pitch—a low-to-mid 90s fastball with movement.
Hmm, sounds eerily similar to another famed Yankees closer.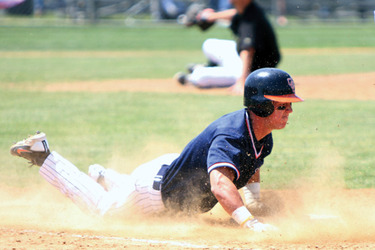 Oufielder Boog Powell was a 20th round selection for the A's. Photo courtesy coastreportonline.com
Outfield help was the name of the game for the Oakland Athletics on Day 3 of the MLB Draft.
Seven outfielders in all were selected on Wednesday, and one of them has a name familiar to baseball fans.
Boog Powell, selected by the A's in the 20th round, is a freshman center fielder for Orange Coast Community College who led the team in hits (76), batting average (.398) and runs (49), picking up first-team all-state and All-Orange Empire Conference honors along the way.
No relation to former Baltimore Orioles slugger Boog Powell, in case any of you were wondering.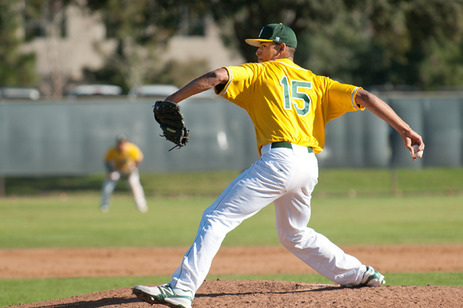 Cal Poly Pomona pitcher Geoff Broussard was taken by the Phillies in the 23rd round. Photo courtesy polycentric.csupomona.edu
I really like what the Philadelphia Phillies did on Day 3 of the MLB draft.
They went heavy with pitching, particularly at the college level. Their 23rd round pick could be special. Geoff Broussard, a right-handed pitcher out of Cal Poly Pomona, was 11-1 with a 1.58 ERA, earning a selection to the 2012 D-II All America First Team.
Central Arizona pitcher right-handed pitcher Jordan Kipper could be good as well. Selected in the 30th round, Kipper was 9-3 with a 2.78 ERA this spring.
Solid, solid day for the Phillies.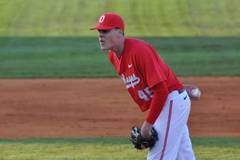 Ohio State pitcher John Kuchno was selected by the Pirates in the 18th round. Photo courtesy collegebaseball360.com
After selecting only seven pitchers in the first two days of the MLB draft, the Pittsburgh Pirates completely changed course on Wednesday, selecting 15 pitchers on Day 3.
However, at least five of those pitchers will need some convincing, having commitments to college programs in the fall. It could be a tall task for GM Neal Huntington and company.
Another solid day for new San Diego Padres GM Josh Byrnes, sticking mainly with college guys and starting out with a terrific pick in the 16th round.
Central Florida outfielder Ronnie Ricardson was selected for the third time, previously having been chosen by the Twins (11th round, 2009) and last year as an eligible sophomore (31st round, Cubs). At just 5'8" and 180 pounds, Richardson is a solid contact hitter who sprays the ball to all fields, perfect for the cavernous confines of Petco Park.
24th round selection Chris Nunn may not end up projecting as a great major leaguer, but based on the attached video, he certainly is athletic.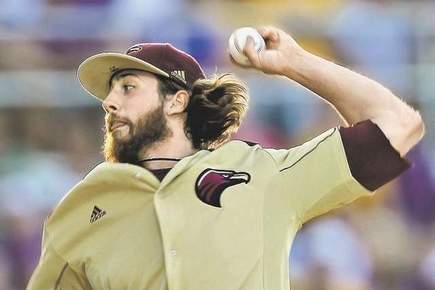 Giants' 19th round pick Randy Zeigler. Photo courtesy thenewsstar.com
A heavy college emphasis dominated the day for the San Francisco Giants on the final day of the MLB draft, selecting just three high school players on the day.
Fifteen of those picks on Wednesday were pitchers, and the first one didn't exactly inspire confidence for the rest of the day.
Right-handed pitcher Ian Gardeck from the University of Alabama was the Giants' 16th-round pick, and a perplexing one to say the least. Gardeck barely even pitched for the Crimson Tide, being unable to throw strikes for much of the spring and being limited to just 12 innings, walking 12 and striking out 16.
In the following round the Giants took Portland pitcher Chris Johnson, who also threw limited innings, working in both relief and as a starter. Johnson threw 34 innings in all.
The 19th round saw the Giants draft Randy Zeigler, a left-hander out of Louisiana-Monroe. At least he logged some innings. Zeigler had a 3.69 ERA and a 5-7 record while striking out 111 batters in 112.1 innings pitched.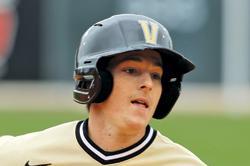 Mike Yastrzemski, grandson of Hall of Fame great Mike Yastrzemski, was selected by the Mariners in the 30th round. Photo courtesy nashvillecitypaper.com
Seattle Mariners GM Jack Zduriencik and his draft team stayed the course on Day 3 of the MLB draft, taking 16 pitchers and one very notable outfielder.
With their 30th round pick, the Mariners selected Mike Yastrzemski, grandson of Boston Red Sox Hall of Fame great Carl Yastrzemski.
Yastrzemski hit .286 (67-for-234) with 11 doubles, six homers, 41 RBI in 63 games as a junior for the Vanderbilt Commodores.
Edmonds Community College (WA) right-hander Aaron Brooks could be good as well. Brooks was 7-3 with 2.71 ERA and 60 strikeouts in 67.1 innings. The Mariners like Brooks as a solid reliever in the future.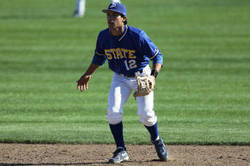 Mike Aldrete was selected in the 39th round by the Cardinals. Photo courtesy sjsuspartans.com
It's a family affair on Day 3 of the MLB Draft for the St. Louis Cardinals.
No, we're not talking about the song made famous by Sly and the Family Stone.
We're talking about manager Mike Matheny and bench coach Mike Aldrete, who both saw their sons chosen by the Cards on Wednesday.Tate Matheny, an outfielder for Westiminster Christian Academy in Missouri, was taken in the 23rd round. San Jose State University junior pitcher Mike Aldrete was taken in the 39th round.
Also selected by the Cards minor-league hitting instructor Derrick May's son, Derrick Jr., an outfielder, in the 27th round. They took scout Joe Almaraz's son Jacoby, a first baseman, in the 21st round as well.
If any of them play up to the level of their fathers, then Day 3 can be considered very successful for the Cardinals.
Alex Keudell, 27th round pick for the Rays. Photo courtesy pac-12.org
The Tampa Bay Rays went with a healthy mix of infield help, catching and pitching on Day 3 of the MLB draft.
Not overly thrilled by their first two selections, UNC shortstop Tommy Coyle and Oregon State third baseman Ryan Dunn. Neither hit particularly well, especially in tougher conference play.
Kevin Brandt, the Rays' 18th round pick out of East Carolina, has a chance to be good. Brandt was 7-5 with a 1.82 ERA, striking out 63 batters and walking 26 in 94 innings.
I like their 27th round pick as well, Oregon pitcher Alex Keudell. Keudell was the PAC-12 Conference pitcher of the year after going 10-4 with a 2.12 ERA and 65 strikeouts against 26 walks over 110 innings.
A mixed bag of talent overall on the day for the Rays.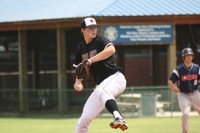 Photo courtesy theitem.com
The Texas Rangers have all they need for pitching help now that they've selected 18 hurlers on Day 3 of the MLB draft.
Their deep farm system got a lot deeper, and the additional help chosen was quality.
Their 19th round pick, right-hander Tyler Smith of South Carolina-Sumter Junior College, was outstanding this spring, posting a 10-1 record and 1.13 ERA with 102 strikeouts in 80 innings. Smith has a commitment to pitch for the University of Tennessee.
Texas did select a higher number of high school players than many other teams—10 in all. While some will no doubt honor college commitments, the Rangers fared very well in securing what they wanted and what they needed.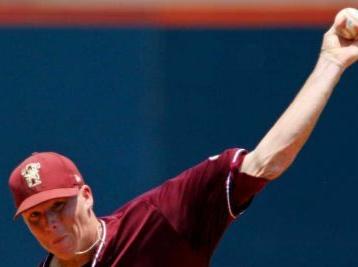 Colton Turner, 21st round pick for the Toronto Blue Jays. Photo courtesy mysanantonio.com
The Toronto Blue Jays went fishing for southpaws on Day 3 of the MLB draft, landing five of them altogether.
In the 18th round, the Jays selected Alonzo Gonzalez, a lefty from Glendale Junior College (CA) who was 7-2 last season with a 2.59 ERA. Gonzalez is not moving on to a major college program and plans to sign as quickly as possible.
Colton Turner was another lefty selected by the Jays in the 21st round. Turner was 5-3 with a 2.46 ERA for Texas State, and is a Jimmy Key-type pitcher—crafty with several good pitches.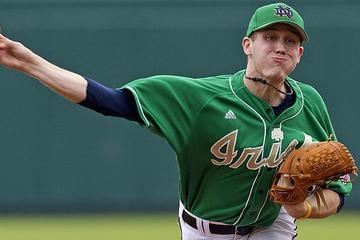 Will Hudgins, 22nd round draft pick for the Washington Nationals. Photo courtesy ncaa.com
The Washington Nationals ended their 2012 draft by adding another 15 pitches, adding to a farm system that's already considered pitching-strong.
Their 16th round pick was Ronald Pena, a right-handed pitcher from Palm Beach State College (FL). Pena was 9-2 with a 2.72 ERA and 68 strikeouts in 76 innings.
Blake Schwartz, another right-hander out of Oklahoma City University, followed in the 17th round. Schwartz was 11-4 with a 3.74 ERA and 113 strikeouts in 98.2 innings.
In the 22nd round, the Nats chose Will Hudgins, another right-hander, this time out of Notre Dame. Hudgins was 5-3 in 15 starts with a 2.06 ERA, and 90 strikeouts in 96.1 innings for the Fighting Irish.
Doug Mead is a featured columnist with Bleacher Report. His work has been featured on the Seattle Post-Intelligencer, SF Gate, CBS Sports, the Los Angeles Times and the Houston Chronicle. Follow Doug on Twitter, @Sports_A_Holic.