Euro 2012: What Band Would Each Squad Be?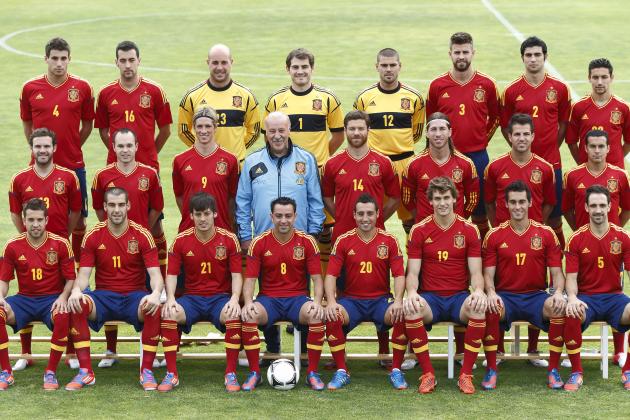 Handout/Getty Images

Football and music are inseparable. From celebration dances after a goal to a jam in the bus on the way to a match, music is always present with the players. Nonetheless, fans adapt lyrics to melodies or even compose their own and take them to the stands to support their team.
Music and football are pulsating. A good match is likened to a good show. Both are considered art forms by many out there. Players have reached pop-star status, and many of them feature in music videos around the planet.
Because Euro 2012 is at hand, let's see what bands are likened to each team.
Begin Slideshow

»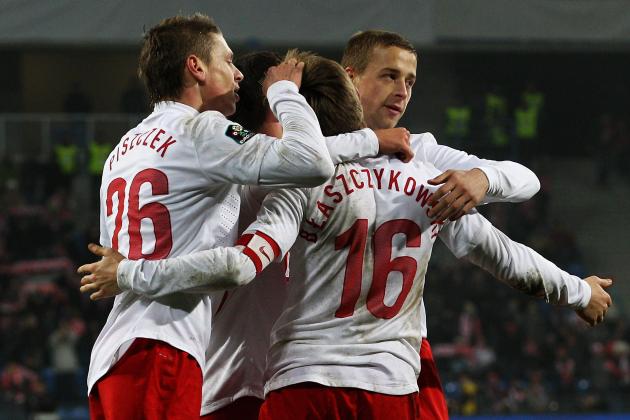 Dean Mouhtaropoulos/Getty Images

Poland rarely plays an unexciting match, whether as favorites or as underdogs. This team is fueled by the same youth that play key roles in the Borussia Dortumund machine. Lukasz Piszczek, Jakub Blaszczykowski and Robert Lewandowski all hail from Dortmund and have hopes of taking their squad past the group stage.
Poland, in way, reminds me of Foster The People: a very exciting and young act that has a very loyal, albeit small, following that have reached recent success.
Like Foster The People, Poland is trending up for the next World Cup. Don't be surprised if they put on a great show as host nation both on and off the pitch.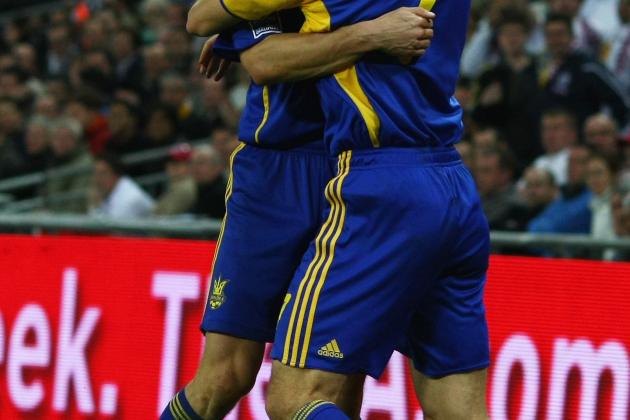 Clive Rose/Getty Images

The other host nation of the Euro 2012, Ukraine has had a rough and tumble last couple of years as their stars of the '90s are trending down.
A squad that had its main force playing offensive soccer and fueling the keen touch of Andriy Shevchenko, Ukraine relies on the return of Soviet legend Oleg Blokhin to their bench in the hopes of inspiring the same grit and attacking football that took them to the quarterfinals in the 2006 World Cup.
Ukraine is much similar to Audioslave. Why? It was born after a separation process, Its members were once touted as some of the best in the world, and its biggest hits went high in the charts fairly recently. However, its biggest members are things of the past, and new bands have crept up to replace them.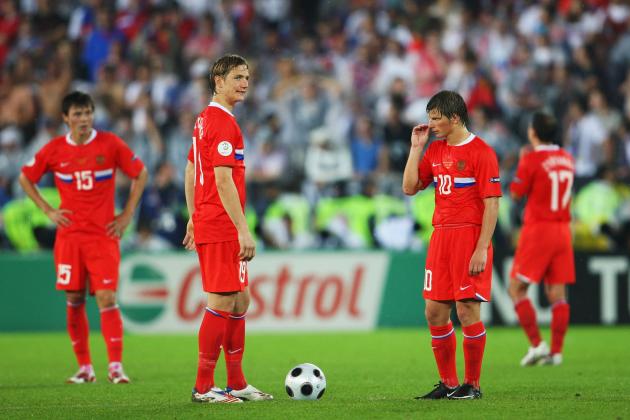 Jasper Juinen/Getty Images

Russia has always been that odd person that no one can really understand all the different facets to it. Seemingly obsolete at times, the Russian squad's history, either as the Soviet Union or the Russian Federation, is undeniable. Some of the best players the world doesn't know about were Russians.
The Russian squad is full of character and flair on the pitch, especially its leader, Andrei Arshavin. Much like Bob Dylan, Arshavin does his own thing and is always on the back of everyone's mind as their guilty pleasure. Everyone has a soft spot for Dylan's and Arshavin's weirdness on the big stages and their unique presentations.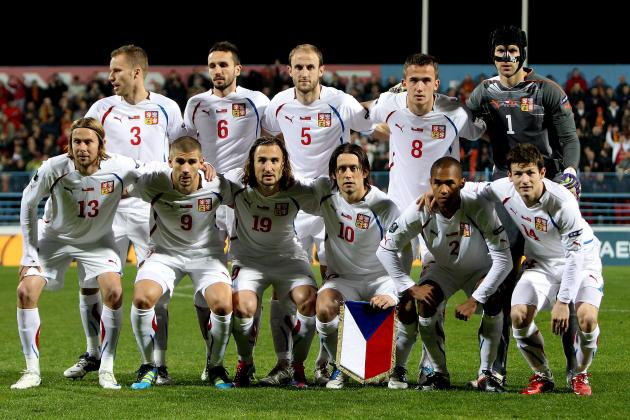 Scott Heavey/Getty Images

Ever since the Pavel Nedved/Karel Poborsky/Jan Koller generation started hanging up its boots, Czech soccer has struggled to keep up with expectations.
The hype of old is gone, and a string of disappointing performances has been the rule of thumb when it comes to the World Cup. The Czechs are a team that everyone waits for their old spark but will never come to its old form.
Well, the Guns N' Roses are exactly this. Their major star, at least skill-wise, has retired from the act, and their comeback was very underwhelming, to say the least. Despite still being a classic, they'll never return to the old days.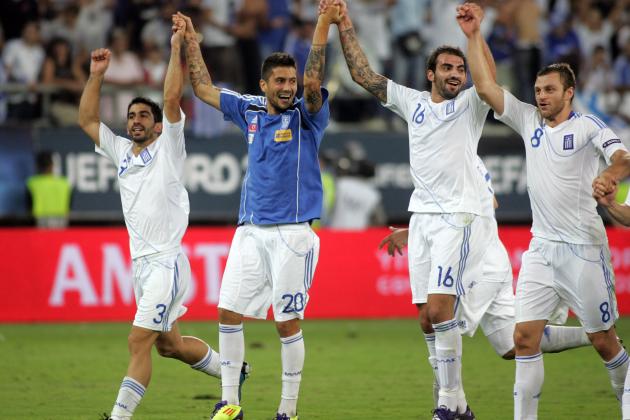 Milos Bicanski/Getty Images

Greece is a one-trick pony, and they have been that way as their players age. One can always rely on them having speedy wingers that don't last a full match but are able playmakers. Their full-backs are serviceable on defense and able crossers on offense.
They always have a tall forward to score the headers. This post was filled in by Angelos Charisteas, but now, it is shared between Giorgios Samaras and Theofanis Gekas.
The type of defensive soccer that Otto Rehhagel instituted went obsolete, and the Greeks are now in a transition phase.
The Backstreet Boys are similar to the Greek football squad because their poppy hits caught the public's eye for a very short period of time, and they capitalized on their opportunity, like the Greeks by winning the Euro 2004. They are now old and obsolete and basically a footnote on history, much like the Greek football team.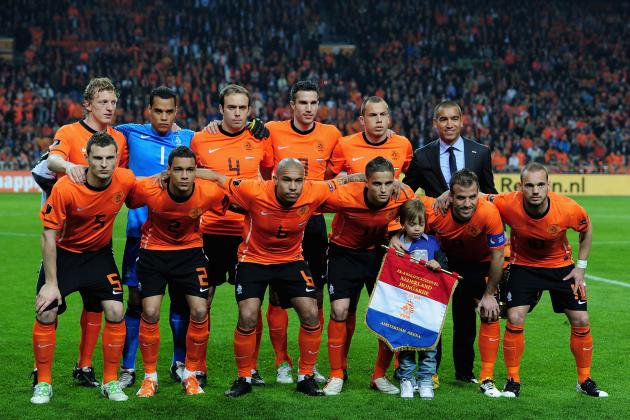 Jamie McDonald/Getty Images

The Netherlands are a classic squad that never really hit it big despite playing with the utmost brilliance throughout history. With a string of unfortunate events, they have lost on several semifinals, whether on the World Cup or on the Euros.
Though the Netherlands have produced some of the most exciting players of the last 50 years, they have no silverware to show for. The Dutch squad is much like Weezer in this sense.
The band led by hipster extraordinaire Rivers Cuomo had awesome moments (see: Island In The Sun, Beverly Hills). But much like the Dutch squad, Weezer never really had the "moment" that would definitely establish them as a superpower.
Like the players in the Oranje, Rivers Cuomo was an icon of the early 2000s, but he never really achieved superstar status.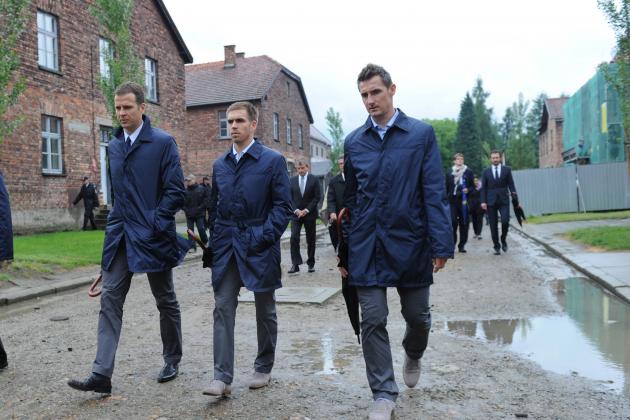 Pool/Getty Images

The new Germany is exciting and unorthodox. Flair and skill are on the menu, while still maintaining the usual discipline and defensive capability. This new Germany, with heavy influence of other soccer schools because of the multinational character of its squad, has given the world something new to talk about instead of the boring style of Spain.
These are some reasons that this generation of the Nationalelf reminds me of the Arctic Monkeys. Recently, both have been making waves in the international scene and making us like flair again. But neither has reached superstar status yet. Missing that one big concert.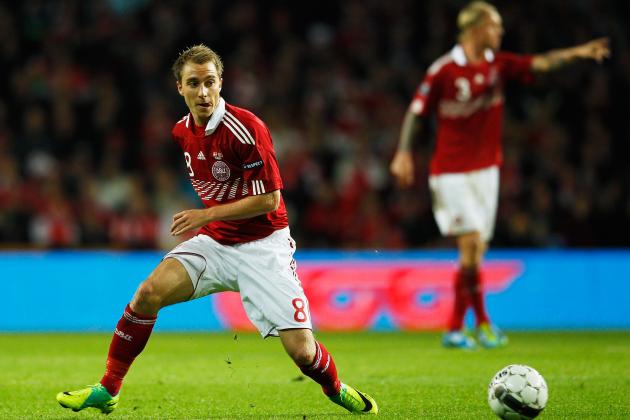 Paul Gilham/Getty Images

Morten Olsen's Denmark has made a comeback of sorts in the international stage after the last World Cup. Their good showing got us to talk about them again.
Despite being a more complete team, they lack a great star that can carry the team on his back. That star seemed to be Nicklas Bendtner, but somewhere in the developmental road, he lost himself, and his skill set is a lot different than that of the Laudrup brothers.
For me, Denmark is much like Duran Duran. Their biggest hits are landmarks of that time but never really carried on to the next decades. With one glimmer of hope here and there, both survive on the fame garnered back then.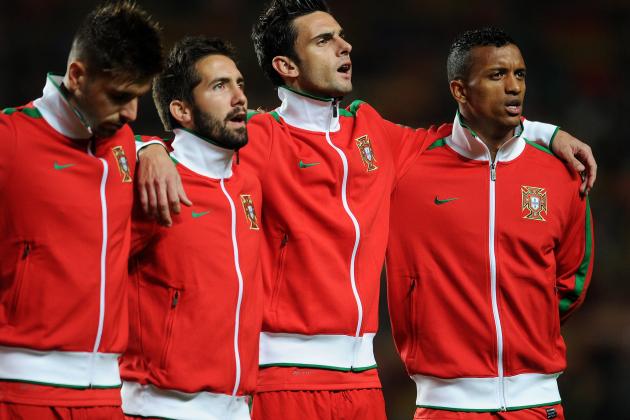 Jasper Juinen/Getty Images

If it weren't for Cristiano Ronaldo, there wouldn't be much to talk about Portuguese soccer nowadays. A gateway country into Europe for soccer wonders (see: Radamel Falcao Garcia), Portugal is a one-man show that does little to take off the weight from that superstar.
For me, Portugal is a good squad stuck with the football superstar and they can't coexist together. CR7, in my opinion, has made a good team hostage to his skills, which aren't little.
Because of this, Portugal, for me, resembles Van Halen. Both were among the top in the world and have their fair share of followers, but their fans are there today just to see one guy hold the act together.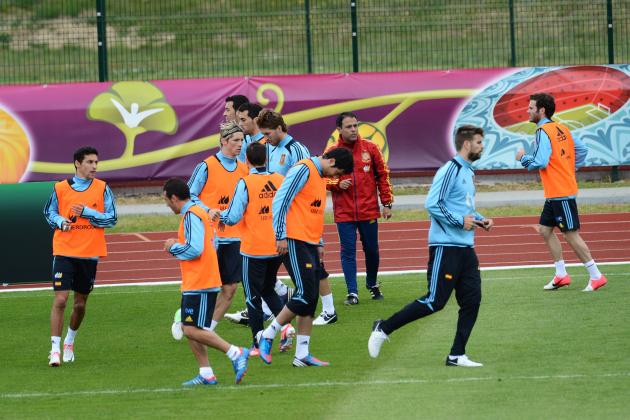 Jasper Juinen/Getty Images

La Furia is back, and after winning a few competitions in the international stage in the past cycle, they couldn't look more poised for another win to perpetuate their domination. I'm sure that David Villa's absence will be felt in the group, but the players selected are more than capable of filling that role and then some.
The real interesting thing about Spain is that it follows the pattern of all Vicente del Bosque teams. In Real Madrid, Fenerbahçe and Spain, Del Bosque is handed superstars, who he makes play a possession game, waiting for an opening in the opponent's defense.
It is my opinion that the whole allure of this type of game is dwindling slowly. Why? Barcelona without Alexis Sanches and Messi would be a boring team to watch as Busquets, Xavi, Iniesta and Fàbregas would keep the ball for the majority of the game only trading passes among themselves.
Take away Busquets and insert Xabi Alonso, and this is what happens when Spain plays without Villa. Frankly, I'm bored.
This is why Spain reminds me of the world's largest band today, U2. Both are dominating the world right now and seem to defend good styles, but the truth is that many are bored with their style.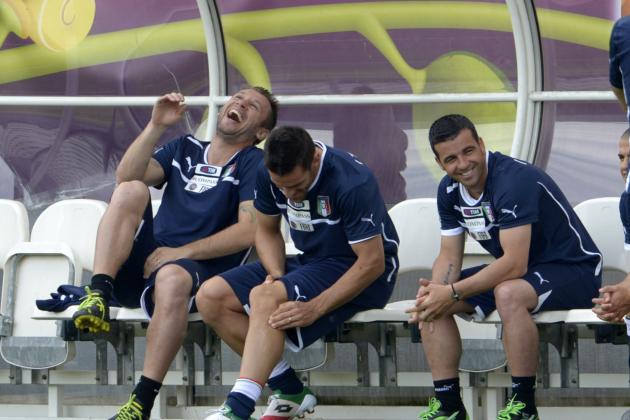 Claudio Villa/Getty Images

The big, bad Azzura. Italy is always an enigma. When they look down, they seem to muster forces and make a run at the title (see: World Cup '94, '06). Despite going through hell when without Marcelo Lippi at helm, the four-time world champions can never be dismissed as a force to be reckoned with.
While not displaying the most exciting brand of football under Cesare Prandelli, Italy comes into the tournament in turmoil after full-back Domenico Criscito was released from his duties after an alleged participation in the most recent match-fixing scandal.
This is only one of the scandals that makes me remember the illustrious Rolling Stones when talking about Italy. Their fondness for scandals and "liberal" behavior and their ability to produce great shows in the biggest stages are some points where Italy and the Rolling Stones go hand in hand.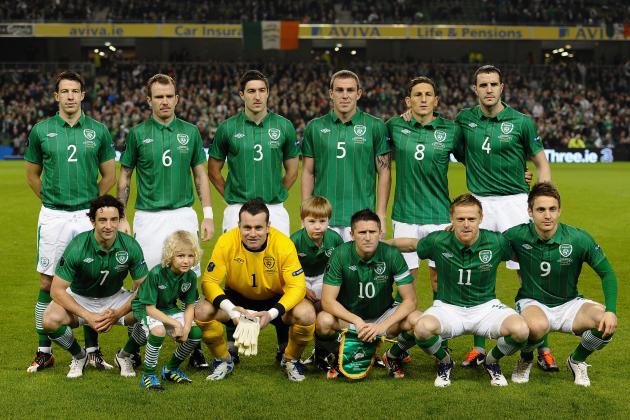 Laurence Griffiths/Getty Images

Ireland is always an enigma. After having been cheated out of the last World Cup by Thierry Henry, the Irish are back with a vengeance.
Despite being one of the darkest horses in the race, this team has been playing together for a while, and that is their main weapon. As their household names age, new names like striker Shane Long have to step up to the plate like he has.
Ireland reminds me of Poison. Even though they're a thing of the past, their fans still follows them wherever they go, even being a little bothersome, to say the least. Their fans show up for the party and for the drinks rather than a quality presentation.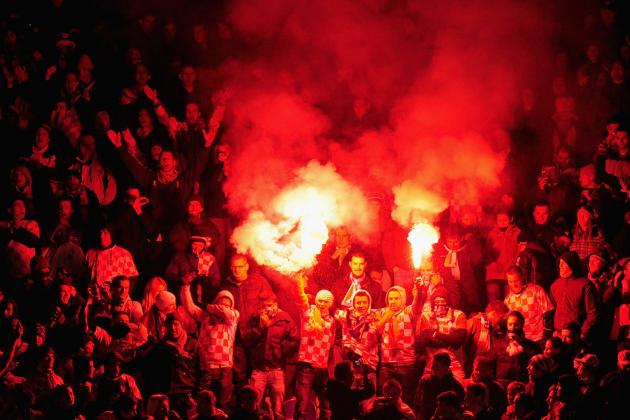 Jamie McDonald/Getty Images

Drinking from the ever-flowing fountain of soccer that is Slaven Bilic at their helm, Croatia is one of the most unsuspecting squads in this Euro. Their defense is not imposing anymore, but their midfield with Niko Kranjcar, Luka Modric and Ivan Perisic has enough skill to wreak havoc in the tournament.
If Nikica Jelavic can continue in his good tide until the end, they might be poised for a deep run this year.
Croatia reminds me of Blur. The generation that used to compose the Yugoslavian U-20 squad in 1990 gained independence and, under a single banner, went to France for the 1998 World Cup. That deep run that was ended by heartbreaking goal scored by French head-coach Laurent Blanc showed the world that Croatian soccer was alive, but they were old and lost momentum after that.
Like Blur, they survive on their one hit from the late '90s, and every once in a while someone still remembers them.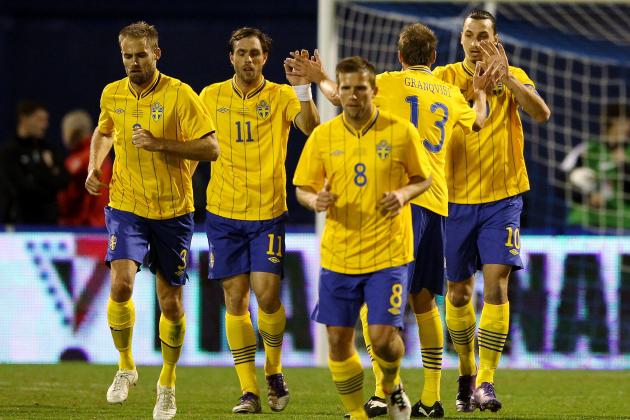 Scott Heavey/Getty Images

The Swedish squad is the Netherlands squad lite. Very skilled players and quick passing have been on the Swedish menu ever since the coming of Henrik Larsson and Thomas Brolin.
Now under the helm of Zlatan Ibrahimovic, their attack has lost firepower, but their defense has gained respect under Olof Mellberg. The Swedes can only hope that Ibrahimovic, Kim Kallstrom and Co. step up to the plate if they wish to have any aspiration in the tournament.
The Swedes remind me of Roxette. They're a highly understimated act that manages to have relative success ever since it broke through, and everyone likes to watch them.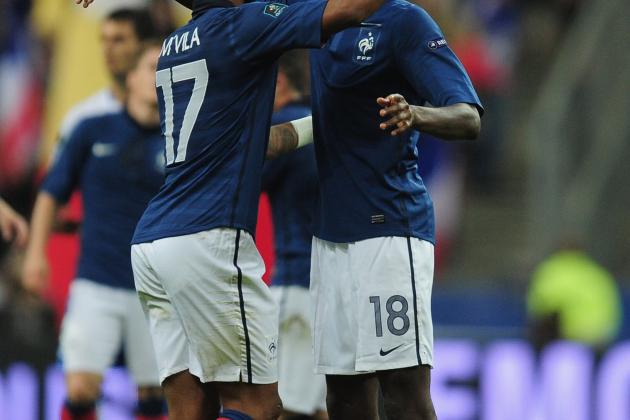 Jamie McDonald/Getty Images

After a pitiful campaign in the last World Cup, France looks poised to uneven the balance of power in the Euros.
With the confidence that Karim Benzema is playing with and with the swag brought by French speedster Franck Ribery, this squad has real potential to make some damage. They seem to be eager to erase all the damage left by Raymond Domenech while at the helm.
France reminds me of Rage Against the Machine. Both survive on the absurd skill of a single man (Tom Morello/Franck Ribery) and manage to make waves every once in a while.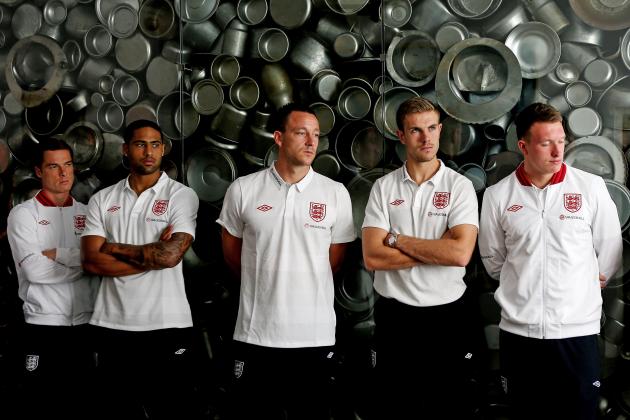 Scott Heavey/Getty Images

The English team is going through one of its most odd phases of the last while. They always seem to have a very skilled group that is going through internal issues, but when the ball gets rolling, they always manage to muster enough strength to produce good performances.
This year, the Rio Ferdinand Affair has left coach Roy Hodgson with a bomb to diffuse, and he has done a good job in avoiding this issue.
For this reason, they remind me of fellow Englishmen Oasis. Oasis, much like the English team, has always experienced a lot of trouble among their components. The future isn't bright for a machine that looks like it has run its course for a while now.