Do Chicago Bears' Defensive Performances Prove Lovie Smith Is Overrated?
June 7, 2012
Brian Kersey/Getty Images
Last week I saw a tweet by Gregg Rosenthal that caught my eye.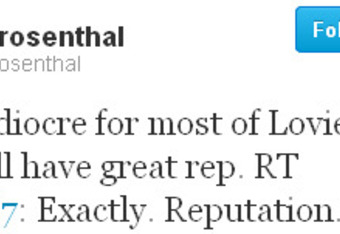 My gut reaction—and I'm not even a Bears fan—was that Gregg was nuts. However, I know Gregg a little bit, so I thought I should take a closer look at the defense that has kept Lovie Smith employed since he took over. (If you're interested, Rosenthal's piece is here.)
There has been a lot of reaction already, largely angry and often doing exactly what they say he's doing—cherry picking stats.
Honestly, all Gregg has to do is start looking in the NFL.com stats files and he (or you) would see plenty of evidence supporting him.
The push back I've seen involves the fact that the Bears are often among the league leaders in turnovers (a focus for Lovie Smith) and points against per game.
So which is the truth?  Are they overrated? Or are they—and by virtue, Lovie Smith—rated just fine?
Let's take both arguments and smash them together to get a complete picture.
First, though, let's talk defense. The Bears are a bend-but-don't-break defense, which is to say they are more than happy to allow teams free reign between red zones, but once teams hit the 20-yard line, the fun (theoretically) stops.
As I mentioned above, they pride themselves on generating turnovers, and keeping scores low.
Scheme is important but we're talking aim here—how they get to the end results isn't as important as getting there.
So when we look at these stats, we also need to think about wins and losses and playoff appearances, including Super Bowls made. Ultimately, that's the big stat—have they won, have they won often and have they won the important games? Finally, how consistent are they year to year? If they always allow X number of yards every year, but the ranking drops or rises around them, it sheds the defense in a different light than if they allow X number one year and Z the next, followed by two years of W.
That's what I am looking at. Above all else, does this defense do what the Bears need it to: win games?
Because let's be honest—stats lie. They look pretty or poor, but ultimately they don't tell you the whole story and are easy to perceive how we want to.
First, let's look at where the Bears' defense has ranked since Lovie Smith took over in 2004. Just rankings according to the NFL and NFL.com—which is based on yards allowed per game.
To save you time, I've put together this handy-dandy Photoshop.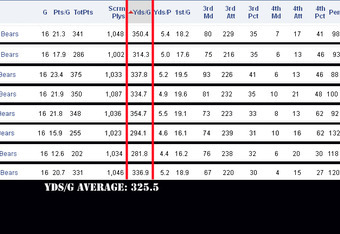 So, out of eight seasons, the Bears have two top-five ranked defenses, one more in the top 10 and then everything else in the bottom half of the league. The yards-per-game averages fluctuate pretty wildly, but so did the overall NFL's.
For example, compare this past season's defense with the 2007 defense. Last year's was ranked a mediocre 17th, while the 2007 defense was a terrible 28th.
And yet the difference in yards per game is less than five yards. That says to me that the way other teams played was just as varied.
In which case, it's hard to use these stats definitively.
Yes, the Bears' defense under Lovie Smith has varied widely in yards allowed per game from year to year, but when its worst year matches the same yards as the most recent, how much does that mean?
Further, look at 2009. Another 17th ranking, but that year they allowed 20 yards less a game than they did in 2011—which gave them the same ranking.
So, the defense pretty much matches overall what we expect from a bending but not breaking D. Overall, it looks ugly but clearly isn't the whole story.
Let's put that aside for a minute and talk about the pass and run defenses separately.
First the pass defense (again, with a handy dandy chart).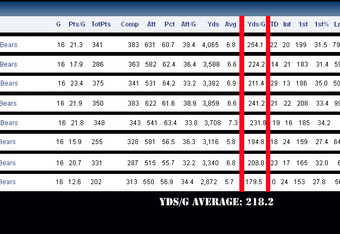 The first thing I notice is how, again, the rankings are a bit all over the place. Despite that, the average for all eight years was 218.2 yards per game—pretty solid if you ask me.
Again, this is a situation where the ranking is hurt by the defense's tendency to give up yards, but not points. The average touchdowns per year is a pretty low 19.5 average.
That's not bad at all, and if you have a competent offense (which hasn't always been the case in Chicago during Lovie's tenure) it puts you in an excellent position to win more games than you lose.
Looking closer, two other things stand out. First, the Bears were ranked in the top 10 in interceptions five out of eight years—four of those in the top five and the last missing at sixth overall.
They averaged 19 interceptions a season, and anytime they capped 20 they were in or around the top five.
The Bears want turnovers, and as far as the pass defense is concerned, they get them pretty often.
What about the run defense? Was it good or bad? Here again is more JPEG help.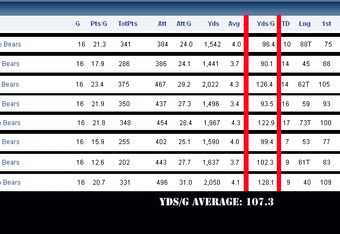 Now, the tricky thing about pass/run defensive rankings is when one is really bad, the opposite part looks good. A team that can't stop the run will get run on, and while it might have a great pass defense on paper, it merely just was not tested.
Why bother when you can run?
So after this, we'll be looking at the overall picture.
Over the course of eight years, the Bears averaged just over 100 yards a game—107.3 to be precise.
That's not ridiculously good but it's not something to worry about. Year in, year out you can run on the Bears, sure, but several other factors stand out in this data.
First, fumbles. In six of the eight years, the Bears were top 10 in fumbles. Another year (2006) they just missed and ranked 11th. They averaged 10 fumbles a year, and with the exception of 2008 where they had just three, they never had less than nine and caused 15 fumbles twice.
They have been streaky stopping touchdowns on the ground, but not horrible, allowing an average of 12 over the span of eight years.
The key is, of course, stopping teams just shy of the red zone and certainly short of the last five to ten yards when a short run can be tough to stop.
However, remember when I said this is where stats are tricky? Whenever the Bears had a highly ranked run defense, the pass defense was mediocre-to-bad. And the reverse was true—if they could defend the pass, the run was the worse for wear.
So, I don't read too much into "great" rush defense or "great" pass defense—inevitably it's coming at the expense of something else.
Right now we've examined this in a vacuum. We know individually what each unit did. In the end, the question becomes, did they win more than they lost?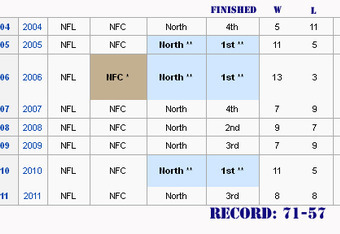 Overall, Lovie Smith has been successful, as you can see from the chart (thanks Wikipedia). He's won quite a bit more than he lost. He also had three division titles, which led to three playoff appearances and one Super Bowl game, which they lost.
Not having a Super Bowl hurts, but looking at the numbers it appears as if, for the most part, his bend-but-don't-break philosophy is working. The defense contains opposing offenses and gives its own offense a fighting chance.
That the offense has often been—at best—bland and impotent is besides the point and in fact makes his win-loss total more impressive.
Now that he has both Jay Cutler and the weapons to help him get the most out of Cutler, his record could get even better.
Is the defense overrated? Yes, a little. It's not dominant across the board the way the best of the best can be.
It does generate tremendous amounts of turnovers and in that sense it's exactly what the Bears want—ergo, it's successful. The team is often ranked high in terms of turnovers, and the fact that the offense struggles to do anything with them isn't on the defense—it speaks more to some of Smith's issues coaching an offense.
But again, it's not a smothering, shut-down defense the way we think an "elite" defense should be, and that's the reputation.
However, while it is a little overrated it mostly gets the job done, which is all you can ask. A smothering defense helps win Super Bowls, but we've seen excellent defenses perform and not get any offensive help—if the Bears lack a ring during Smith's tenure, it's an offensive problem more than a defensive one.
Again, the defense has done its job and very well.
Now, is Smith overrated? Well, that's a sticky question. While I have heard people say good things about Lovie Smith, I've never heard him mentioned in the same breath as Bill Belichick.
Therefore, it's hard to be that overrated when the buzz is that he's a solid coach.
This could be the year to shush the naysayers. They have all the tools, all the offensive weapons they could want.
There can be no more excuses.
They are risking a ton with the offensive line, but Smith and Mike Tice are sure they can work it out with existing talent.
If they're wrong it could very well cost Smith his job, which was one of the points of Rosenthal's piece. He's right about that for sure.
However, it doesn't make him overrated.
Check out the B/R NFC North Facebook page - like us and keep up with everything NFC North on Bleacher Report!