Stanley Cup Finals 2012: 5 Players Who May Be Playing Their Last Game as a Devil
June 6, 2012

Jim McIsaac/Getty Images
There's not too many people who would argue with the following statement: the Los Angeles Kings will win the Stanley Cup.
The Kings have not won the Cup yet, but they have a 3-0 series lead against the New Jersey Devils, and that means they have four chances to win one game.
Given that the Devils haven't demonstrated they can even win one game yet, they're likely not that confident. And while it's not impossible, it seems less a matter of "if" and more a matter of "when".
The Devils have a number of expiring contracts at the end of this season. Some have been talked about non-stop this season: Zach Parise for one, Marty Brodeur for another. But a lot of role players are gonna be able to leave as well, and the Devils will not be able to keep all of them.
The following players are still Devils, but as soon as they lose one more game, their statuses are much more up in the air:
5. Johan Hedberg
Hedberg, "Moose" as he's affectionately been known throughout his career, has been a dynamite back-up goalie. Much of his career, he's backed up someone else, but he does it consistently well.
For the past two seasons, he's stepped in and taken the helm when Brodeur needed a break or was injured, and he's been great.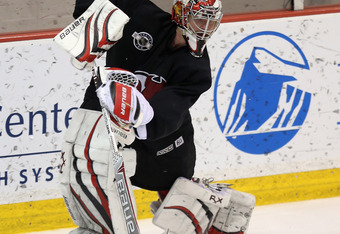 Bruce Bennett/Getty Images
Unfortunately, Hedberg is 39, and the younger of the two Devils goalies. With Brodeur looking more and more like he'll return, the Devils should have no choice but to drop Hedberg to try to find someone to eventually replace Marty.
I love Moose, and I wish he could stay on. Unfortunately, the Devils only have room for one 40-year-old goalie on their roster next year, and it appears to be taken.
4. Ryan Carter
Carter has been huge this playoffs. As a member of the Devils' fourth line, he has routinely helped the Devils squeak through series. Carter is coming off of a one-year, $750,000 contract. If he likes that salary, the Devils would gladly re-sign him at it.
Unfortunately, Carter has been too good.
Though he added just eight points and a minus-12 rating in the regular season, he's been huge in the playoffs, scoring five goals (two game-winners), adding two assists and earning a plus-five rating.
Carter's play this postseason has almost certainly earned him a raise, and the Devils simply have bigger fish to deal with.
Carter will likely sign a moderate contract as a role-player for a decent team. But unless he's willing to wait for Parise, Brodeur and others to be sorted out, he'll land somewhere else.
3. Alexei Ponikarovsky
Poni joined the Devils mid-season, and looked good with the team. His size and strength seemed to make him a good fit with David Clarkson, and he produced modestly throughout.
In the playoffs, he's been mostly ineffective, scoring a goal and adding five assists. His goal was an overtime-winner though, and he also has a plus-six rating, so he's clearly playing some good hockey.
Ponikarovsky was an acquisition to strengthen the team for a Cup run, and he did that. Unfortunately, it would appear that the Devils have fallen short on that run, and that means it's time for Poni to move on
With a $1.5-million cap hit this season, he's fairly affordable. If he wants any more than that, or a longer contract though, he's likely a better fit with another team.
2. Bryce Salvador
Salvador signed a four year, nearly-$12-million contract four years ago. Since then, he's largely been a disappointment: he was never a great offensive forward, but he's contributed 39 total points over that span. Part of that is because he missed an entire season due to injury, and part of it is that he's just not that good.
Something changed this playoff though.
After a full 82-game season with no goals and nine assists, Salvador has been crazy-good in the playoffs: he's scored three goals, added eight assists and has a plus-seven rating.
He's been solid, he's been exciting and he's even occasionally been clutch. Unfortunately, the playoffs before a contract expires is not the best time for a player to start playing well (from the team's perspective).
Sal probably won't get a contract like his last one, but he may have pushed his salary next season to more than two million with his play thus far, and for a 36-year-old, injury-prone, inconsistent defender, he's just not worth the risk.
1. Zach Parise
Sigh. Does anyone really know what's going on in Parise's head? The Devils' captain will be a UFA at season's end, and from there...it's hard to tell. He's said he wants to play for a contender, and the Devils have proven themselves to be that.
A problem has arisen, though.
During their run, Brodeur has made more and more statements about how he'll likely return next season. I really believe that that will only make Parise want to leave more.
The Devils have a lot of extremely-talented players, and a good number of younger prospects who are showing promise. The main problem is Marty: he's been all-world most of his life, but he's 40. It's gotta end at some point, and it'll be soon.
Meanwhile, the league's collective bargaining agreement expires September 15, and Parise will want a good long contract in before then, the reason being that a new CBA may limit a player's salary or cap-hit. The Devils have already signed Parise to a one-year deal, and this is the result: we made a Finals run, but that was it.
Now, he has to move on.
With Marty coming back, the Devils will prolong their franchise-goalie search for at least one more year, and Parise isn't going to sign long-term with a team that's future is so murky.
This is entirely up in the air and largely speculation on my part, but don't be surprised if Parise finds it's time to move on from the Devils once this series closes.