Miami Heat vs. Boston Celtics: What Would a Loss Mean for LeBron James?
June 7, 2012

Mike Ehrmann/Getty Images
The entire world of basketball knows how pivotal Game 6 of the Eastern Conference finals is to the Miami Heat.
In the second season of the "Big Three" experiment, LeBron James and Dwayne Wade led Miami to a 2-0 series lead, but behind the clutch play of Rajon Rondo, Paul Pierce and Kevin Garnett, the Boston Celtics have stormed back to take a 3-2 lead.
The past two games have been agonizingly close for the Heat, who have lost by a combined six points in Games 4 and 5.
LeBron James has been unable to shed the "choker" label he was given last season so far in this series. Against the Dallas Mavericks in last year's finals, LeBron and the Heat let a 2-1 series lead slip, and James, the presumed superstar and "takeover" player, passed up shots late in games.
That came about a year after he, Chris Bosh and Dwayne Wade decided to join forces in South Beach to, in the words of James, win not one, not two, not three, not four, not five, not six, not seven rings. Instantly, the heat went way up in LeBron and the Heat's pressure cooker.
Against Boston in Game 4, the three-time league MVP passed up a potential game-winning shot to Udonis Haslem, who missed, eventually leading to the Heat's defeat.
Playing against Boston in the playoffs already has plenty of bad memories for "King" James. In 2007, the year the C's brought together their own Big Three, the defending Eastern Conference champion Cavaliers lost a heartbreaking Game 7 in Boston, despite LeBron's 45 points. 
Two years ago, in LeBron's last game in a Cavs jersey, fans saw him seemingly give up as he and his top-seeded Cleveland team lost in six uninspiring games to Boston.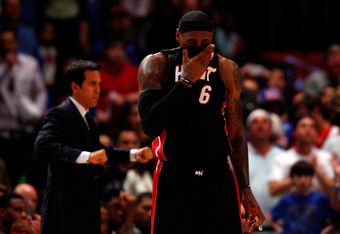 Jeff Zelevansky/Getty Images
Another playoff loss to Boston and two seasons without a ring for the three amigos would be costly. The future of coach Erik Spoelstra would be very murky, and a sense of urgency would really have to hit. 
However, for the "King" in particular, how does a ninth ring-less season impact him? The haters, non-heat fans and media will all attack him relentlessly, but this year goes beyond that.
How will the all-star small forward's short- and long-term legacy be tainted by another year gone by without a championship to show for his talent or MVP trophies?
LeBron James is arguably the single most athletically gifted player to pick up a basketball. He is fast, has great hops, is ridiculously strong and possesses excellent vision. He is the absolute complete package, who should easily be considered an all-time great.
However, he is missing perhaps the most key element for an athlete: a strong mental game. LeBron is afraid to shoot late in games and each time he passes, his reputation takes another hit.
Taking his talents to South Beach has already given LeBron a legacy problem. Although untrue, fans consider that Michael Jordan, Magic Johnson, Larry Bird and Bill Russel all won their championships by themselves. However, it's not only the fact that he sought help from two other superstars, but it's that he left the team that made him who he was.
The Cavaliers drafted him and molded him. As mentioned earlier, they went all the way to the NBA Finals in 2007, but, LeBron, Ohio's native son, bolted out when the door opened.
To further tarnish how he fits with the NBA's greatest, it has taken the rest of the upper echelon of stars much less time to win their first ring.
Even with the injury to Chris Bosh, LeBron and Wade should be able to finish off an aging, ailing Boston team.
James proved this season that the motivation from prior failures can infuse new blood and help someone succeed, but going zero for two with his two amigos would bring a wave of criticism that James may not be able to brush off.
Beyond that, a quasi-rebuild for Miami may be in the cards, not necessarily by cleaning the house, but by trying to acquire some younger and overall better role players in the future.
In the long-run, Pat Riley's Heat will not forgive themselves for the failure this season.
Teams like the Oklahoma City Thunder, Chicago Bulls, Los Angeles Clippers and Indiana Pacers are slowly climbing the ranks and could eventually take over the reigns of favorites from Miami (the Thunder are already on level pegging). 
This year, with OKC perhaps not to their top level yet and other teams either injured or aging, James should be able to finally seize the ultimate throne this year.
It seems, though, as if he will not do what was expected of him, and this will carry many consequences.
First, the new stream of attacks against him will come. If LeBron can't really handle them, his game may take a step back next season.
More importantly, James' all-time legacy may be pushed back down by yet another failure to take it home. If he can't put a team on his back, especially one with another Hall of Famer as a teammate, people will never get over it. Game 6 at TD Garden is a "must win" for LeBron James.
Some may argue that at only 27 years of age, LeBron has more years in the league, and he can't be defined by one or two performances in the playoffs, which, overall, haven't been too shabby anyway.
However, an NBA player's prime usually happens between the ages of 25 and 29, which James is entering the tail end of.
With Russell Westbrook, Kevin Durant and James Harden becoming the "it" trio in the NBA, beyond the legacy, LeBron may find it hard to get rings after this season. So, he needs a virtuoso King performance to keep this from happening.