UFC on Fox 4: Who Should Replace Brian Stann Against Hector Lombard?
June 6, 2012

A shoulder injury has struck middleweight Brian Stann, forcing him out of a UFC on Fox 4 bout against former Bellator champion and UFC newcomer Hector Lombard. The bout between Stann and Lombard was expected to headline the fight card that also features a light heavyweight bout between Lyoto Machida and Ryan Bader.
It is currently unknown whether or not the fight between Machida and Bader will now become the card's main event. That could depend on who the UFC is able to find as a replacement for Stann to meet Lombard.
With many 185-pound contenders already locked into fights against one another, there seems to be one substitute opponent for Lombard who makes far more sense than any other.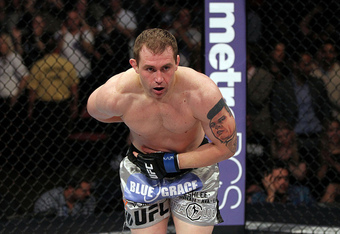 Alan Belcher is a winner of his past four fights, last defeating Rousimar Palhares via knockout in the first round.
Not only is Belcher deserving of an elite middleweight opponent like Lombard, but his win against Palhares came at UFC on Fox 3, making him a familiar face to any casual fans who might have tuned in to the UFC's last Fox-televised event.
Some might propose moving a top middleweight from a nearby fight card to UFC on Fox 4 for a fight with Lombard.
Michael Bisping is scheduled to fight two weeks prior to UFC on Fox 4 and Yushin Okami is expected to compete one week after the Fox event, but both of those fighters are coming off of losses and might not be worthy of a potential title shot-clinching fight with Lombard, who hasn't lost in 25 consecutive appearances.
The only available 185-pound fighter with the name recognition and resume worthy of filling in for Stann, Belcher should be offered this bout against Lombard, which could grant the winner a meeting with the winner of an upcoming title fight between champion Anderson Silva and Chael Sonnen.
"There's no road too fast to get to a title shot," Belcher told Fuel TV's Ariel Helwani after his win over Palhares in May. This short-notice matchup against Lombard may come a bit sooner than Belcher expected, but he certainly won't be one to turn down the chance to make a bid for a shot at the middleweight belt.