BYU Football: Should the Cougars Move to a Conference?
Otto Greule Jr/Getty Images
Ever since the BYU Cougars chose to become one of the four FBS independent teams in 2010, fans began hoping that the move would eventually lead to the school joining an Automatic Qualifying conference.
But if this dream comes true, will it be the right move for the program?
Here are a few pros and cons to BYU joining an AQ conference.
Pro: Scheduling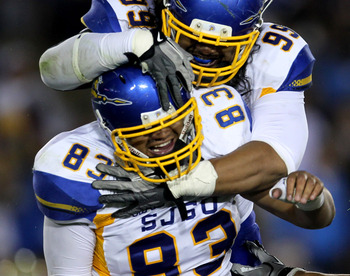 Many Cougar fans are tired of playing teams like San Jose State and Idaho.
Stephen Dunn/Getty Images
I have no clue how BYU makes any money off of games against Idaho and New Mexico State. They are always obvious wins for the Cougars, and they can put the biggest BYU fan to sleep. If BYU really wants respect, they are going to have to play some quality teams.
Joining an AQ conference would give the school a game almost every week against good and well-known competition. Besides that, the conference helps its teams make their schedules, so BYU wouldn't have to do it by themselves anymore.
Although the Cougars may still have one or two cupcake teams on their schedule, it'd be much better than playing teams from the the WAC almost every week.
Con: Exposure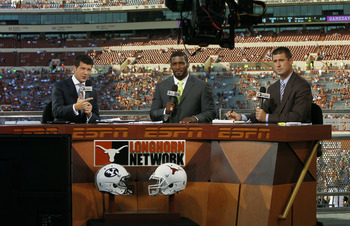 11 out of BYU's 13 games were shown live on ESPN, including this game against Texas.
Erich Schlegel/Getty Images
One of the main reasons that BYU decided to go independent was to gain more national exposure. So far, that goal has been a success.
Deals with ESPN and BYUtv have put Cougar football into millions of homes around the globe.
It will be tough to find a conference that will let BYU keep its television rights with ESPN. Although several conferences now have tier-one television deals, that doesn't guarantee the Cougars a spot every game. If BYU wants to stay on ESPN every week, then independence is the best option.
Pro: Eligibility for BCS Playoff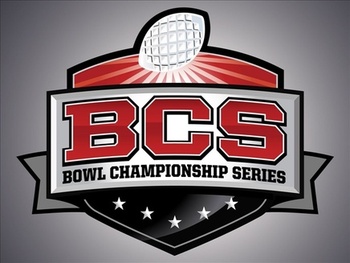 Copyright BCS, 2010
Eligibility for the recently announced four-team playoff is a huge reason why BYU should join a conference. The most logical ways to pick the four teams that make the playoffs will either be to pick the champions of the four best conferences that season or to pick the top four ranked teams.
Even if the latter is chosen, teams are consistently ranked higher if they are in a major conference (talk to Boise State about that).
The playoff will go into effect in 2014, and even if the Cougars join a conference before then, it will still be hard to get into the playoff. I wouldn't expect to see BYU in the playoff for several years after it is put into effect.
Con: The Nature of the School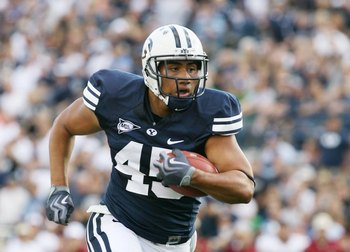 Harvey Unga, a former Cougar, was released from the school after a violation of the Honor Code.
Melissa Majchrzak/Getty Images
Many people have decided that independence is a perfect fit for the Cougars because of BYU's religious background and nature. For example, the Cougars do not compete on Sundays, and they have an Honor Code that all students must obey while attending the university.
As an Independent, the no-Sunday play rule hardly affects the Cougars. In a conference, however, having rules like that can greatly affect scheduling and placement in polls and other items.
As Notre Dame decided years ago, independence is tough but can be an ideal fit for select programs. I think that BYU is one of those schools. Unless the Cougars are invited to the Big 12 or a similar conference, they should stay independent.
Keep Reading

BYU Football: Like this team?