MLB Draft 2012: Orioles Drafting Cal Ripken's Son Is Feel-Good Moment of Draft
June 6, 2012

When you hear the last name "Ripken", there is only one team that comes to mind.
The Baltimore Orioles ensured the Ripken named stayed within the franchise when they selected Cal's son Ryan in the 20th round of the 2012 MLB Draft on Wednesday.
The O's newest prospect attended Gilman School in Baltimore, where the 6'6'' first basemen hit .377 with 25 RBI while also posting a 4-1 record and 2.30 ERA on the mound.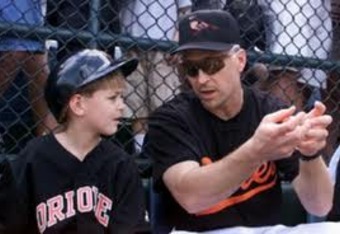 But there is no question he is a first basemen, and he will now make his way through the organization (assuming he signs) to one day play on the same Camden Yards diamond his father once patrolled.
The Ripkens bleed the orange and black of the Orioles. Cal is a Hall of Famer who possesses one of the most impressive feats in the history of sports with his Iron Man streak of 2,632 consecutive games played.
He played all 21 years of his career in Baltimore (19 All-Star appearances) while winning a World Series and two MVP awards along the way. There is no question he is the greatest player in Orioles history and quite possibly the greatest shortstop of all-time.
His father, the late Cal Sr., was manager of the club in 1987 and briefly in 1988, becoming the only manager to coach two sons at the same time in the majors. He was inducted into the Orioles Hall of Fame in 1996. Cal Jr.'s brother Billy played for the O's for seven years in a variety of roles in the infield.
Now, the Orioles have the next great Ripken on their side. While the Baltimore Sun is reporting that he has committed to play college baseball at South Carolina, there is no doubt he belongs in Baltimore.
We all know Cal Jr. will steer him in the right direction to ensure he has a lasting career in the big leagues, and he'll make sure he gets that opportunity with the O's.
Expect Ryan Ripken to sign and become a fixture in the organization as he works his way up the ranks just like so many others in his family have done over the years.