NFL Dallas Cowboys: Could James Hanna Be the Cowboys No. 3 Receiver ?
June 6, 2012

Layne Murdoch/Getty Images
James Hanna, the Cowboys sixth round pick out of Oklahoma, stands 6'3, and weighs 252 pounds. While some would say that he needs to improve his strength to be able to take on and sustain blocks, there is one statistic that can be vital to the Cowboys' passing attack in 2012—Speed. Hanna, who the Cowboys didn't draft to be a blocker, was clocked at 4.45 during the combine and drafting him could prove to be perfect timing for the Cowboys.
Not only did the Cowboys have a need for a third tight end, but there have been very few evolutions in the NFL in recent history like the evolution of the tight end position. With the NFL being a copycat league, more teams have learned that there are certain elements of the tight end skill set that cannot be accounted for by a defense. Some tight ends are faster than most receivers and bigger than most defensive backs—hence the nightmare matchup. 
When you look at the success of Aaron Hernandez or Vernon Davis, it's no wonder why teams are incorporating the tight ends more into the offense versus running out smaller, speedy receivers. Teams are even scouting more college basketball games today based on the fact that basketball players between 6'4" and 6'6", have the athletic ability to run down the middle of a football field.
Quite simply, the tight end position has changed the way teams think of offense and defense. In some cases like New England, the position has become the focal point of the offense. The confusion it brings to defensive coordinators can be stressing because you don't know if a more athletic tight end is setting up a run or going out for a pass. But that's contingent on having the right target.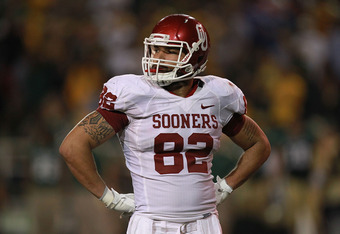 Ronald Martinez/Getty Images
Could James Hanna be that target for the Cowboys, especially in a year where the number three through five receiver spots are up for grabs? He could very well be, and at a minimum, he can improve the group with his individual play. In fact, I think Jason Garrett has plans for him.
The Cowboys have had amazing success at the tight end position going back to Doug Cosbie, Jay Novacek and as current as Jason Witten. Witten has not only been a rock for this team, but he's played at such a high level of pass catching and blocking that he is the complete tight end. But the failures of Martellus Bennett and the lack of a presence of John Phillips have given the Cowboys no choice but to upgrade the position and try and get that new wave tight end.
If the Cowboys can find ways to get Hanna involved in the passing game, whether it be in movement type plays or bringing him in motion and running a seam route, defensive coordinators will have to account for him when he's on the field. That could be as equally dangerous for this offense as a quality number three receiver could bring.
Whoever winds up covering Hanna would ultimately dictate the route, but again, it would not only cause a matchup problem, it could enhance the play of guys like Dez Bryant and Miles Austin as well. The Cowboys really need to maximize this potential source of offense and developing Hanna could ultimately give them a version of Aaron Hernandez as they are similar in size and build.
Hanna runs well and even ran better than Coby Fleener, who was the first tight end taken in the draft. But when you look at Fleener, he brings a more polished game. There is no doubt that Hanna is more of a project, but it's hard to overlook the speed and athleticism that he brings. When you visualize what Hanna can bring to this offense if developed quickly enough, you can see a prominent role in two tight end sets and motion plays. It will definitely give the Cowboys a new look on offense.
Looking at the Cowboys third receiver spot, I wish I was more confident. But can this be a situation where if Hanna were to be integrated into this offense and have a role, would Dallas have to rely on the third receiver as much ? If the two tight end sets were successful then the answer is no.
The opportunity and timing for Hanna could not be better. If things fall the right way, he can be a relied upon and viable weapon for this team. I wish the scenario was more straight forward for a player like Hanna, but there are obstacles he needs to overcome. But if he can pick up the offense, prove himself by making catches and develop chemistry with Tony Romo, then he could flourish.
Hanna could be one of the steals of the draft, but let's hope that come August the Cowboys aren't scouring the waiver wire for a veteran. Could he be that third receiver, not literally, but figuratively? That's up to him. I'd like to see him in the mix.