Rajon Rondo Conjures Series Turning Effort Against Miami Heat
June 6, 2012
Jim Rogash/Getty Images
Rajon Rondo may be, in fact, a basketball sorcerer.
If you don't believe me, do yourself a favor and check out Rondo's perfectly redirected tip out to a wide-open Mickael Pietrus in the corner. 
If you still aren't sure, watch him miss a runner in the lane, veer back for the rebound and flip the ball up for two points.
The reel of improbable highlights goes on and on for the crafty point guard, and over the course of the conference finals, Rondo has shown an unmatched ability to impact multiple facets of the game—even those typically reserved for non-point guards.
Consider for a moment Rondo's uncanny ability to hit the boards: He has more rebounds in the series than all but two Heat players (Udonis Haslem and LeBron James), and his 11 offensive boards rank third after Haslem and Kevin Garnett (14 each).
Plus, Rondo's 6.7 rebounds per game ranks second among point guards this postseason (after Derrick Rose, who played only one game), beating out All-World talents like Chris Paul and Russell Westbrook.
Another criminally underrated aspect of Rondo's game is his level of play in close contests. In this year's playoffs with his team ahead or behind by five points or less and less than five minutes remaining, Rondo has shot 16 of 31 from the field. Compare that to Kobe's seven of 23 and LeBron's six of 19 (H/t to @hpbasketball).
We've seen Rondo control the game through his scoring (Game 2), tempo control (Games 3 and 4), and sheer grit (Game 5). The Heat have thrown everything in the defensive playbook at No. 9, but coach Erik Spoelstra has yet to find an answer:
"I have no idea, I'll be honest. We've tried almost everything with him, and the conventional wisdom of saying he's got to beat you over with the score, beat you with the jump shot, and beat you by not getting all the other guys going. They only had 15 assists. And you would never think that he would have that kind of monster game."  (H/t Couper Moorhead, Heat.com)
Spoelstra's lament gets at the heart of Rondo's brilliance: take away one aspect of his offensive game and he'll just kick you in the teeth with another. The version of Rondo that we've seen this season has largely discarded the sulking-after-a-miss, shying-away-from-contact, defensively-gambling tendencies that have frustrated Celtics fans in the past.
And that is very bad news for South Beach, considering the Celtics have had the Heat's number on the way to posting a 103.1 offensive efficiency rating against Miami this year. That's good for seventh in the NBA and stands in sharp contrast to the C's 27th-ranked 98.1 rating against all other teams.
Given the Heat's usually excellent defense, one could be excused for assuming the stats would have trended in the opposite direction. When asked Tuesday night how his team is pulling off the astounding victories, Celtics coach Doc Rivers seemed as baffled as the rest of us, offering only that age-old platitude, "Well, we're hanging in there".
Of course, Rondo's supporting cast—if a group of future Hall of Famers can ever be called that—has been able to "hang in" with steely-eyed tenacity and resolve, and none more so than Kevin Garnett.
Much of Garnett's success on the offensive end, however, can be tied back to Rondo's brilliance. As Chris Forsberg over at ESPNBoston.com pointed out Wednesday morning, Rondo and Garnett have totaled three of the top five single-game teammate assist totals this postseason with games of nine, seven, and six connections.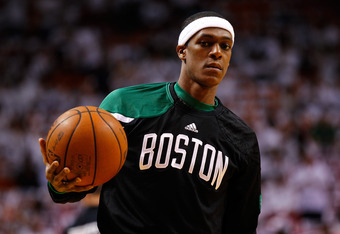 Mike Ehrmann/Getty Images
Sure, a few of those assists were easy ones coming on bad transition defense by the Heat, but Rondo's gotten Garnett good looks deep in the post and off the pick-and-pop throughout the postseason.
Perhaps the most impressive hookup came with 4:10 remaining in Game 4.
Rondo threw a preternaturally pinpoint lob to a cutting Garnett from around 32 feet out for the and-1 layup, causing no less reputable a source than Jeff Van Gundy to gush, "You're not going to see a finer pass from a further distance than that."
No, Jeff, we don't reckon we will—unless it's being thrown by the Celtics' resident warlock, No. 9.