Manchester City: 10 Reasons Manchester United Will Be Left Behind Now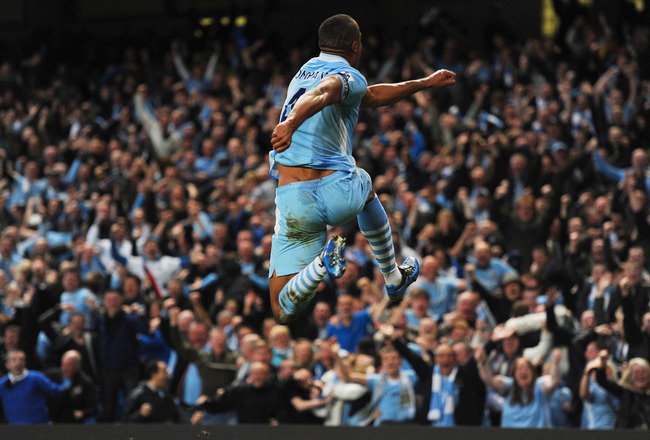 Michael Regan/Getty Images
The noisy neighbors just got a whole lot louder.
The world watched as Manchester City came back from the dead against QPR in the final match of the Barclays Premier League season to snatch the title away from rivals Manchester United.
A first crown in 44 years represents a shift from red dominance to blue beginnings.
With such a plethora of talent at the disposal of manager Roberto Mancini, the club have seemingly laid the foundation for many successful years to come.
The blue moon continues to rise, something Sir Alex Ferguson never dreamed he would witness.
Here are the 10 reasons why Manchester United stand little chance of reclaiming their position at the top of the Premier League.
Sheikh Mansour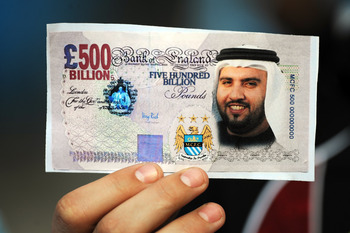 Shaun Botterill/Getty Images
Let's start with the obvious, shall we?
Money talks in modern day football.
Arab billionaire Sheikh Mansour has splashed over £1 billion in his nearly four-year reign over Manchester City.
With surely more spending to come in the summer transfer market, the possibilities for Mancini seem endless.
Malcolm Glazer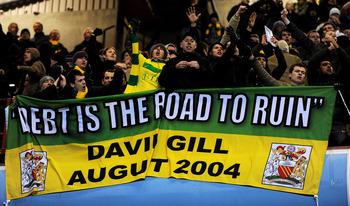 Laurence Griffiths/Getty Images
According to the Daily Mail, Manchester United pay an astonishing £250,000 a day to cover their enormous debt.
Since Glazer took over in 2003, the club has seen success winning virtually every major honor in the European game.
By continuing to spend despite financial problems however, United have further dug themselves into a hole that they may never be able to climb out of.
Brand Name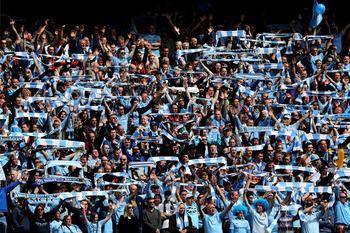 Alex Livesey/Getty Images
Manchester City is quickly becoming recognized as one of the elite sides in world football.
Forbes claims that City's revenue for the 2011/2012 season is set to skyrocket to a figure of around $300 million.
With an ever growing fanbase and a constant flow of cash, the trophies at the Etihad should continue to pile up.
Wages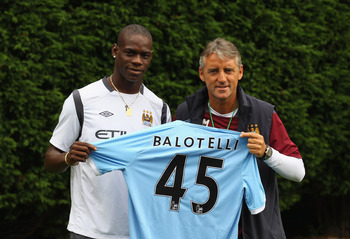 Alex Livesey/Getty Images
City's wage bill currently stands at £174 million. Excessive to say the least.
The blues will look to offload some players seen as surplus to requirements to try and lower that number for next season.
However, with signings like Yaya Toure reeling in a reported £185,000 a week, it is easy to see why so many top footballers are keen to make the move to City.
Out with the Old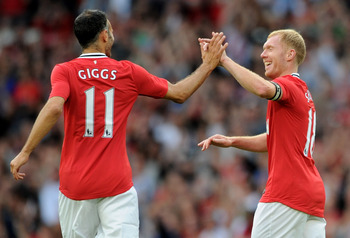 Chris Brunskill/Getty Images
With all due respect to Ryan Giggs and Paul Scholes, who at times this season were United's best performers, it is time for the Red Devils to focus their attention on youth.
Promising youngsters Danny Welbeck, Tom Cleverley, and Phil Jones all present good options for Sir Alex Ferguson in the future, but where is the now?
For a club with such high standards, a lineup of very young and very old with few players in their prime is just not a viable system.
City's squad is currently loaded with players considered to be at peak form, while United is left reminiscing about days that have come and gone.
Depth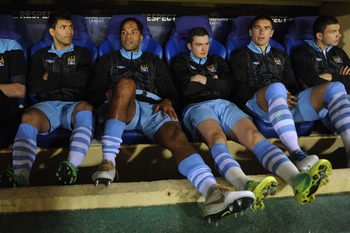 Michael Regan/Getty Images
Manchester City could likely field two separate starting elevens that could compete in the Premier League.
When things aren't going Mancini's way, he has the option of calling upon experienced internationals who would easily be included in most starting lineups.
United, on the other hand, have slim pickings, and when injuries arise have trouble readjusting.
Premier League Prize Money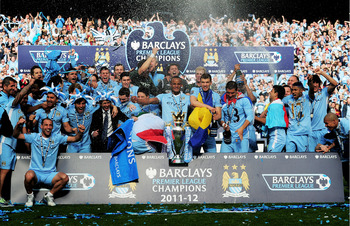 Shaun Botterill/Getty Images
Winning the Premier League comes with great financial reward.
While £16 million may seem like a drop in the bucket to City, it is money that Manchester United desperately need.
With their large debt, it is difficult for United to compete with City for signings.
Sir Alex?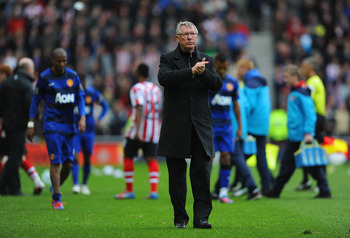 Michael Regan/Getty Images
In recent years there has been much speculation as to whether Sir Alex Ferguson will continue his managerial role at Manchester United.
He has been integral to the Red Devils success over the past 26 years.
At the age of 70, the end of his reign may be coming soon.
When this day comes, United will struggle cope.
Attacking Power
Alex Livesey/Getty Images
While Manchester United relies heavily on Wayne Rooney's scoring prowess, City have many options at their disposal.
Mario Balotelli, Kun Aguero, Edin Dzeko, Carlos Tevez, the list goes on.
With so many natural goal scorers in their ranks, players are less likely to get burned out throughout the course of the season.
To Reiterate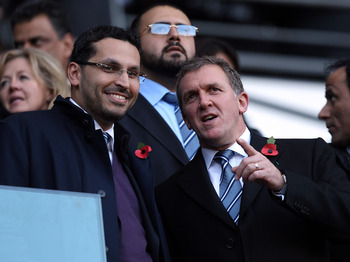 Richard Heathcote/Getty Images
In the end it all comes down to spending power.
Manchester City has it. Manchester United doesn't.
Plain and simple.
It is a sad reality of modern football, but one that does not seem likely to change.
Until United sort out their financial woes, City will have the edge and go on to win many more titles.
Keep Reading

Manchester City: Like this team?