NBA Draft 2012: 7 Late First-Rounders Who Will Prove to Be Steals
Gregory Shamus/Getty Images
While the NBA's final four prepare for a two nail-biting, conference final Game 6's, the rest of the NBA has focused its attention on the 2012 NBA draft. It's now just three weeks away.
With the lottery over and the draft order in place, teams can finally start assessing who they believe will realistically be around when it's their turn to pick.
New Orleans will be sure to improve drastically with the addition of Anthony Davis. Other high picking teams like Charlotte, Washington, Cleveland, and Sacramento will have an opportunity to pick up top-notch talent.
What about the rest of the NBA?
There are plenty of top players who may fall into the later parts of the draft and still end up being a key piece to a playoff level team.
It will be up to them to make good use of their lower first-round draft picks to add to their team. This draft is the deepest in several years and should provide the opportunity for plenty of teams to pick up potential all-star players.
Let's take a look at which players expected to go in the middle to late first round—or lower—who could up being among the class' best.
7. Moe Harkless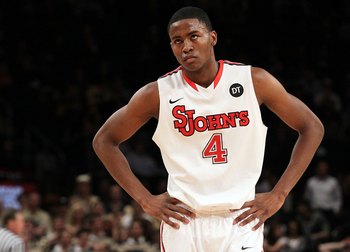 Jim McIsaac/Getty Images
School: St. John's
Position: SF
Height/Weight: 6'8, 208 lbs.
Age: 19
2011-2012 Stats: 15.3 PPG, 8.6 RPG, 1.4 APG
Moe Harkless out of St. John's could have easily been a lottery pick if he had refined his game for one more season in college.
Instead, he will now likely drop into the late first round, but still could be a gem for whichever team picks him up.
Harkless is raw offensively, but has tremendous athleticism that could help a team instantly—especially on the defensive end.
Mock drafts vary on which team he could end up with, but the Orlando Magic with pick 19 could be a good fit for Harkless's skill set.
The Magic need to make a splash in the draft if they want to keep Dwight Howard, and Harkless may not be that player right away. In time he could develop into one of the team's best wing players.
Another fit could be the Houston Rockets at pick 16, if they want to take a chance in the middle of the first round.
6. Quincy Miller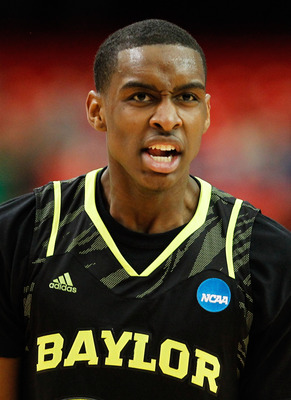 Streeter Lecka/Getty Images
School: Baylor
Position: SF
Height/Weight: 6'9, 200 lbs.
Age: 19
2011-2012 Stats: 10.6 PPG, 4.9 RPG, 1.4 APG
Quincy Miller is another one of those players who would have improved his draft stock if he stuck around for his sophomore season.
Nevertheless, it will be difficult for any team lacking a small forward post-lottery to pass up on Miller and his potentially bright future.
The name Kevin Durant has been thrown around regarding Miller, and it's not hard to see why.
Miller is nowhere near that level yet, and likely will never get there, but he still has the athleticism, intelligence, and shooting ability to develop into a dynamic scorer.
His stats are a bit deceiving, as he was one of many players who demanded shots on a talented Baylor team. His abilities will translate well into the pro game.
The Rockets could want to pick him up at 16, as they are in need of a swing man. He could also end up in Boston if he slipped into the 20s, backing up Paul Pierce until he is ready to emerge.
5. Andrew Nicholson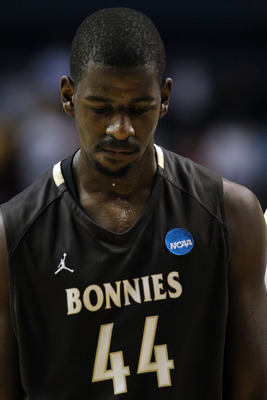 Jamie Squire/Getty Images
School: St. Bonaventure
Position: PF/C
Height/Weight: 6'9, 220 lbs.
Age: 22
2011-2012 Stats: 18.4 PPG, 8.5 RPG, 1.0 APG
Maybe it's because he is undersized, played at a small school, or that his stats went down his senior year of college, but there is no way Andrew Nicholson should be falling out of the first round. I have seen this in several mock drafts.
Nicholson is solid in every asset of the game, and has great ability to score the ball in the low block. He also has an improved jumper.
He does struggle passing out of the double team and will need to improve his decision making on the next level. Those are very manageable flaws in his game.
With undersized PFs like Carl Landry and Glen Davis proving their worth in recent years, I expect Nicholson to be in that same category.
The Golden State Warriors would be smart to pick him up with the 30th selection if he is still on the board, but don't count out the Heat at No. 27.
4. Evan Fournier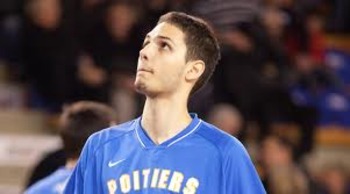 Country: France
Position: SG/SF
Height/Weight: 6'7, 206 lbs.
Age: 19
2011-2012 Stats (for Poitiers in France): 13.4 PPG, 3.3 RPG, 2.2 APG
Like most European players, Evan Fournier is an enigma.
If he turns out to be what the scouts predict, he could end up being a major steal in this year's draft.
Fournier possesses excellent ball-handling ability which, is a huge advantage for his 6'7" frame. There is even talk he could play some PG at the pro level, but he likely will be more of a playmaking 2-guard or swing man.
Fournier is not a great shooter but, at the age of 19, that is a skill he can continue to develop. He has the ability to get to the rim and finish, and he has excellent scoring instincts.
He is a risk, no doubt, but one that very well could turn out to be a huge reward once he fully develops in a few seasons.
He would be an interesting fit with the Cavaliers at pick 24, but Indiana also feels like a potential fit at 26.
There is also the chance he slips into the second round, in which case Charlotte or Washington would have a chance at him.
3. Tony Wroten
Jason Szenes/Getty Images
School: Washington
Position: PG
Height/Weight: 6'5, 185 lbs.
Age: 19
2011-2012 Stats: 16.7 PPG, 5.0 RPG, 3.6 APG
Talk about upside.
Tony Wroten may have more than any other post-lottery pick in this years draft. We all have seen how important a top-notch point guard can be for an NBA franchise, and don't be surprised if Tony Wroten becomes one at the pro level.
Wroten is the reigning Pac-12 Freshman of the Year, and he has tremendous ability to penetrate and find open teammates. He can also create is own shot in an isolated situation.
He will need to improve his turnovers, and he is not tremendously efficient yet. If I was an NBA GM, I would certainly jump all over him if I was in need of a point guard for the future.
Jeff Teague is still a big question mark in Atlanta, so don't be surprised to see Wroten end up with the Hawks at Pick 23.
With Andre Miller likely on the way out in Denver, they could also use some insurance to back up Ty Lawson. Therefore, Wroten at pick 20 for the Nuggets is also a possibility.
2. Dion Waiters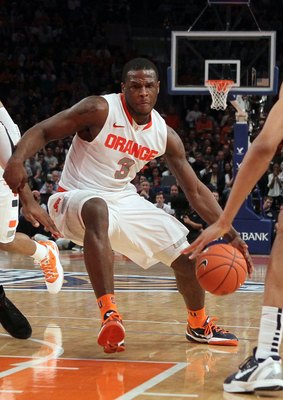 Jim McIsaac/Getty Images
School: Syracuse
Position: SG/PG
Height/Weight: 6'4, 215 lbs.
Age: 20
Dion Waiters is a ferocious competitor with the ability to score in bunches, as he showed last season at Syracuse.
Despite coming off the bench, Waiters was the Orange's best player. He could be very valuable to whichever team takes a flyer on him in the June 28 draft.
Waiters does take some ill-advised shots and isn't the most athletic player, but he knows his strengths and has a great flow for the game.
He also has the potential to be a point guard if he continues to improve his passing ability, as he is a gifted enough defender to guard multiple positions on the perimeter.
ESPN's Chad Forde has said that some scouts are comparing him to Dwyane Wade. While that may be a stretch, there is a reason why he is considered such a sleeper in this years draft.
If Dallas has the opportunity at 17 to pick him, they should. Don't be surprised if he is off the board before they come up.
I have seen him going as high as eighth to Toronto in mock drafts, although he is generally expected to go in the middle to late first round.
1. Terrence Jones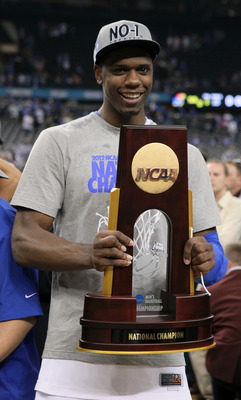 Jeff Gross/Getty Images
School: Kentucky
Position: PF/SF
Height/Weight: 6'9, 249 lbs.
Age: 20
There is still a chance that Terrence Jones could end up being a lottery pick but, if he falls into the middle to late first round, teams would be smart to snag him up when they are on the clock.
Jones had an up-and-down two seasons at Kentucky. He often got lost in the shuffle with such talent as Anthony Davis, Michael Kidd-Gilchrist and Marquis Teague playing alongside him.
However, most scouts agree he possess all the talent needed to be a great NBA player.
Jones will need to first define his position when he gets to the next level. He is undersized for a PF, but has all the strength to play inside.
Sometimes his game looks more suited for the perimeter with his great athleticism and ability to attack the basket.
He excels defensively, which is something all scouts love about Jones. Once he refines all of his skills offensively, watch out for him in the NBA.
Assuming he falls out of the lottery, the Philadelphia 76ers at pick 15 would be smart to add him to their front court.
If he slips past that, he is a must for the Dallas Mavericks at pick 17.
Keep Reading