Tom Coughlin Signs 2-Year Extension with N.Y. Giants, Will He Coach Past 2014?
June 6, 2012

After months of speculation, the New York Giants finally rewarded head coach Tom Coughlin with a contract extension.
According to Ralph Vacchiano of the New York Daily News:
After ripping up the one-year extension Coughlin signed last summer, he inked a new three-year deal late Tuesday night that is worth $20 million, a source familiar with the deal told the Daily News.
This new contract for the 65-year-old Giants coach comes after the team's second Super Bowl victory under Coughlin's command.
After the Giants won the Super Bowl back in February of 2008, Coughlin was rewarded then with a new deal after he spent most of the 2007 NFL season on the hot seat.
Similarly, after spending most of the 2011 season on the hot seat, the Giants won another championship, and the extension is his reward.
The extension for Coughlin is very deserving, because nobody has worked harder in the NFL to keep his team motivated and playing at a high level.
When his teams get decimated by injuries, Coughlin finds ways to keep the players motivated and believing they can still win. And the 2011 season was a prime example of that.
With that said, the length of the deal puzzles me a little.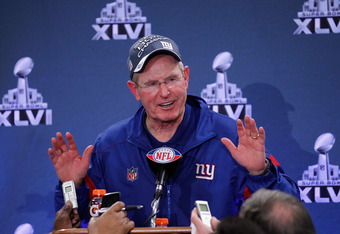 Rob Carr/Getty Images
As of right now, Coughlin has no plans of retiring anytime soon and has said that he hopes to coach into his mid-70s (per the New York Post).
However, Coughlin will be 68 years old after his current deal's end. Did Coughlin intentionally design it that way in case he begins to have second thoughts about retirement in the next couple of years?
Or, what about the Giants and owner John Mara—does Mara not see Coughlin coaching past the 2014 season?
Most NFL head coaches usually don't coach into their 70s, but Coughlin is a different breed of coach. His passion is still there for the game, as is his will to win with the Giants.
Coughlin loves being the New York Giants head coach and likely wants to do it for as long as possible. But with the two-year extension, is the 2014 season a hint or sign of when Coughlin might decide to walk away?
If so, nobody would blame Coughlin, as he has done everything possible as an NFL coach and has the right to walk away from the game anytime he sees fit.
But when we all speculated as to how long of a deal Coughlin might get, most of us anticipated it to be in the three- to five-year extension range.
So when it was announced that it was only a two-year tack-on, it caught me by surprise and made me wonder about Coughlin's future after this new deal.
It's nothing for the Giants to worry about now, as their concerns should be focused on defending their Super Bowl title when the 2012 season kicks off this September.
Overall, it's still a great day for Coach Coughlin and the New York Giants organization.