Duke Basketball: 8 Bold Predictions for the Blue Devils' 2012-13 Season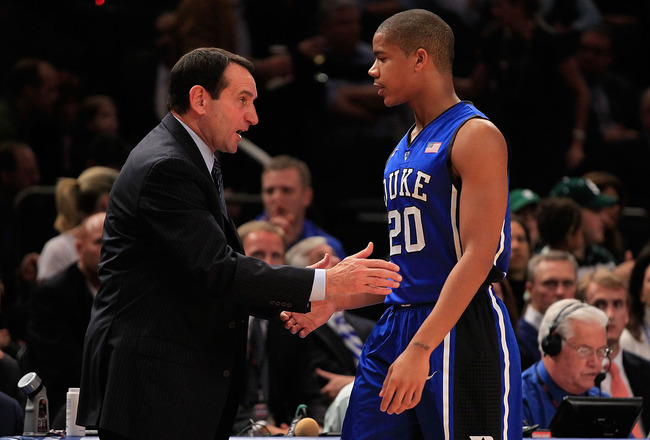 Chris Trotman/Getty Images
After their astonishing loss to Lehigh to end the season, it's difficult to realize that it was only two years ago when Duke defeated Butler for the National Championship. After such a humbling failure, Mike Krzyzewski along with an abundance of returning players will be motivated for the 2012-2013 season. Don't be surprised if Duke is highly overlooked in the beginning portion of the season.
With a veteran-heavy squad including two impact recruits arriving to Durham, expect the Blue Devils to be a tough opponent against any team in the ACC. Here are the eight bold predictions regarding the Blue Devils' success and their players.
8. Quinn Cook Will Be the Starting Point Guard and Succeed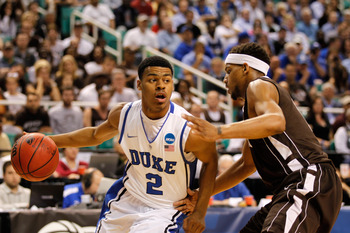 Mike Ehrmann/Getty Images
Every team has a weakness. For the Blue Devils, it's the lack of an elite point guard. Even though Quinn Cook is not the most mesmerizing player on the court, he should definitely fill the hole that affected Duke significantly last year.
The upcoming sophomore from the prestigious prep school, Oak Hill Academy, showed great promise towards the end of last season as a freshman. He received an inconsistent amount of minutes throughout the 2011-12 season, but Cook will be in a much better position this season. With the departure of Austin Rivers, Seth Curry can go back to his preferred position, shooting-guard, which will allow Cook to take on the point.
He's a pass-first point guard that is also gritty on the defensive side. That's ideally what Duke needs from their floor general this year.
Don't expect Cook to initially start for the season opener, but after a loss or two, expect Coach-K to give it a shot. Quinn Cook will make the adjustment and slowly emerge as an above-average point-guard in the ACC.
7. Duke Series Sweep of North Carolina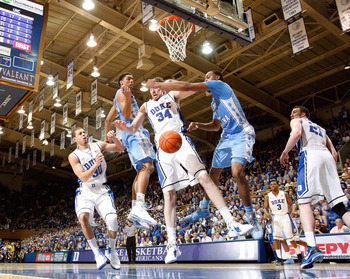 Streeter Lecka/Getty Images
Last season, North Carolina and Duke split the season series 1-1. Each team surprisingly captured their victory on the road. Duke's win probably was the most memorable after Austin River's famous game-winner.
Sorry Tar Heel fans. Don't expect a win this season. North Carolina was drastically damaged from the 2012 NBA Draft, losing their four best players (Harrison Barnes, John Henson, Kendall Marshall, Tyler Zeller). In rivalries such as these, experience is a factor, in which Duke has the advantage in. In North Carolina's win last season, The 'Heels absolutely commanded the paint. With the departure of their three front-court players, they shouldn't do so against Ryan Kelly, Mason Plumlee, Marshall Plumlee, and Amile Jefferson.
The advantage changes almost every season. This year, Duke has the clear edge.
6. Marshall Plumlee Will Rise to Be a Top Center in the ACC
Yes, There's ANOTHER Plumlee. However, Marshall Plumlee might be the most naturally talented out of Mason, Miles, and himself.
Marshall did a very rare event that most McDonald's All Americans do not do: Redshirt a season. The youngest Plumlee did not attempt a shot nor snag a rebound last year in order to access another year of eligibility. While no one saw him on the court, he steadily improved behind the scenes.
With the development of Marshall and the departure of Miles Plumlee, he will take on a big part of the front-court duties. He may only be receiving 10-15 minutes per game in the early portion of the season, but his playing time should expand as he gets experience. He brings a presence down-low along with great athletic ability. Coach Krzyzewski shouldn't have to worry about having him fit in.
He will bring the energy the Blue Devil's need to replace what Miles brought them.
5. Rasheed Sulaimon Will Be ACC Freshman of the Year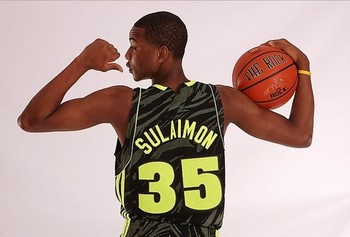 Rasheed Sulaimon and Amile Jefferson are the two gifted talents that Duke was able to land this year. Even though Jefferson is a great player, expect outstanding results from Sulaimon right away. According to ESPN100, he was the 12th-best recruit of 2012.
Even though Sulaimon only stands at 6'4", do not be shocked if he starts at the three-position because of Duke's flexibility with their big-men. With also an array of sharp shooters, Sulaimon's slashing ability will be used much leading to many easy scores. His versatility also will be beneficial for himself to be an instant scoring impact.
Project Stats 2012-13: 12.5PPG, 5.0RPG, 2.5APG
4. Seth Curry Will Be Top Three in the ACC in Scoring
Streeter Lecka/Getty Images
Seth Curry carried the scoring load as a freshman when he was the vital asset for the Liberty Flames. With the departure of leading scorer, Austin Rivers, Duke will need to find the next go-to guy down the stretch.
Curry will be the one to take that role.
Seth Curry averaged 13.2 points per game while taking less than ten shot attempts game contest. The shot attempts should increase because he will be able slide back to the shooting guard position with the growth of Quinn Cook as the point guard.
Curry's shooting ability distinguishes him from the other nine players on the court. When he was a 20 point scorer at Liberty, he was attempting almost 17 shots per game.
No one doubts his natural scoring ability. However, he will finally be able to showcase it to the Cameron Crazies next season. Expect around 17 to 18 points per game.
3. Duke Will Be the Highest Seed of All ACC Teams in the March Madness Tournament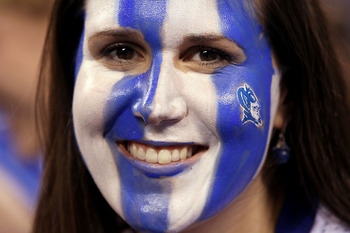 Andy Lyons/Getty Images
Last season, only North Carolina was a higher-seeded ACC team than Duke in the tournament. However, with the depletion of the Tar Heel's roster and the scarce amount of teams with title intentions, Duke is clearly the top in the ACC.
Duke will be the only ACC team as a No. 2 seed or higher. NC State, North Carolina, Maryland, Florida State, and Virginia should be anywhere from No. 3-10 seeds.
While Duke will have one of it's better squads in the past years, the ACC will not be as dominant. Hence the clear-cut favorite coming from the ACC.
2. Julius Randle Will Commit to Duke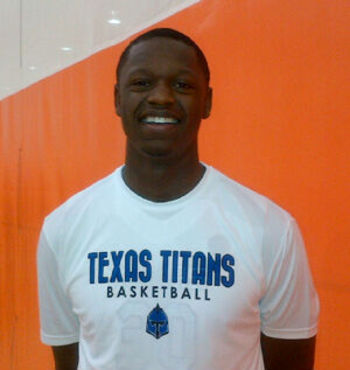 The top recruit in 2013 for his position, Julius Randle, has received offers from Baylor, Duke, Kansas, Kentucky, North Carolina, NC State, Missouri, TCU, and from other big name colleges. When Randle makes his announcement on where he will be taking his talents to, Cameron Indoor Stadium will be his home-court.
Randle is a scary matchup for any opponent. He scores in many ways, not just put-backs and alley-hoops, but by creating his own shot. His mid-range is smooth and his athleticism only elevates his game. He dominate's at the high school level and the AAU circuit.
Randle has said that Duke is one of the universities that have been recruiting him the hardest, and Randle has noticeably mentioned Duke in many interviews. The biggest reason why Randle is expected to arrive to Duke is because of other top prospect, Matt Jones. He has already committed to Duke, but is an AAU teammate of Randle. Jones has explained that he really wants Randle to tag along.
In an interview, Julius Randle said, "They have one of the best coaches ever… There is a high chance I might go to Duke. I'm looking everywhere, I'm wide open." Look out Blue Devils.
1. Duke Reaches Final Four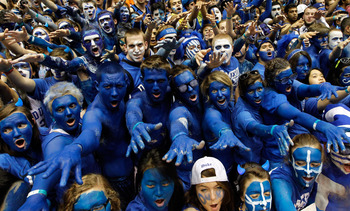 Streeter Lecka/Getty Images
Will this team have a No.1 draft pick leading the team? No.
Will this team be the most dominating team in college basketball? No
Duke might not look quite sexy on paper, but they are stacked with leadership, big-men, shooters, and a winning coach. These contributing factors will merge to build a winning formula. The balance of young talent and veterans will pull the Blue Devil's to excellence.
Many might be considering another possible Round of 64 collaspe. Even though this team is similar, Coach-K will not allow such a flabbergasting defeat occur in his era of coaching again.
Seth Curry, Mason Plumlee, Marshall Plumlee, Quinn Cook, Andre Dawkins, Rasheed Sulaimon, Amile Jefferson, Ryan Kelly, and Tyler Thornton. That is too many quality players to not have a successful season. Duke will reach greatness again, and potentially they can reach the finals.
Keep Reading

Duke Basketball: Like this team?