Where Does Tom Coughlin Rank Amongst New York Giants Coaches?
June 6, 2012
Al Bello/Getty Images
You would be hard-pressed to find a more roller-coaster head coaching career with a team than Tom Coughlin's tenure with the New York Giants. After winning his second Super Bowl championship in February, the Giants have extended Coughlin's contract through the 2014 season. The deal is reportedly worth $20 million over the next three seasons.
But where does Coughlin rank in the grand scheme of things? Has he become the Giants' best coach ever? That would be a hilarious turn of events, considering that, on about three different occasions, it seemed as if the fanbase wanted him gone.
He proved how little he thought of fans' opinion when he went away from Kurt Warner in his first season to pave the way for Eli Manning. They basically gave up on the season despite being 5-4 and in the playoff hunt.
Coughlin knew what he was doing, as the experience would help Eli grow and lead the Giants to four straight playoff appearances and a win in Super Bowl XLII. Ironically, in both Super Bowl years, you could hear the fanbase cry out for Coughlin's head. Not all, but many fans wanted him gone in both 2007 and 2011.
The roller coaster that is Coughlin's career would give Space Mountain a run for its money.
Of course, this is just a fan's perspective. If you asked co-owners John Mara or Steve Tisch, I'm sure they would tell you they never gave firing Coughlin a second thought. Mara made as much public after the 2010 season, when he told reporters Coughlin was his guy. 
Coughlin rewarded them with a second championship in five seasons.
Prior to winning his second championship, the conversation (for best coach) started and ended with Bill Parcells. Now that they have similar credentials, you have to start considering Coughlin as one of the best ever to lead Big Blue.The conversation should actually have three names in mind: Parcells, Coughlin, and longtime head coach Steve Owen, who leads the Giants with 151 victories and two NFL championships. He spent 23-plus seasons with the team (1930-1953) after playing with the team for seven years.He led the Giants to the NFL Championship 10 times but won just twice, giving him a playoff record of 2-8. Things were very different back then, so it's difficult to compare Owen to the likes of Parcells and Coughlin.
For the sake of argument, let's stick to the modern era. With this in mind, it is fairly obvious that Coughlin belongs in the top two of all-time. He will pass Parcells in regular season wins this season, pending a failure of epic proportions. Coughlin has 74 wins to Parcells' 77, and the two have the exact same playoff record of 8-3.
No other head coaches even come close to the success that these two had with the Giants.
Trying to separate the two and name a definitive best head coach ever is difficult. Parcells seemed to have a much better roster than Coughlin has had over the years. Parcells had Lawrence Taylor—the best defensive player ever—alongside some of the best defensive players to ever suit up for the Giants, like Harry Carson, Carl Banks, Gary Reasons and Leonard Marshall.
Not to mention Phil Simms, Mark Bavaro and a fantastic offensive line.
Parcells' teams were powerhouses, whereas Coughlin's teams were never considered the best team in the conference, other than in 2008.
That is not to say Coughlin's teams were void of talent altogether, but if you look at the two eras objectively, the Parcells era was full of Pro Bowlers and much better talent.You could also look at the incredible success of some of the assistant coaches under Parcells after they went on to be head coaches. Ironically, Coughlin would be included in that category, as he spent his early years as the wide receivers coach for Parcells.
Bill Belichick is one of the best, if not the best, coach in the NFL right now, and he spent those years as Parcells' linebackers coach and defensive coordinator (I feel like we haven't made enough of a deal that two former assistants of Parcells have met in the Super Bowl...twice).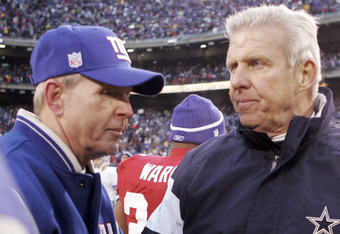 Jim McIsaac/Getty Images
One last reason I would still put Parcells a notch ahead of Coughlin is motivational skills. Parcells is an incredible motivator, whereas Coughlin lacks in that department. Too often, the Giants play down to their competition and lose games they have no business losing. This was not a common theme in the Parcells era.
Parcells' players were always ready to give their best effort. There have been multiple games in Coughlin's career, though, where I questioned the effort of his players on the field. Maybe I don't know what I'm talking about, but it's hard to argue against the eye test.
So while Coughlin may not be the best coach ever, he certainly belongs in the conversation. You won't hear me arguing against that claim, but rather making the claim for Parcells to still be top dog.
Coughlin bought himself the right to leave the game under his own circumstances, so when he decides to hang up the clipboard, we could be talking about the greatest coach in Giants history.
But not yet.