UFC on FX 3: Johnson vs. McCall Main Card Predictions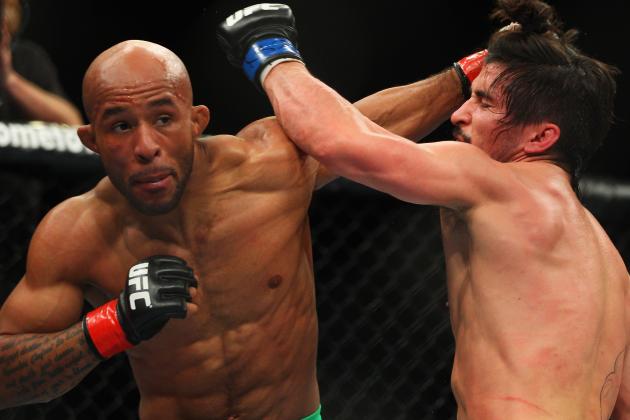 Mark Kolbe/Getty Images

UFC on FX 3 continues the run of non pay-per-view events as Demetrious Johnson steps into the cage in a rematch against Ian McCall in a flyweight title tournament eliminator. The fighters squared off at UFC on FX: Alves vs. Kampmann in March, and ended in a draw.
The night's main card will also see welterweights Erick Silva vs. Charlie Brenneman, welterweights Mike Pyle vs. Josh Neer and bantamweights Eddie Wineland vs. Scott Jorgensen.
Here are some predictions for how the main card will turn out.
Begin Slideshow

»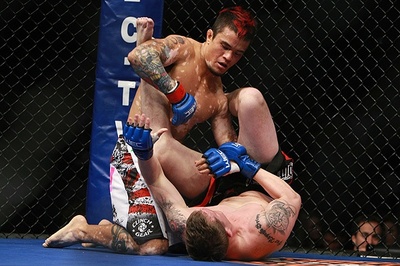 Photo via MMAMania.com
The main card will kick off with what could be an explosive fight between two bantamweights in need of a win.
Former WEC bantamweight champion Eddie Wineland (0-2 UFC) is coming off two back-to-back decision losses to Joseph Benavidez and Urijah Faber. Scott Jorgensen (2-1 UFC) is coming off a decision loss to Renan Barão.
Both fighters have knockout power in their hands if they connect, and each are capable of finishing the fight by submission. In 18 professional wins, Wineland has nine knockouts and five submissions. Jorgensen, a wrestler, has two knockouts and four submissions in 13 professional wins.
The fight should see a great standup battle with Wineland having the slight edge if it stays on the feet. If it goes to the ground, Jorgensen will be the beneficiary with his superior wrestling.
While both fighters are capable of finishing fights, neither are the recipient of a knockout, submission or stoppage too often. Wineland has been finished once in the past seven years, while Jorgensen has only been finished once in his entire career.
Expect to see a back-and-forth fight that could see both fighters in trouble throughout, without the finish.
Prediction: Jorgensen via decision. Fight of the Night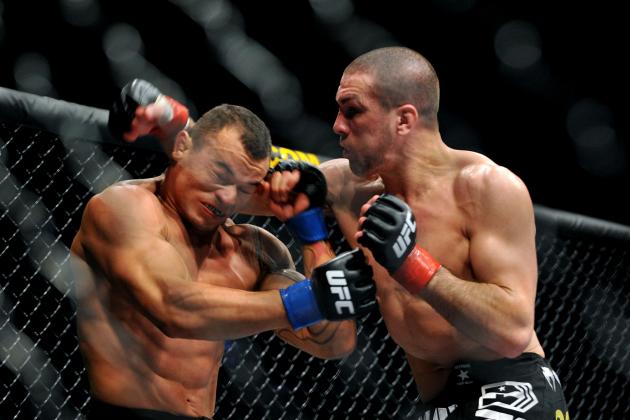 Jon Kopaloff/Getty Images

The main card's second fight of the evening will pin two evenly matched fighters against one another as Mike Pyle (5-3 UFC) takes on Josh Neer (6-6 UFC).
Pyle is coming off a TKO win over Ricardo Funch at UFC 142 after losing to Rory MacDonald via TKO at UFC 133. Neer will look to make it seven in a row since rattling off wins against the likes of Duane Ludwig and Keith Wisniewski after returning from a two-year UFC hiatus.
In 22 professional wins, Pyle has won by submission 16 times while he has knocked out three fighters. Near won via knockout 17 times and 12 times by submission in 33 professional wins.
Yet in eight losses, Pyle has been finished seven times while Neer has been stopped five times in 10 losses.
When Pyle loses a fight, he is more likely to be finished than Neer. This could be a problem for Pyle since Neer has finished an opponent in 88 percent of the matches he's won.
Look for Neer to keep this fight standing, as he can exchange better than Pyle on the feet and has a much better chin. Pyle could bully Neer on the ground, as he is much bigger in size, but he won't be able to lay on Neer for long as he has shown the ability to exchange off his back.
Prediction: Neer via TKO. Round 2.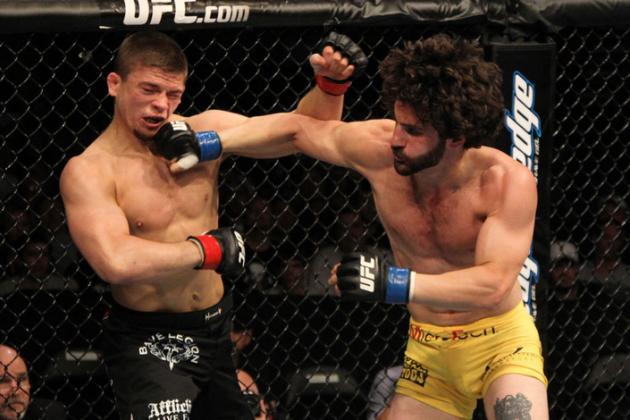 Photo via UFC.com
Erick Silva (1-1 UFC) will look to rebound off a DQ loss to Carlo Prater when he takes on Charlie Brenneman (4-2 UFC) in a welterweight war.
Silva was disqualified in his second UFC fight against Prater for illegal punches to the back of the head at UFC 142, after beating Luis Ramos in his UFC debut via TKO at UFC 134. Brenneman is coming off a decision win against Daniel Roberts after losing to Anthony Johnson in his previous fight.
Brenneman holds the advantage in wrestling and grappling, however Silva holds a clear edge in the striking and submission department. In 13 professional wins, Silva has won through submission seven times and by knockout three times. The wrestler Brenneman has won the majority of his 15 wins through decision.
As a black belt in Brazilian Jiu-Jitsu, Silva's immense submission skills have yet to be seen in the UFC. However, if the fight goes to the ground, Brenneman's superior wrestling could negate any advantages Silva holds.
Whichever method Silva prefers, standing or the fight going to the mat, he could finish the fight. Yet, standing provides a much more clear advantage.
Prediction: Silva via TKO. Round 1. KO of the Night.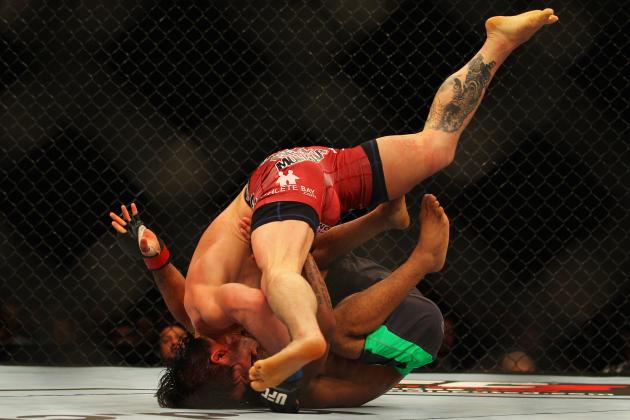 Mark Kolbe/Getty Images

Flyweights Demetrious Johnson (2-1-1 UFC) and Ian McCall (0-0-1 UFC) will look for a resolution to who advances in the title tournament after their fight in March ended in a draw.
The two battled back and forth in their first meeting, which ended in a draw that many felt McCall won after ending the fight on top of Johnson pounding away.
Johnson holds clear advantages over McCall in many areas, including speed, wrestling and cardio. He's either knocked out or submitted an opponent in nine of his 14 professional wins.
Yet, McCall is the definition of a well-rounded fighter who excels in striking, submissions and wrestling as well. He has knocked out or submitted an opponent in seven of his 11 wins.
McCall has been finished once while Johnson has never been finished.
The x-factor of this fight is if McCall can handle Johnson's speed? No one in the division can beat his movement, but can McCall come close to matching it in their rematch?
He absolutely showed signs of being able to do so in their first fight, and this time, he's mad after feeling he won their first encounter.
Prediction: McCall via decision.