10 Predictions for Euro 2012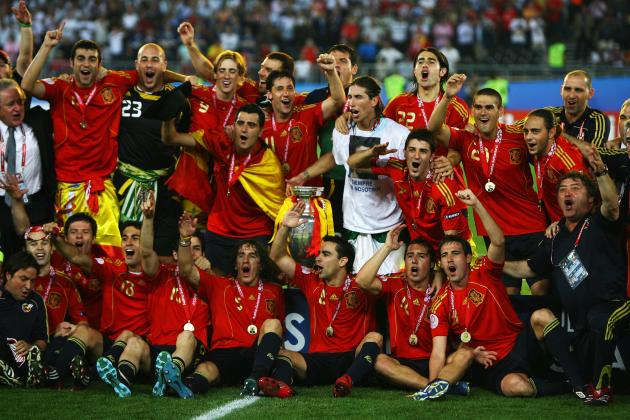 Shaun Botterill/Getty Images

Tomorrow marks the beginning of the second biggest international tournament in World Football, as the Euro 2012 Championships kick-off in Warsaw.
Although the opening game, which sees hosts Poland take on Greece, isn't exactly the most intriguing game to begin the month-long competition, there is plenty to look forward to as some of the best players in the world battle to become the best in Europe.
As World and European Champions, Spain are obviously favourites, but they will face stiff opposition and will have to be at their best to stand a chance of retaining their crown.
Like most followers of football, I've made my own predictions as to what will happen in the next month.
Enjoy reading and maybe I'll be proved right in a month's time.
Begin Slideshow

»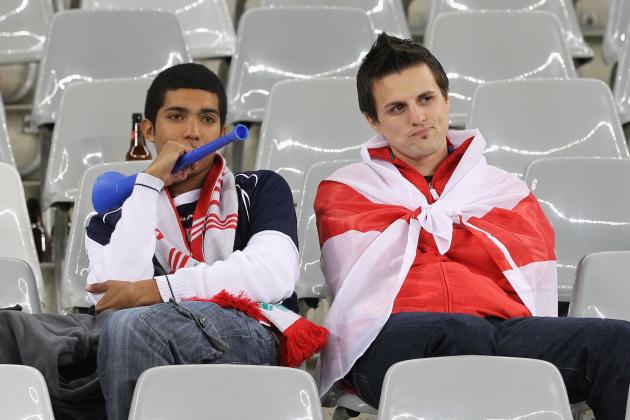 Doug Pensinger/Getty Images

Remember the group stages of the 2010 World Cup?
If you don't I can't blame you, they weren't exactly memorable, with a lack of goals and exciting matches.
I can see the same happening in this year's group stages, with many teams taking a defensive stance and being eager to avoid defeat rather than go all out for victory.
However, I can see the tournament getting more exciting when the knockout stages begin, as the weaker teams with less attacking talent are eliminated.
Jamie McDonald/Getty Images

Despite being the lowest ranked side in the tournament, co-hosts Poland certainly aren't the weakest squad.
While they will need to pull off miracles to win their home tournament, or even come close, they are in a weak group including Greece, Russia and the Czech Republic, which gives them a chance.
A team which doesn't boast many stars, they will probably play defensively and depend on scoring on the counter-attack.
They do have some recognizable names, including Arsenal goalkeeper Wojciech Szczesny, who helps Poland's chances of keeping clean sheets, and Borussia Dortmund striker Robert Lewandowski, who is the team's best threat going forward who could knick some crucial goals for his side.
With Russia finishing top of the group, don't be surprised to see the Poles following them into the knockout stages. The Germans will teach them a lesson then though.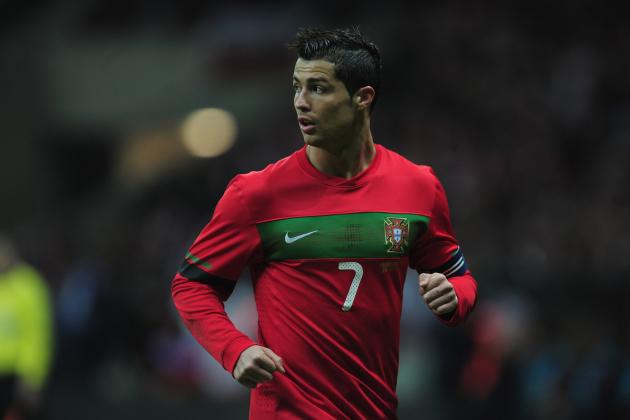 Jamie McDonald/Getty Images

Many are predicting Portugal to be a dark horse, who will overcome the Netherlands and Germany to advance to the quarterfinals, but I just don't see it.
While they have one of the best players in the world in Cristiano Ronaldo, they have many more problems which can't be fixed by one player.
They don't have a good out-and-out striker, and no playmaker in the number 10 position.
This means that they will be predictable, with Ronaldo on one wing, and Nani on the other.
They will try to spread the ball out to the wings as much as possible, and while they will also be dangerous on the counter attack, I can't see them beating either the Netherlands or Germany. They'll probably need to beat one to qualify.
The Portuguese were edged in qualifying by fellow Group B members Denmark, as they were for qualifying for the 2010 World Cup.
It wouldn't surprise me to see the Danes doing the same on a bigger stage.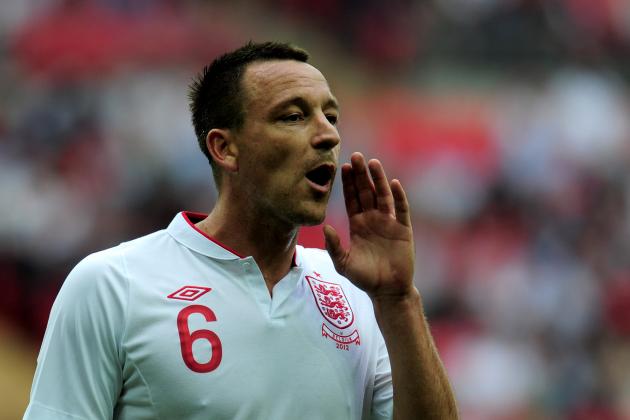 Shaun Botterill/Getty Images

The only thing the pre-tournament build up is missing is some pro-England positivity. I don't see anyone saying that this will be our year, and for good reason.
The fact that John Terry will face criminal charges for racial abuse after the tournament provides an unwanted distraction, while they enter the tournament with new manager Roy Hodgson.
They have been hit with injuries to Frank Lampard, Gareth Barry and Gary Cahill and Wayne Rooney is suspended for the first two games of the tournament, while they have been handed a relatively difficult group with hosts Ukraine, Sweden and France.
But I get the feeling that England can win games with expectation being so low, and although they won't play attractive football, they will be difficult to beat.
They will probably put men behind the ball and play off the counter attack. It won't win admirers but could win matches.
They will open by facing France on Monday evening, and although I predict good things for the French, I see them struggling to break England down, and one England goal may be enough.
The winners of this first game is probably going to move forward, and after the group stages, the premature positivity can begin...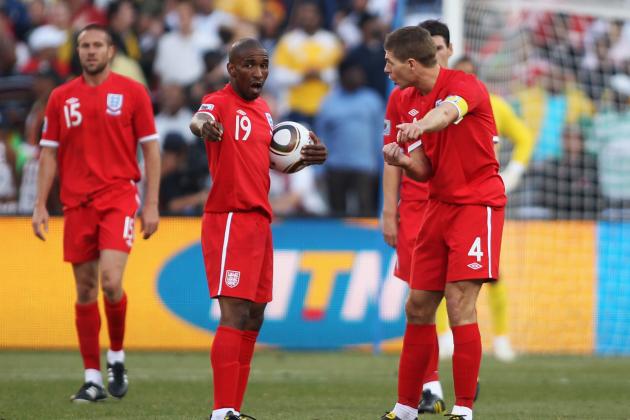 Joern Pollex/Getty Images

Typical England—just when everyone gets their hopes up, they are dashed almost as quickly in the next round.
Even if England win their group, they will face a quality side from Group C, who in my opinion will be Italy.
Italy have problems of their own, most notably missing key defenders Domenico Criscito because of the investigation into Italian match fixing and Andrea Barzagli, who will miss most of the tournament with a calf strain.
This will mean that Italy will have a makeshift defense, and they could do with a reliable attacking playmaker to support Mario Balotelli, who will probably be a lone striker.
Having said this, they are one of the most dangerous teams in the tournament, with an intelligent manager and enough experience to win big games such as this one.
They play more positively than they used to, with many of the players who won the 2006 World Cup having retired or been left out of the team.
Expect a tight game, with both teams struggling to break down the opposition.
Knowing England, a defeat in a penalty shootout is always possible.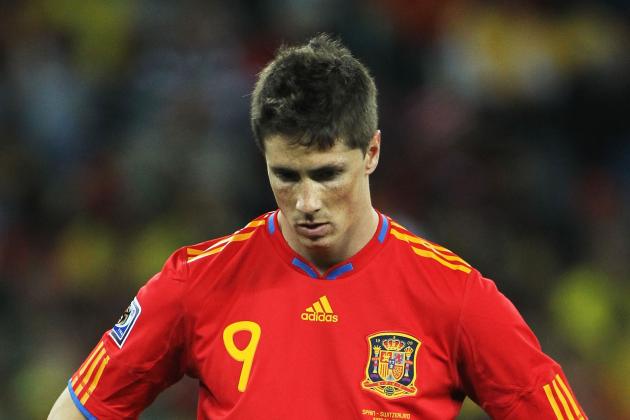 Doug Pensinger/Getty Images

Being World and European Champions, a lot is expected of Spain this summer.
So even when they face a tough tie against France in the quarterfinals, they will be expected to win, but the French themselves will be one of the teams for whom a lot is expected.
In most major tournaments, you find a team who squeaks through the group stage but really kicks on in the knockout stages, perhaps pulling off a shocking result and finding their form when it really matters.
This summer, that team will be France.
Under Laurent Blanc, France are a completely different side to the one who failed miserably in South Africa two years ago and they now play with more attacking flair and creativity.
They may have problems defensively, but I feel that they will settle as the tournament continues and can pull off a shocker against the Spanish.
In a game that will contain lots of goals, look at France to knick it.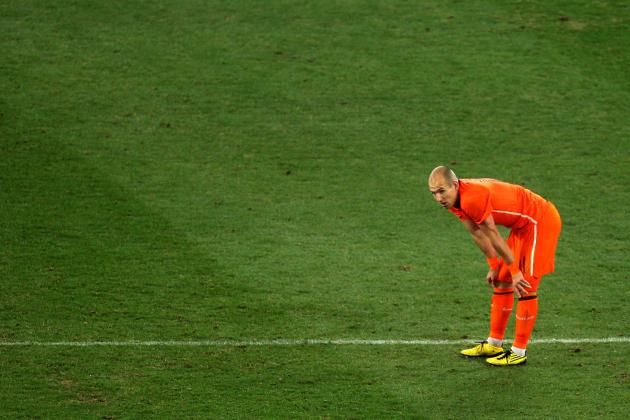 Cameron Spencer/Getty Images

Anyone who thinks England are the biggest underachievers in international football should take a look at the Dutch.
With so much talent in the side who have come so close to major success through the years, none closer than in 2010 when they lost the World Cup Final in the last few minutes of extra time, I would like to see them go one better and win this summer.
In that World Cup Final the Netherlands gained a reputation for aggressive, untidy football, something I see them correcting this summer.
Although the main culprits, such as Mark van Bommel and Nigel de Jong will most likely play a part this summer, the forward players will be influential.
We all know how well Robin van Persie has been playing in the Premier League this season, and the supporting cast of Wesley Sneijder and Arjen Robben will cause anyone problems in the tournament.
I see them finishing runner-up in the group to Germany, defeating Russia in the Quarter-Finals and coming up against France in the semis.
This is where I see the Dutch coming up short.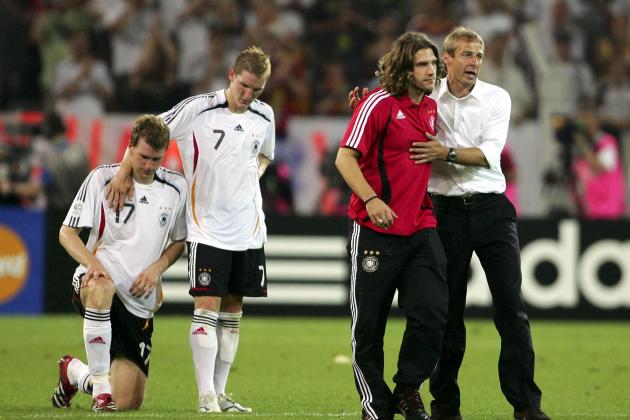 Alex Livesey/Getty Images

In the 2006 World Cup, hosts Germany made their way to the semi-finals of the tournament where they played Italy in a thrilling match.
In the most heartbreaking of games, Germany's dreams of reaching the final of their own tournament was ended when Italy scored twice in the final two minutes of extra time to record a 2-0 victory, before beating France to win the tournament five days later.
I can see the two teams facing each other again for the first time in a competitive match since. Only this time the Germans triumph to reach yet another European Championship final.
Before the semi-final, I can see the Germans blowing their opponents away by controlling possession and dominating play in midfield, thanks to the likes of Bastian Schweinsteiger and Sami Khedira.
Similar to France, I can see Germany's main striker Mario Gomez being supported well by Mesut Ozil and Bayern teammate Thomas Muller.
Finally, any top international team needs a strong consistent defense, something that Germany most certainly possess with a goalkeeper who'll prove hard to beat in Manuel Neuer.
Much like the 2006 semi-final, I can see this one being a thriller, with both teams looking to out-attack their opponents rather than play conservatively.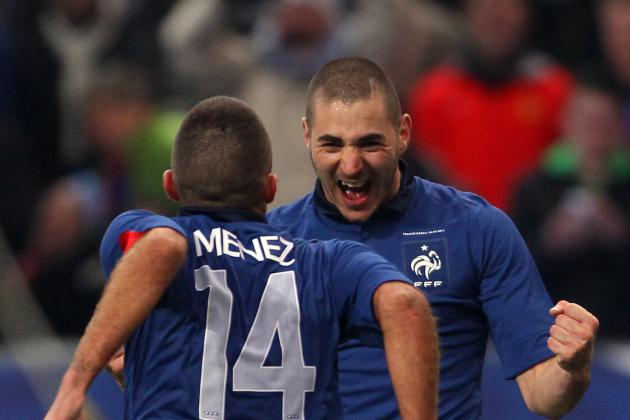 Alex Livesey/Getty Images

Part of the reason why I think France will do well is because of their main striker, Karim Benzema.
The 24-year-old is coming off a strong year at Real Madrid where he scored 31 goals in all competitions, helping them to their first league title since 2007.
And with a strong supporting cast helping him in the national team, and few rivals for France's number 9 shirt, there is no reason why he can't help his country go far in the tournament.
Benzema is likely to play on his own up front but supported by Franck Ribery, and possibly Samir Nasri or Florent Malouda. This will mean that he is likely to be supplied with lots of chances throughout the tournament, and after the season he's had, it wouldn't surprise me to see him finishing off the tournament as its top scorer.
I predict a long run in the tournament for the French, with a lot of help thanks to Benzema.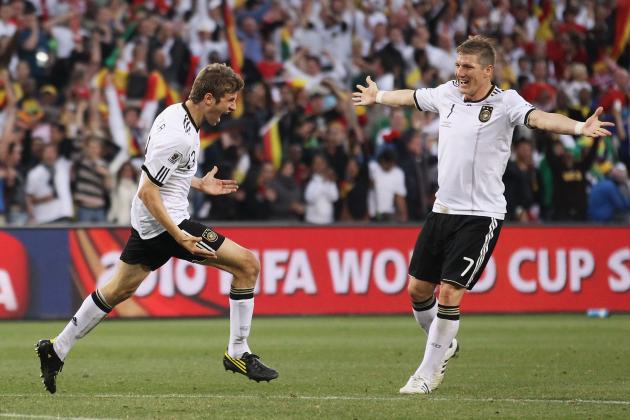 Joern Pollex/Getty Images

In what would be an epic final, I think Germany will go one step further than they did four years ago and win their first European Championship since 1996.
Having topped Group B, I can see Germany disposing whoever they play in the quarterfinals, and winning a close battle against Italy in the semis.
The final probably won't be a classic as they don't tend to be exciting games, but I feel one goal will win it for the Germans in a tight, defensive performance.