French Open 2012: Predicting Winners and Losers of Semifinal Matches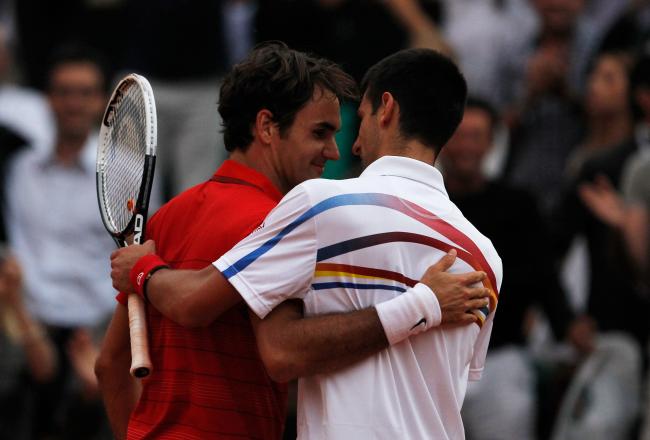 Matthew Stockman/Getty Images
Out of 128 competitors entering this year's French Open, we are down to just four men who have won all of their five matches.
Novak Djokovic, Roger Federer, David Ferrer, and Rafael Nadal are all battling for a spot in the final, and both are guaranteed to be great matches.
Without further ado, I present to you predictions for the winner of each match.
Djokovic (1) vs Federer (3): The Rematch
Novak Djokovic is going to be stoked. After Federer ended his run of over forty matches unbeaten in last year's French Open semifinal, the Serb will be seeking revenge.
Despite not playing as well as he was last year, Djokovic still has the upper hand in Friday's matchup. He may not be as sharp as 2011, but he was brilliant in spots against both Andreas Seppi and Jo-Wilfried Tsonga.
I think the adrenaline pumping through his veins will be enough to ensure that it will not be an error-prone Novak walking into the Philippe Chatrier stadium, but an alert, vindictive predator seeking his first-ever French Open final.
It certainly won't be Roger Federer's first final at Roland Garros, and recurring nightmares of losing to Rafael Nadal time and time again must surely haunt him before every French Open.
Maybe Djokovic will come into the match as favorite, but you can't ever count out Roger Federer. Granted, he did look a little bit weak in the first set of his clash against baby-faced Belgian David Goffin, losing it 7-5.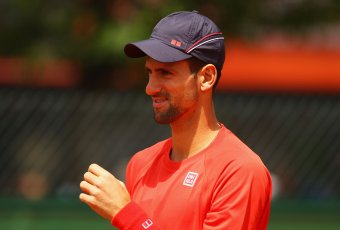 Clive Brunskill/Getty Images
But it seems that against Juan Martin del Potro, he wasn't the one dictating play. Most points' outcomes were up to the Argentine, who was hitting the ball hard, going for the corners. Sure, his losing a set to Romanian Adrian Ungur was a bit uncharacteristic.
But, as much of a cliché as it is, Roger Federer is a big-stage player, getting deadlier as tensions rise and the number of survivors drops.
I don't really need to say this, but it will be a really interesting battle on the top half of the draw.
The key battle, I think, will be the omnipresent backhand-to-backhand rallies, in which you would give the edge to Djokovic. But also, I think a big thing to think about is how Roger will change from his rally backhand to the drop-shot, which he obviously loves using.
For Djokovic, a key will be to try to emulate the high-kicking Nadal forehand to Federer's backhand, in the hope of maybe landing the ball onto the frame of Roger's Wilson racket. Another must for the world No. 1 is to try to put his serves into Federer's body a lot and mix it up a bit, but Roger has shown that it is difficult for him to deal with serves that are initially headed for his chest or stomach.
Also, Federer has a serve that can really get him out of trouble, so Nole should try to neutralize the Swiss Maestro's clutch aces and service winners by standing closer to the baseline, and getting every return back deep.
For Federer, running Novak is one of the top priorities. Sure, he has the oxygen-chamber/egg that gives him endless stamina, but coming off back-to-back five-setters, you know that endurance can't last forever.
Who Will Win the Tournament?
As mentioned earlier, the drop-shot will be pretty crucial for Roger, but he tends to use it too much at times; using it excessively can cause an increase in Djokovic's confidence, knowing that Federer is bailing out with the dropper.
Federer can try to drag out rallies all he wants, because a longer match favors him.
Prediction: It will be a high-quality match, with Djokovic winning in 4.
Nadal (2) vs Ferrer (6): The All-Spanish Affair
Rafa looked amazing coming into this tournament, dropping nine games in his first two matches, and seventeen games in his first three.
He cruised past Italian Simone Bolelli, Denis Istomin of Uzbekistan, and Eduardo Schwank of Argentina (who, by the way, asked for Nadal's autograph after the match). Rafa came out looking great, like he really wanted to defend his crown.
He was extremely impressive as he massacred clay court specialist Juan Monaco of Argentina, who had just beaten Milos Raonic. Rafa cruised 6-2, 6-0, 6-0. His toughest test came on Wednesday against compatriot Nicolas Almagro, where he edged Almagro 7-4 in the first set tiebreak and went on to take the next two sets 6-2, 6-3.
Here's an amazing statistic: out of 61 service games so far this tournament, Rafa has won 60.
With that, let's look at Ferrer's past matches.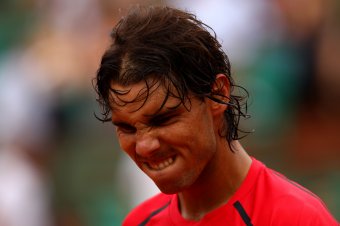 Clive Brunskill/Getty Images
The Spaniard started out by beating Slovakian Lukas Lacko, Frenchman Benoit Paire, and and Mikhail Youzhny of Russia all in straight sets. Ferrer then proceeded to destroy countryman Marcel Granollers 6-3, 6-2, 6-0, very impressively.
His match against Andy Murray saw some really high-quality hitting, both players pushing each other, but David was the one who got the decisive breaks toward the end.
With a quintessential Spanish game perfectly suited to this red clay, Ferrer has a bigger chance in this match than you would think were it held somewhere else (but then again, he probably wouldn't have beaten Murray on another surface.)
To be completely honest, I don't think Ferrer stands that much of a chance. Nadal is looking absolutely unstoppable, and there seems to be no way by him. On top of that, he is pouncing on every half-chance he gets, giving the opponent no chance with one ball out of line.
I think that Ferrer may take a set off of Rafa at best, but that's only if he is really hitting into the corners, forcing Nadal to either side, and covering the net really well—you don't need to watch Nadal too much to see that he can pass very well.
For Nadal, he just has to keep doing what he's doing. Staying consistent, keeping up the attack, serving well, remaining confident, and capitalizing on small opportunities. He doesn't need to alter much in order to win this match.
Prediction: I think Nadal is just looking too good: Rafa in 3.
Looking to the final:
If my predictions turn out to be right, it will be the dream final, the one everyone has been waiting for. The French Open is the only slam that hasn't seen a Rafa-Djoker final, and if that happens, it will be a great match.
It'll play out the same way that Monte Carlo played out, only a little less one-sided. If that happens, I don't see Rafa being stopped, taking the match in four sets and winning his seventh grand slam.
This article is
What is the duplicate article?
Why is this article offensive?
Where is this article plagiarized from?
Why is this article poorly edited?