Belmont Stakes 2012 Lineup: Assessing Post Positions for Entire Field
June 7, 2012

Al Bello/Getty Images
After the 2012 Belmont Stakes post position draw on Wednesday, it's time to start looking at which contenders have the best shot at winning at Belmont Park.
Triple Crown contender I'll Have Another is the favorite, but he's not exactly saddled with the best post position. However, some of his biggest threats are in good position to steal the third leg of the Triple Crown from him.
Here's a look at each contender and his post position.
1. Street Life
Street Life has shown some strides this year, winning two races and placing third at the Peter Pan Stakes in May. However, the No. 1 post position hasn't been historically favorable, placing just once in the past 10 years.
2. Unstoppable U
Unstoppable U has won both of his races this year, but the Belmont Stakes offers the greatest competition by far. The good news? The No. 2 post position has placed three times in the past 10 years.
3. Union Rags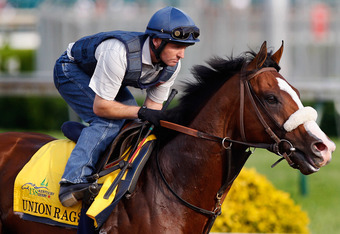 Rob Carr/Getty Images
After finishing third at the Florida Derby, Union Rags was the favorite for the Kentucky Derby this year. But Union Rags finished a disappointing seventh, and made some question whether he really was a prime contender. Union Rags also has the No. 3 post position, which has only placed once since 2002.
4. Atigun
Atigun placed fifth at the Arkansas Derby and won at the Churchill Downs allowance on May 5. It's hard to see Atigun placing in a deep field, but he does have the best historical position at the Belmont Stakes. The No. 4 post has produced two winners in the past 10 years.
5. Dullahan
You can't deny Dullahan's success this year. He won the Blue Grass Stakes in April and placed second and third at the Palm Beach Stakes and Kentucky Derby respectively. On top of that, he's in a great position in the middle. The No. 5 post has placed three times in the past 10 years. 
6. Ravelo's Boy
Ravelo's Boy doesn't exactly have a sterling resume. He's raced 13 times, with just two victories, and hasn't placed in three races this year. He does have a good post position, however. The No. 6 position has placed twice since 2002.
7. Five Sixteen
Five Sixteen has raced well this year, but he's also not been up against top competition. This will be a true test for the three-year-old, which is why he's facing long odds. The good news is he's in a solid position. The No. 7 post has placed three times in the past 10 years.
8. Guyana Star Dweej
Guyana Star Dweej has placed well against weak competition this year. Based on the results, he looks like a contender. But based on the horse, it's hard to see Guyana Star Dweej doing much. The No. 8 post has placed three times since 2002.
9. Paynter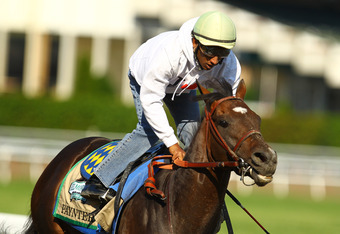 Al Bello/Getty Images
Paynter, a Bob Baffert horse, has shown promise this year. With two victories and a fourth-place finish at the Santa Anita Derby, Paynter has darkhorse written all over him. The No. 9 post has also placed three times in the past 10 years. 
10. Optimizer
I'm not too high on Optimizer at the Belmont Stakes. He placed night at the Arkansas Derby, 11th at the Kentucky Derby and sixth at the Preakness Stakes. Beyond that, the No. 10 post hasn't placed at all in the past 10 years.
11. I'll Have Another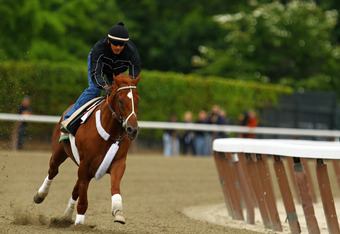 Al Bello/Getty Images
The No. 11 post has placed only once since 2002, but let's be real: I'll Have Another is built for a long race such as the Belmont Stakes and there's no way I'm betting against him after what he showed in the Kentucky Derby and the Preakness Stakes.
12. My Adonis
My Adonis has placed in three of his four races this year, including a second-place finish at the Gotham Stakes in March. He's been a fairly consistent horse. Unfortunately, he's on the far outside of a large field and the No. 12 post has placed only once in the last 10 years.
Follow me on Twitter. We can talk about horse racing together.