Debating Whether or Not 'Hard Knocks' Will Help or Hurt the Miami Dolphins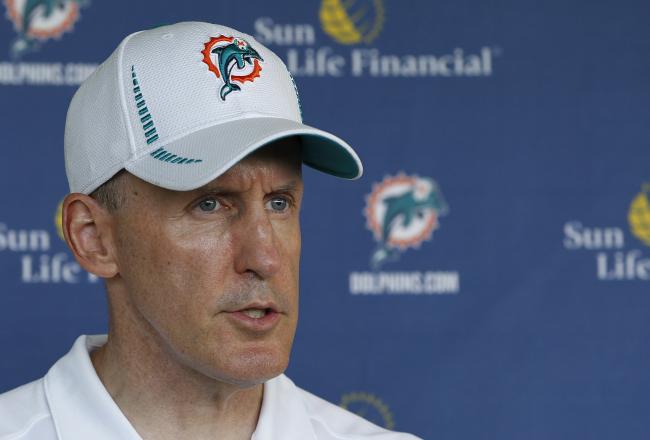 All eyes on the Dolphins.
Joel Auerbach/Getty Images
For better or worse, the Miami Dolphins will be featured on HBO's Hard Knocks this year.
We've seen it help in some cases and hurt in other cases, which begs the question: Will it be for better, or will it be for worse?
To debate the topic, we bring in Bleacher Report Dolphins Featured Columnist Alex Miglio, who can also be found on Twitter.
Take it away, Alex.
Alex: Rarely will you find me to be a pessimist, and this is not one of those occasions.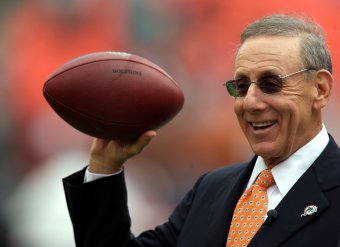 If Stephen Ross approves, he must be confident that everything will be okay...right?
Marc Serota/Getty Images
Hard Knocks
is a loaded proposition for any team, particularly so for Miami. The offseason was rocky, to put it lightly, and many saw this as a not-so-veiled PR move by Stephen Ross.
Well...that much is true. Ross is a business man, and this is a business move. The Dolphins' image has been floundering for some time—season ticket renewals are down to 30,000, about half of what they were a decade ago. Knocks can help rebuild that image in a big way.
Of course, they have to look good on the show, right?
Erik: I think that's the issue most people have with it, and while I understand it as a way to establish a new attitude and give this team an identity, there are too many repercussions I can foresee.
The first thing that came to mind was head coach Joe Philbin's status as a first-year head coach. He is actually the first first-year head coach to take the gig in the history of the show.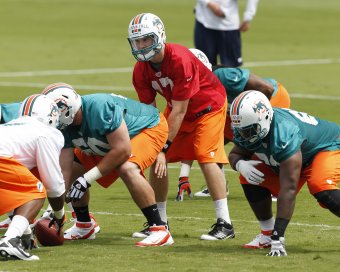 Could the drama of HBO's cameras have any effect on the drama of the quarterback battle?
Joel Auerbach/Getty Images
The second thing was the battle at quarterback. Will the Dolphins be influenced to give a "happy ending" to the show by crowning Tannehill the starter? Will there be any added pressure on Tannehill to prove himself as the Week 1 option? Will the relationship between Tannehill and offensive coordinator Mike Sherman put a sour taste in the mouths of either David Garrard or Matt Moore?
As you mention, it's a wise business move, but there just aren't enough long-term benefits from a football perspective for me to justify this as a smart move. Some teams have used Hard Knocks as the catalyst for a rebound. I just don't see the Dolphins as well-equipped to do so.
Alex: I don't think Miami will succumb to any pressure to make football decisions because of the show, personally. Philbin does not strike me as a guy who really cares about outside influences like that. If professionals get offended by something like a coordinator's relationship with a positional rival, so be it. I think guys like Garrard and Moore are thick-skinned enough that they won't even see it if it's there.
What sort of pranks might Ryan Tannehill be susceptible to? What extra responsibilities?
It will be fascinating to see what kind of effect
Knocks
has on the team, though. As a society, we like to create or perceive drama, whether there is something there or not, and to see whether the show helps the team gel or splinter will certainly be interesting.
Again, the optimist in me thinks it will help. Ross and Philbin would not have agreed to it if they feel it wouldn't.
Someone mentioned on Twitter how part of HBO's sell was that Miami would benefit from the reams of extra footage HBO will provide, so there will be an actual, tangible positive to come from this experience.
Erik: The sentiment regarding a "happy ending" wasn't meant to say that they would crown him even though he's not the best option, but more to suggest that the Dolphins maybe influenced to give Tannehill a better opportunity to win the job with the cameras on. More first-team reps, things of that nature.
As for the effect on the rest of the team, as long as everyone is on the same page in terms of selling out for what's best for the team, there won't be any negative effects. It's those who get caught up in the drama of reality TV who are most liable to create damaging side effects in the locker room.
Philbin is clearly confident in the group of men he has assembled and their ability to embrace Hard Knocks as a positive, because as you said, they wouldn't have agreed to it otherwise.
Alex: Indeed. Hopefully, Philbin will have prepared his guys for the show so as to avoid any potential conflicts.
I think the stakes are lower than they seem, in the end. In reality, the one guy who could blow things up is gone: Brandon Marshall. Reggie Bush has the potential to stir things up, and there are certainly characters on this team, but I view it as an opportunity for entertainment. I know I will be subscribing to HBO this summer, at least temporarily.
Will Hard Knocks help or hurt the Miami Dolphins?
Erik: That'll do it for this debate. Thanks for joining me Alex, and as always, we'll link up again soon.
Readers can vote in the poll, and leave your thoughts in the comments below. Check back at the AFC East blog every day for more debates.
Erik Frenz is the AFC East lead blogger for Bleacher Report. Be sure to follow Erik on Twitter and "like" the AFC East blog on Facebook to keep up with all the updates.
This article is
What is the duplicate article?
Why is this article offensive?
Where is this article plagiarized from?
Why is this article poorly edited?