NHL Stanley Cup Final: Will Tonight Be Zach Parise's Last Game as a Devil?
June 6, 2012

Bruce Bennett/Getty Images
Tonight could be Zach Parise's last game in a New Jersey Devils uniform and with free-agency rumors running rampant, will Zach Parise be back in New Jersey next season.
The Los Angeles Kings are on the verge of eliminating the New Jersey Devils and winning the Stanley Cup.
Zach Parise is the captain of the Devils, and he is one of their best players. He is set to become an unrestricted free agent on July 1, and by all accounts, there is little to no chance that Parise will be back.
Parise has shrugged off talking about free agency and has remained focused on the task at hand. However, his playoff run is slowly but surely coming to an end because there is little to no chance that the Kings will lose four games in a row.
Weeks ago, J.P. Parise spoke about his son's future, and it caused a huge uproar. His comments although "misquoted" still carry some meaning because there isn't a viable situation for keeping Zach Parise in New Jersey.
Fox Sports did a solid job of explaining that it is practically impossible for the Devils to scrap together the necessary funds to ink Parise to a new deal:
Meanwhile, the Devils owe lenders an $80 million principal payment July 1. Devils owner Jeffrey Vanderbeek is in talks with an investor to pump money into the team to refinance the debt.

Previous talks with different potential investors have fallen through, however, and the NHL was forced to advance the money-losing Devils about $10 million this season.

So far, despite the Devils' unexpected run to the finals, there has been no significant improvement in the team's long-term financial picture.

True, the Devils' $20 million regular-season loss will be erased because of the added revenue from the deep postseason run and it will probably ring up an added $7 million in revenue next season from increased sponsorship deals and ticket sales, sources said, but the staggering long-term debt remains.

Even if it approaches the break-even mark again next year, with help from a new collective bargaining agreement, the team still owes too much money, $177 million, to outside lenders.

 
The Devils' money problems forced the NHL to step in and give them a $10 million loan. With the Devils having to pay back loans just to break even, there is no way they can devote long-term money to Parise.
Larry Brooks of the New York Post follows up with this breakdown of the Devils' financial predicament.
Whenever the end comes, it will mark the first day of the rest of Parise's professional life, and unless Devils owner Jeff Vanderbeek finds a benefactor by July 1 willing to immediately invest millions into a dramatically front-loaded deal to keep the captain, it's all but impossible to imagine No. 9 will stay, even if the notion of being a career Devil appeals to him.
Detractors will claim that Brooks' report is meaningless because of his affiliation and assumed "anti- NJ slant," but the financial numbers he referenced in his report are common knowledge at this point.
With Parise expected to become a free agent, who will the top suitors be? There is a long list of teams that would love to add Parise, but there are only a few legitimate contenders.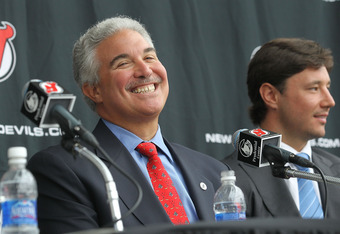 Bruce Bennett/Getty Images
Brooks expects the New York Rangers and Detroit Red Wings to offer long-term and front-loaded contracts to Parise because each team has cap room to spare. This contract will likely be the last of its kind with the current C.B.A. set to expire on September 15.
Brooks explains that it could be a contract full of bonuses that would sweeten the deal for Parise.
However, the list goes on.
There is also a possibility that the Minnesota Wild could enter the race for Zach because of his hometown connections to Minnesota.
It is a long shot, but the Wild could offer Parise a fair and lucrative deal. It would be a feel good story to have Parise return home for the Wild because he could really help turn the franchise into a contender.
The most interesting potential landing spot for Parise includes the possible Stanley Cup champions-to-be—the Los Angeles Kings. With the Kings working so well right now, why would they want to change a thing?
At ESPN, Dan Arritt believes that the Kings could opt to not re-sign Dustin Penner and Jarrett Stoll in an attempt to conjure the cap space for Parise. He also feels that Penner's departure and Gagne's health concerns would leave a hole at left wing—Parise's natural position.
The Brad Richards sweepstakes started on July 1 and was over on July 2. I expect the same thing to happen with Parise. Parise is the big offensive name on the market, and once he chooses his new destination, other free agents like Ryan Suter could fall into place.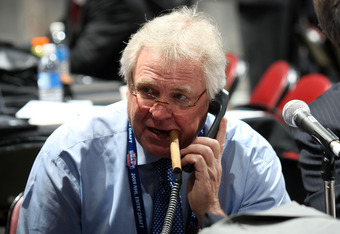 Bruce Bennett/Getty Images
The Rick Nash trade talks also hinge on Parise making his decision because once Parise is off the market, there will be multiple teams that will still need a scoring left winger.
Tonight, the Los Angeles Kings will seek a run at history.
They will seek their first Stanley Cup, and they will seek tying the most successful playoff run in NHL history finishing with a record of 16-2.
History could be made in Los Angeles tonight, but will it be the end of Zach Parise's tenure in red and black?