Tom Coughlin and New York Giants Agree to Contract Extension Through 2014
June 6, 2012
There is no head coach quite like Tom Coughlin of the New York Giants. 
Nobody knows this better than the Giants themselves, who have now extended his contract through the 2014 season. Giants beat writer Ralph Vacchiano tweets:
Tom Coughlin has signed a contract extension through the 2014 season, according to the Giants. #NYG

— Ralph Vacchiano (@TheBlueScreen) June 6, 2012
Last season, Coughlin became the oldest coach in league history to win a Super Bowl at the age of 65. His second improbable win over the New England Patriots in the last five years put him in rarefied New York Giants, air as he is now tied with the legendary Bill Parcells for the most Super Bowl wins in franchise history.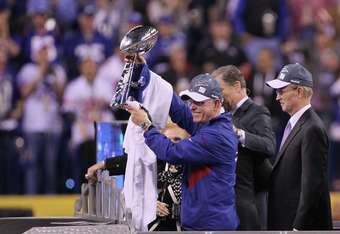 Jeff Gross/Getty Images
Prior to New York's scintillating postseason run, there were certainly those calling for Coughlin's head—again. The coach and his Giants have a way of backing themselves into a corner, and yet, they have almost always found a way out.
Any other organization might have abandoned ship when the Giants missed the postseason for two straight years, but the front office held strong with Coughlin. That paid huge dividends. The Giants have never wavered in support of their head coach, and that has never been more apparent than it is right now.
Coughlin will be 68 years old by the time this contract runs out, and there is no telling what type of success he will have in the next three seasons. It wouldn't even be too much of a surprise if he signed on for another deal after this one.
New York has an elite quarterback in the prime of his career, rising young receivers and a dangerous defense that continues to replenish itself. The team's front office is one of the best in the selection process known as the NFL draft, and in some ways, they have laid out a blueprint for success in today's pass-happy NFL.
The specifics of the potential Hall of Famer's deal equate to $20 million over three years according to the New York Daily News. That breaks down to about $6.6 million per year and ranks him as one of the top six highest-paid coaches in the league, according to Forbes via NYDN. 
Coughlin is well deserving. He has, after all, twice defeated the NFL's highest-paid coach in the Super Bowl.
This a great day for the Giants, coach Coughlin and Big Blue fans alike, but this is far from the end. 
As long as Coughlin is in the fold, the Giants are perennial Super Bowl contenders.