Why Erik Spoelstra Deserves Blame for Miami Heat's Late-Game Struggles
June 6, 2012

Jim Rogash/Getty Images
When the Miami Heat are at their best, their success is based mostly on individual brilliance and has very little to do with total team success. That explains a lot of Miami's late-game struggles, but it also says that head coach Erik Spoelstra should have fingers pointed his way when trying to figure out why the Heat have so many problems executing late in games.
Just take a look at the two teams on the floor Tuesday night.
The Boston Celtics trust each other on the floor and, more importantly, have trust in Doc Rivers. In pressure situations, they execute as flawlessly as if it were the first quarter.
Some of that can be put on the fact that they have clutch players who have hit big shots time and time again. But a good bit of that can be put on the fact that they put a lot of trust in Rivers, and you can see that trust pay off on the floor.
Miami, on the other hand, in the same situation, often looks confused. Things are more chaotic, as it basically comes down to one superstar trying to make individual plays. That's because Spoelstra does very little to put the Heat in positions to have the most success.
He may trust his superstars, but it doesn't look like they trust him.
One style works and one style doesn't. You don't have to be a rocket scientist to figure out which style is more beneficial.
Spoelstra is not a great tactician, and he often gets overwhelmed late in games. Instead of a quality Xs and Os guy, he often seems like more of a caretaker of his "Big Three."
You can say LeBron James chokes in the clutch, and you can debate whether or not that's true, but one thing that is true is that his coach does him little favors late in games.
In addition to being overwhelmed late in games, Spoelstra often seems like he picks his rotations out of a hat. You never know who will be on the floor with James and Dwyane Wade late in games, and that hurts any potential chemistry that can develop.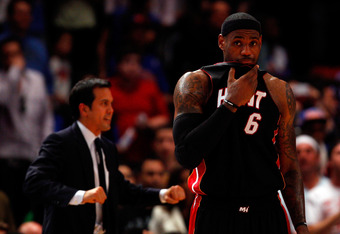 Jeff Zelevansky/Getty Images
I understand that Chris Bosh being out hurts, but Spoelstra started his third center in as many games on Tuesday night. Picking names out of a hat isn't the answer. Coaching the guys you have is.
Finally, the biggest reason why the Heat struggle is simple adjustments. When the Celtics went into a zone in Game 5, the Heat had no clue how to beat it. Yet Spoelstra made no adjustments to make things easier for the guys on the floor.
Add all that up and you get an inferior coach who has done very little to earn the trust of his players. Trust and respect are traits that are earned and not given.
With the game on the line, how can you blame the Heat players for not trusting this guy?