Miami Heat: Why Phil Jackson Will Be the Heat's Coach Next Season
June 6, 2012

Jonathan Daniel/Getty Images
With the Miami Heat on the brink of elimination in the Eastern Conference Finals, many are offering suggestions on how to fix the team.
Trade Bosh and Wade; that will fix everything.
If you think that potentially losing this series is LeBron James's or Dwayne Wade's fault, you need to look at the box scores. They have been playing their hearts out, but they can't each score 40 points a night.
The Miami Heat have a number of problems, but it doesn't start with the big three. It starts with everyone around them, but most importantly, it starts with the coach.
Don't get me wrong, I love Erik Spoelstra as a coach. He just doesn't fit with the Miami Heat. They have too many big names and even larger egos. Spoelstra coaches a mean defense, but when it comes to late game situations, he doesn't know who to give the ball to. Don't act like you would know who to give the ball to either; you're not in that huddle. It's a lot harder than it sounds.
The biggest problem with the Heat is simple—they have too much talent and not enough team. Pure talent doesn't always win, especially in basketball.
Teams win games and championships in this league.
When the Heat turn their talent into a team, they will win it all. The Heat are a fantastic regular-season team because they have so much more talent than everybody else. However, when they meet a real team, like the Boston Celtics, they're done.
The other teams remaining in the playoffs are still there because they are a complete team with stars that know how to work together. They are also more complete as a squad. The Thunder have James Harden coming off the bench. The Spurs have Manu Ginobili coming of the bench, as well.
Either one of these guys would start for any other team in this league. They are part of a team; they put their egos aside and do what is best for the other guys. The Heat don't have that, not yet.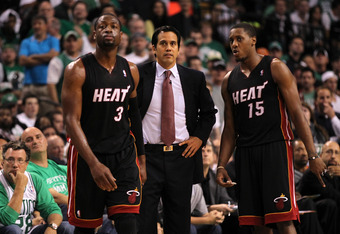 Jim Rogash/Getty Images
The Heat have to start by putting a coach in that huddle who isn't afraid to command and lead a group of superstars. They need someone who can make these three big names play together along with everyone else.
They need Phil Jackson.
Jackson would make perfect sense for this team. He won rings with Jordan and Pippen. He won with Kobe and Shaq. The guy has an ability to take big egos and turn them into championships like nobody else.
Say all you want about how anybody could win with these guys on your team, but if anything, the Heat are proving that very point wrong. You can't just put big names on a team and win basketball games, the Heat have been proving that for two years now.
Jackson has proven that it is a craft to be able to mold superstars into a team. He won championships with a team very similar to the Lakers team that was ousted in the first round of the playoffs this season. He is a unique coach, one that we may never seen again purely for his ability to take big names and win championships.
There are people who say that he wouldn't want to coach again; I say no way. Jackson would come back for this team. Why do you think he hasn't taken the Orlando Magic job yet? Think he may be waiting for something?
I think that Jackson is waiting for this season to finish out because I think his ego is bigger than LeBron's. I think he knows that if he can get his hand on this team and help them win a few championships, he'll go down as the greatest coach ever.
If he coaches the Heat, he will have coached arguably three of the best dynasties this league has ever seen.
I feel bad for Erik Spoelstra. He is a great coach who has had a lot of bad luck. He has an incomplete team and two superstars who can't seem to be able to put it all together. Very little of this Miami problem is Spoelstra's fault, which makes it that much worse that he could be the one getting the axe at the end of the year.
This series is not over yet. I wouldn't be shocked if the Heat came back and won it. However, I don't think that it matters, because they aren't beating whoever comes out of the West.
Phil Jackson could be the start of the fix for the Miami Heat. Then maybe they could sign a center and give Steve Nash a minimum contract, and they will be ready to do this all over again.
Jackson won with Jordan and Pippen and Kobe and Shaq. Add LeBron and Wade to that, and the argument for best coach ever may be over.
My money is on Phil Jackson being on the Miami Heat bench next season.