Rafael Nadal Beats Nicolas Almagro to Advance to 2012 French Open Semifinals
June 6, 2012

Mike Hewitt/Getty Images
Nicolas Almagro made Rafael Nadal work in the first set, but he was doomed when he failed to steal it away from the six-time French Open champion.
Rafa dug in and maintained his perfect-sets streak with a 7-6 (7-4) win in the first and then went on cruise control for the most part.
Almagro, the No. 12 seed in this year's tournament, watched Jo-Wilfried Tsonga and Juan Martin Del Potro push Novak Djokovic and Roger Federer, respectively, to the brink of elimination yesterday only to falter down the stretch.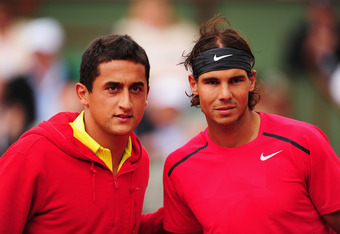 Mike Hewitt/Getty Images
The Spaniard hoped he could do what they could not, but he never got the chance after the first. He hit a ton of nice shots—winners even against most opponents—but those shots aren't winners against Nadal.
Ultimately, Rafa won 7-6 (7-4), 6-2, 6-3.
Nadal has been absolutely dominant so far at Roland Garros, and his first-set struggles were the only sign of weakness in the tournament. The scariest fact of all is that he still hasn't even dropped a set.
The 26-year-old Spaniard has won six of the last seven French Opens, and even with the rise of Novak Djokovic in the last year and a half, there is no end in sight to his reign of brilliance at Roland Garros.
Next for the world's No. 2 player will be the winner of Andy Murray and David Ferrer. Nadal dispatched Murray in last year's semifinal in three straight sets and there is nothing to indicate that will change should the Brit make another appearance.
Nadal's toughest test, once again, will come in the final against the winner of Novak Djokovic and longtime rival Roger Federer.
Last year, Federer sent Djokovic to his first loss of the year in the semifinal at Roland Garros, but regardless of who wins this, they're basically playing for a chance to lose to Nadal in the final.