Miami Heat: Is Erik Spoelstra a Dead Man Walking on South Beach?
June 6, 2012

Mike Ehrmann/Getty Images
Head coach Erik Spoelstra will always be in a lose-lose situation. When the Miami Heat lose, it will be his fault due to the lack of execution, and when they win, it is only because he has LeBron James, Dwyane Wade and Chris Bosh.
Spo is now in his fourth season as the head coach of the Miami Heat. Pat Riley hired Spoelstra because Spo was a young, energetic coach with a great mind for basketball. I feel that Spoelstra was ill-prepared for the tough task at hand. Before acquiring James and Bosh to team with Wade, the Heat were a scrappy team with little star power other than Dwyane Wade.
In that situation, Spoelstra was the perfect person to coach Dwayne Wade, Mario Chalmers and Michael Beasley, because the expectations were low and the talent was not there.
When dealing with superstars, it is hard not to have a coach who commands some type of respect. Pat Riley, Larry Brown, Gregg Popovich, Doc Rivers and Phil Jackson are coaches who are masters at coaching superstars. When thinking about the past 10 NBA seasons, not one under-the-radar coach has helped hoist the Larry O'Brien trophy. 
How can a coach like Spoelstra, with a resume as short as Muggsy Bogues, even be mentioned in the same sentence as Pat Riley, LeBron James, Dwyane Wade and Chris Bosh on a day-to-day basis? You have a three-time MVP, an NBA Finals MVP, a perennial All-Star, one of the greatest coaches to ever coach the sport of basketball...and Erik.
Can Spoelstra yell at LeBron for taking ill-advised shots? I say no. We saw how Dwyane Wade reacted when Spoelstra called his bluff versus the Indiana Pacers. Kobe Bryant may have gone at Phil Jackson during practice, but in a game setting you never saw him go off on Phil like Wade did Spoelstra.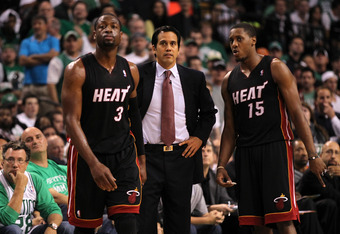 Jim Rogash/Getty Images
Something is missing from the Miami Heat. The motivation is not there, and the respect from the players may not be there. The Miami Heat need a coach who can motivate the players and get the maximum effort out of all active players on the roster.
Effort is something that the Miami Heat lack. Players do not get back on defense, and they are in la-la land when on the court. I know living in South Beach creates many distractions off the court, but basketball is supposed to be these guys' sanctuary.
Shaq says it best (via ESPN): When the general does not panic, everything is okay.
Spoelstra is the new master of panic. From starting Dexter Pittman in the playoffs to playing Shane Battier at power forward, Spoelstra has panicked his whole way through this postseason. In Game 5 against the Celtics, Spoelstra left Bosh on the bench during crunch time, which meant there was not a player taller than 6'8" on the court. That gave Kevin Garnett free rein to look like the KG of old.
Only time will tell regarding the coaching situation with Erik Spoelstra and the Miami Heat. 
Star players need to be challenged by their coaches. Phil Jackson never hesitated to challenge Michael Jordan or Kobe Bryant, and Gregg Popovich never hesitated to challenge his stars. Coach Spo may not have the pedigree of these coaches, but his players will respect him more if he demands better play on the court.
Time is not on Erik Spoelstra's side. The Miami Heat are down 3-2 and are on the brink of elimination.
There is still a lot of life left in the season for the Heat. In order for the Heat to succeed, Coach Spoelstra has to realize that this is his team, despite the fact that LeBron James, Chris Bosh and Dwyane Wade are on the roster.
Coach Spo has the keys to the Ferrari, but as of now he still has it in park. Memo to Erik Spoelstra: Pat Riley has repossessed teams before...just ask Stan Van Gundy.