NBA Draft 2012: Anthony Davis and 5 Can't-Miss Projected Lottery Prospects
June 6, 2012

Ronald Martinez/Getty Images
With the NBA draft a little over a month away, the only thing we know for sure is that Kentucky's Anthony Davis will be the No. 1 pick by the New Orleans Hornets.
In addition to Davis, there a quite a few other can't-miss prospects out there as well.
Here's a look at some of the can't-miss prospects available in the 2012 NBA draft.
Bradley Beal, Florida
2011-12 Stats: 14.8 points per game, 6.7 rebounds, 2.2 assists, 1.4 steals, .445 field-goal percentage, .339 three-point percentage, .789 free-throw percentage
Beal is a 2-guard that can do it all.
His best gift is the ability to shoot, being able to shoot effectively off the bounce, off screens and spotting up.
He's a great athlete who has the ability to split double-teams and get to the rim. In addition, Beal is probably the best rebounding guard in the draft and does a good job defensively.
I project him as the best pure scorer in the draft.
Michael Kidd-Gilchrist, Kentucky
2011-12 Stats: 11.9 points, 7.4 rebounds, .491 field-goal percentage, .255 three-point percentage, .745 free-throw percentage
Kidd-Gilchrist is a fantastic athlete who will be a defensive stopper in the NBA, as he's a guy that can guard multiple positions and guard them well.
He's a high-character guy with a motor that never stops. Teams needing a leader can grab an instant one by drafting MKG.
MKG has ideal physical attributes for an NBA wing prospect (size, strength and agility) and a versatile skill set to go along with that. He has an excellent feel for the game and plays very well without the ball.
Offensively he excels in transition, and in the half court, he has the ability to get to the paint—and once he does, he refuses to be denied.
His perimeter shot needs work, but I think that is an area that will improve with time.
He won't be a top scoring option in the NBA, but down the road, he could become a very explosive NBA player and may turn into the best overall player in this class before it's all said and done.
Thomas Robinson, Kansas
2011-12 Stats: 17.7 points, 11.9 rebounds, .505 field-goal percentage, .500 three-point percentage, .682 free-throw percentage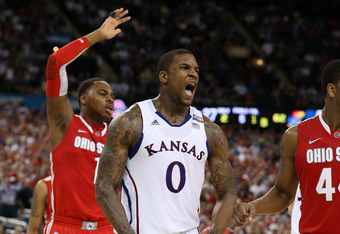 Jeff Gross/Getty Images
Robinson stands only 6'9", so that may concern some , but I love Robinson as a player.
His motor doesn't stop running, and he's very productive, recording 27 double-doubles on the season.
Robinson has outstanding physical tools for an NBA power forward prospect. He has a 7'1" wingspan, broad shoulders and a chiseled frame, with excellent quickness and explosiveness for a player his size, which he further enhances by playing with tremendous energy.

Where Robinson does the most damage is on the glass, as he is a ferocious rebounder. His size and strength enable him to get good position inside, and his length, athleticism and energy allow him to go get rebounds out of his area.
He can make an immediate impact rebounding the ball in the NBA.
Offensively, Robinson still has a ways to go, but I love what I saw this year, as he made the transition from a guy who was just a dunker to a player with a complete package.
He does most of his damage on the block but has also shown flashes of being able to catch the ball facing up and isolate his man at the elbow or in the mid-range area. He's a very good ball-handler for a player his size, and he's able to utilize his quickness advantage on most opposing big men and get to the basket.
Robinson is ready to make an impact in the NBA right now.
Harrison Barnes, North Carolina
2011-12 Stats: 17.1 points, 5.2 rebounds, 1.1 steals, .440 field-goal percentage, .358 three-point percentage, .723 free-throw percentage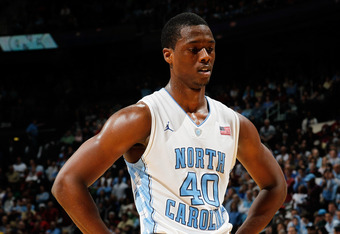 Kevin C. Cox/Getty Images
Some may point to the fact that Barnes shot only 33 percent (20-of-61) from the floor during the NCAA tournament and how he struggled with point guard Kendall Marshall in the lineup, but he also played most of March on a badly sprained ankle.
Barnes has great size for a wing player at 6'8", and his game is very smooth and fluid and should adjust to the NBA very easily.
He won't help much in other areas, but Barnes is a scorer with the ability to become a No. 1 scoring option in the NBA. He possesses great instincts with the ball in his hands, and while he's not a great athlete and doesn't have a great first step, Barnes can fill it up.
His long-range game is respectable, but his mid-range game can become lethal, as there may be no player entering the draft with a better pull-up game than Barnes.
Anthony Davis, Kentucky
2011-12 Stats: 14.2 points, 10.4 rebounds, 4.7 blocks, .623 field-goal percentage, .709 free-throw percentage
What else can I say about Davis that hasn't already been said?
Offensively, he has guard-type skills in a forward's body. He can score in the post and is a very good finisher around the rim. He will have to add some muscle to his frame, but his skills and footwork are polished well beyond his years.
Defensively, his rebounding and shot-blocking skills will make a huge impact right off the bat in the NBA.
He's a player that can have a huge impact on the game without ever having to touch the ball, which makes him a can't-miss prospect.