French Open 2012 Schedule: Federer Will Outlast Djokovic in Epic Semifinal
June 7, 2012

Matthew Stockman/Getty Images
Ready for a classic tennis match?
Novak Djokovic vs. Roger Federer will be just that. The two will battle it out for a berth in the 2012 French Open final. 
Djokovic has been struggling at Roland Garros and Federer will take full advantage in an epic semifinal matchup.
Neither is playing exceptionally well, but Federer has won in this situation before. He has won the French Open once, and Djokovic has yet to win the Grand Slam.
Advantage Federer.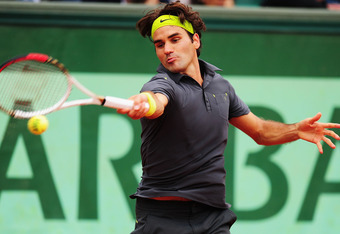 Mike Hewitt/Getty Images
Federer knows how to defeat Djokovic on the clay at Roland Garros because he did it last year in this same spot. The defeat snapped Djokovic's 41-match winning streak.
If Federer can defeat Djokovic on clay when the Djoker is playing the best tennis of his life, he can certainly knock him out when he's not on top of his form.
Confidence is key is tennis. When you're riding high in confidence, the sky is the limit when you have the necessary talent to back it up. Djokovic has the talent and he had the confidence last season which explains his historic run.
But now that run is gone.
His confidence level is low, and he doesn't seem to have that drive he had last year. Maybe it's preparation, but he just doesn't seem himself.
Federer will capitalize on a looming Djokovic to reach another French Open final. 
Check out RolandGarros.com for the complete French Open 2012 schedule.