2009 Brewers Pitching Staff Prospectus
The projected starters for the Milwaukee Brewers 2009 season include Yovani Gallardo, Dave Bush, Jeff Suppan, Manny Parra and Seth McClung.
Last season the Crew averaged an ERA of 3.86 with 2.31 K/BB and a BAA (batting average against) of .259.
With the departures of CC Sabathia and Ben Sheets, only time will tell if the Brewers will improve those figures.
Enjoy the slide show and the Brewers successful 2009 season!
Luck's lucky man: Yovani Gallardo
The Brewers No. 1 pitcher this year is Yovani Gallardo.
On May 2, 2008, Gallardo had a significant injury when he tore his ACL while fielding a ball at first base. He was out the rest of the season with the exception of an appearance in a Sept. 25 game.
Gallardo has a lot to prove coming into the 2009 season. Despite mising the majority of the 2008 season, Gallardo still has a lot of potential.
In 2007 he had an ERA of 3.67 and a record of 9-5. In his 24 innings pitched in 2008, he had an ERA of 1.88.
This season Gallardo could break through. I'm reminded of a few seasons ago, in 2006, when Hardy was out with an ankle injury that cost him the remainder of year.
The next season, he batted .277 with 26 HR and 80 RBI. Last season he batted .283 with two stolen bases 24 HR and 74 RBI.
Hardy is a consistent player with two consecutive seasons of 20+ home runs. He is a perfect example of how to bounce back from a season ending injury. Lucky No. 7.
Gallardo is a flyball pitcher. He's able to send his 89-92 mph fastball to both sides of the plate. He throws his change-up anytime in the count. He's got a solid mound presence.
Gallardo's number is 49. 7x7=49. Lucky guy!
It'll be great to see what the future has for this young arm.
Durable Dave Bush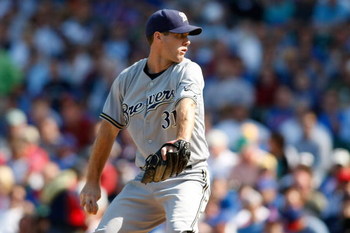 Righty Dave Bush is coming off the 2008 season with an ERA of 4.18 in 185 innings pitched. He's a deceiving calculated pitcher that often turns his back on hitters.
Bush can fire an 85-89 mph fastball with late movement down the strike zone. He's got a slider, a good slow curve ball, and a change-up that he turns over on lefthanders.
Bush has got to work on getting his breaking pitches over in fastball counts to be effective.
Veteran Jeff Suppan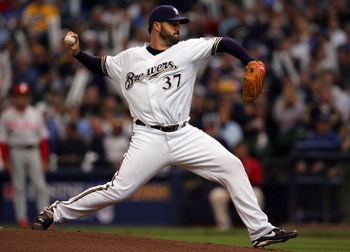 Suppan is a solid middle of the rotation starter. A veteran in his own right, Suppan has a clean, controlled, repeatable pitching delivery. He can send an 85-88 mph fastball to both sides of the plate.
Suppan likes to mix in a sharp slider and a big breaking curveball. He works all dimensions of the strike zone and knows his game.
Manny Parra: the Power Lefty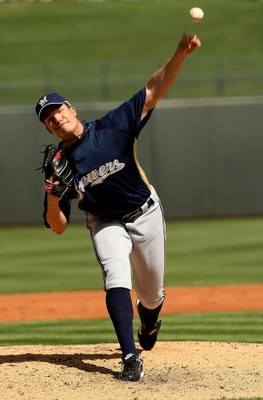 Parra had a decent 2008 season with an ERA of 4.39 and a record of 10-8. He's got a tailing 89-94 mph fastball and a tight spin on his curveball. He sends a late-diving split when ahead.
He's got to stay healthy. If he does, he'll be a formidable force for many seasons to come.
Dual-Rolester: Seth McClung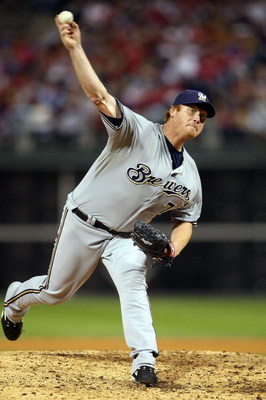 Seth McClung is a good bottom of the rotation starter who also can perform the role of a reliever quite well.
He's a big power pitcher with a good loose arm action from over the top. He is capable of sending two and four-seam fastballs in the mid-90s range, and he's able to bring in strikes when it counts.
At times, he struggles with the consistency of his delivery and with righties.
Relievers: David Riske, Jorge Julio and Mitch Stetter
The Brewers top relievers include right-hand-pitcher David Riske (above), fellow righty Jorge Julio and lefty Mitch Stetter.
Riske spent the 2006 season with the Red Sox, 2007 with Kansas City and 2008 with the Brewers. His ERA in 2008 was significantly higher at 5.31 than it was in 2007 (2.45) and 2006 (3.89).
The man is a veteran reliever and can deliver a high 80s fastball. He does have significant injury concern.
Julio has been all over the map the past few seasons. He spent 2006 with the D-Backs and Mets, 2007 with Colorado and the Marlins, and 2008 with Cleveland and Atlanta.
He's good for a mid 90s fastball but has trouble staying consistent. He works well in the seventh and eighth innings.
Stetter uses his deceptive pitching abilities to compensate for his low 80s fastball. He's got an aggressive mindset and performs best in lefty-on-lefty situations.
The Cubs, Brewers Public Enemy No. 1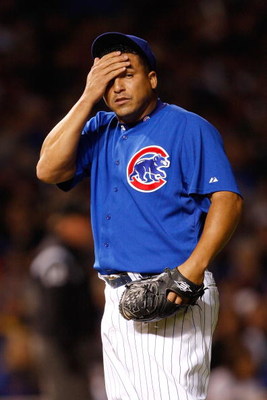 The Cubs will be fierce contenders in the NL Central. After destiny passed the team by in 2008m the club will aggressively seek to reestablish its dignity and honor (haha..j/k).
Carlos Zambrano (pictured above) has had repeated shoulder discomfort over the recent years, yet still stands to be the Crew's toughest rival in Chicago.
Featuring an ERA of 3.91 last season and an 89-95 mph fastball, he keeps hitters off balance with a slider that breaks wide and deep, a slow curveball, and a late-biting split.
He is inclined to lose his concentration with adversity.
Rich Harden has an ERA of 2.07 and shows excellent arm speed and movement with his change-up. However, he has recurring shoulder problems
Ryan Dempster is a righty who had an ERA of 2.96 last season. The converted closer gets on hitters quick with an 89-93 mph fastball.
Lefties Ted Lilly and Sean Marshall are at the bottom of the starting rotation. Lilly has a complicated delivery and Marshall can start or relieve.
The Cubs had a combined ERA of 3.75 last season with a BAA (batting average against) of .237
The Reds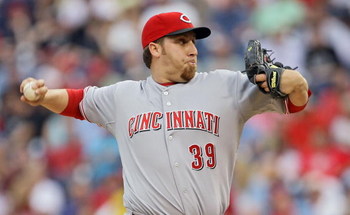 The Reds have lost lefty Jeremy Affeldt but have gained fellow lefty Arthur Rhodes. The team held down an ERA of 4.97 last season and a BAA of .278.
Their starting rotation includes Aaron Harang (above), Edinson Volquez, Bronson Arroyo, Johny Cueto, and Micah Owings—all righties.
The 'Stros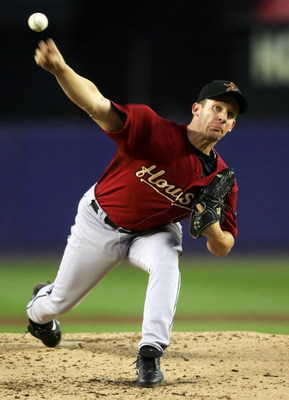 The Houston Astros are a serious contender in the NL Central. The bullpen is solid with a lot of talent.
The rotation has three righties, including famed Roy Oswalt (ERA 3.54 and pictured above), Brandon Backe and Brian Moehler. They also have two lefties, Wandy Rodriguez and Mike Hampton.
The team's ERA of 4.56 should stay about the same this season.
The Pirates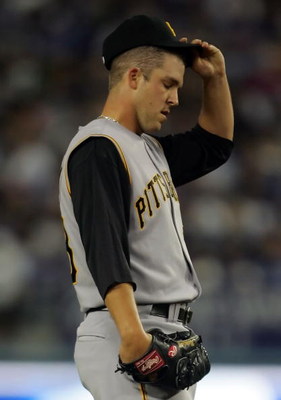 The Pirates held an ERA of 5.36 last season and a BAA of .300. Their starting pitchers include Paul Maholm (above), Ian Snell, lefties Zach Duke and Tom Gorzelanny and righty Jeff Karstens.
The Pirates don't stand to be a serious threat in the NLC
St. Louis Cardinals, a worthy adversary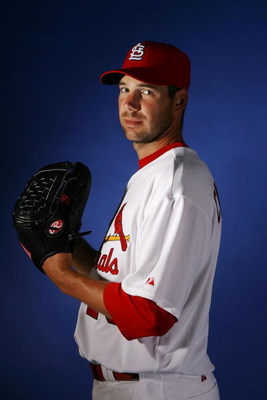 The St. Louis Cardinals will provide great competition in 2009. A big sleeper for the rotation is the oft-injured Chris Carpenter (above), who had an ERA of 1.76 and BAA of .286 in limited innings last year.
Carptenter, along with fellow starters Adam Wainright, Kyle Lohse, Todd Wellemeyer, and Joe Pinerio, will hopefully keep this teams ERA at 4.20.
Brewers Projection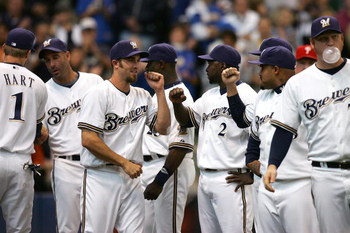 The fact of the matter is Milwaukee doesn't have a deep bullpen. Pitching is going to be a constant concern this season.
The Brewers should manage just fine against the Pirates and Reds. The Cardinals, Astros and Cubs will be more challenging.
We will need to rely on our hitters to bring in runs this season. Braun, Hardy, Fielder and Hart need to keep slugging away!
Let's Go Brew Crew!
Attribution
I would like to thank the writers at Lindy's for their "Baseball 2009 Preview"
Vol. 9
Keep Reading