Euro 2012 Predictions: Underdogs Guaranteed to Surprise
June 6, 2012
Dean Mouhtaropoulos/Getty Images
We know all about the favorites—Germany, Spain and the Netherlands. We know that England and France have the potential to dominate. And we know that Russia, Portugal, Italy and Croatia are capable of making runs too.
But what of the underdogs, the teams like host countries Poland and Ukraine, or Euro 2004 winner Greece, or FIFA's No. 9 ranked Denmark, or even Sweden or Ireland?
Which of these underdogs are poised to make noise in Euro 2012?
Let's take a look.
Poland (Group A) or Greece (Group A)
Russia are the favorite in this group, but both Poland and Greece are extremely intriguing options as well.
The host country of Poland feature a dynamic goal scorer in Borussia Dortmund star Robert Lewandowski, and they also have Arsenal man Wojciech Szczęsny in net. The two stars on the opposite ends of the pitch, both under 23 years old, are capable of pushing this team to the next level on their own.
Captained by Lewandowski's Bundesliga teammate, 26-year-old Jakub Błaszczykowski, the Poles are a young squad playing at home with almost nothing to lose.
Their place in the knockout phase could come down to the opening match with Greece.
The Euro 2004 winners were dominant in qualifying. They went unbeaten through the rounds and tied for the lowest goals against percentage. There is absolutely nothing exciting about watching the Greeks play, but their style is effective for them.
If they can frustrate their opponents into untimely mistakes, the "Greek Messi," Ioannis Fetfatzidis, should be able to create some opportunities.
A 100-1 shot in this tournament, according to Sportsbook.com, it would be foolish to count out the Greeks.
Ireland (Group C)
Competing in their first international competition in 10 years, the Irish are out to prove something and are still livid after the handball debacle against France in 2010 World Cup qualifying.
Now they're back with a vengeance.
Spain are the easy No. 1 in Group C, but controversy surrounds the Italians, and Croatia are far from consistent.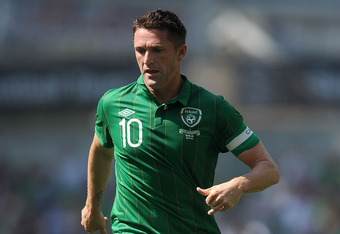 Christopher Lee/Getty Images
The Irish are an opportunistic bunch at best, because they struggle to mount a great attack of their own.
But if a mistake is made in front of captain Robbie Keane, look out, because he'll make you pay.
Sweden (Group D)
It would honestly be a huge surprise if both England and France played up to their potential and advanced through to the knockout round.
The one team with the best chance to capitalize on a sloppy performance from the French or English are Sweden, captained by AC Milan star Zlatan Ibrahimovic.
The former Barcelona, Inter and Juventus star has scored 31 goals in 77 international competitions, and he's a threat from anywhere around the 18.
They're a veteran bunch, but that could come in handy against some of the younger stars playing the English and French sides.