LeSean McCoy: The Top 5 Plays of Shady's Career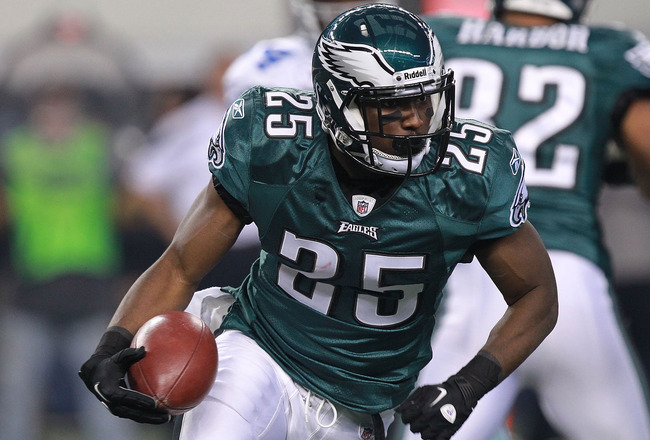 Ronald Martinez/Getty Images
LeSean McCoy is one of the best running backs in the NFL. Anyone who argues this is either a New York Giants fan or completely delirious.
Shady followed up his first 1000-yard season in 2010 by ranking fourth in rushing with 1309 yards in 2011. He also led the league in rushing touchdowns (17) and total touchdowns (20).
Last season, he resembled the Brian Westbrook of 2006 and 2007, carrying an Eagles offense missing DeSean Jackson's focus and Michael Vick's body.
While many of the league's backs are either succumbing to injuries or tailing off because of other factors, Shady has risen up in the ranks to join the likes of Matt Forte, Arian Foster and Ray Rice at the top of the totem pole.
His consistency is exceeded only by his big-play ability—one that has drawn comparisons to Barry Sanders.
Without further ado, let's get into it!
5. McCoy Embarrasses Antrel Rolle
All Eagles fans hate the New York Giants. It's that simple.
Therefore, when the "Dream Team" marched into the Meadowlands at 3-6 and knocked off the Giants with backup quarterback Vince Young at the helm, we were happy.
For us, this play by McCoy was just icing on the cake. For New York, it was salt in the wounds.
McCoy displays his agility against Rolle, who whiffs in mid-air and falls face first on the turf.
If you were at the game—clad in Eagles gear, like I was—this was a chance for you to heckle tens of thousands of Giants fans who were simply too stunned at the moment to shout "Standings! Standings! Standings!"
4. The Speed Demon
When the Eagles won their Week 1 contest 31-13 against the St. Louis Rams, people thought that the Dream Team was a legitimate Super Bowl contender.
We all now know what happened over the next 11 games, but it's still nice to savor that sweet, opening game victory.
Best of all was this highlight, compliments of Shady McCoy, who used his unbelievable speed and quickness to burst through a hole, find daylight and sprint to the promised land.
Locked and loaded.
3. Going in for the Kill

Find the particular run from 1:45-0:54.

This was a game that supposed to be an easy way to regroup following the tough Week 1 loss against Green Bay in 2010. After all, the Detroit Lions had backup quarterback Shaun Hill calling signals.
What it ended up being, unfortunately, was a dogfight between running backs as Shady and Jahvid Best traded long touchdowns in an eventual 35-32 Eagles win.
This play (1:45 to 1:54) was impressive. Not only does McCoy hurdle a man, but he also displays game-breaking ability to get to the end zone. It reminds us all of DeSean Jackson.
If he can continue to be among the league's best running backs, the Eagles could have the league's most explosive offense in 2012.
2. The Mother of All Cutbacks

Find the run from 1:22 to 1:34.

For some reason, YouTube once again didn't have the highlight of the exact play I was looking for, but you can see it from 1:22 to 1:34 on the above highlight reel.
This play is great for two reasons.
First, he goes one way, turns around, avoids a tackle and then goes all the way across the field to get the first down.
Second, when he sees some room in front of him, he turns on the jets and streaks past the two Jets defenders in the area. Silky smooth.
1. Breaking Big Blue's Heart

McCoy kills the Giants with this fourth quarter run.

Talk about taking it to a team. This is the first meeting between the two teams in 2010—the one that wasn't the Miracle at the Meadowlands Part II.
The Giants were completely devastated by this play. However, had they known what was coming only several weeks later, they would have taken this as a slight victory.
Vick bobbles the snap, but makes the quick adjustment by finding McCoy in the backfield for the toss. All Shady needs are two good blocks and he's gone.
Just like that—it's 23-17 Eagles and LeSean McCoy has once again shown the world why he's a premier back in this league.
Keep Reading

Philadelphia Eagles: Like this team?