Drew Brees Contract: Media Reportedly Blowing Squabble out of Proportion
June 6, 2012

Ezra Shaw/Getty Images
The New Orleans Saints continue to perplex the football world with their reluctance to meet Drew Brees' contract demands. In the wake of the Saints' bounty scandal, Brees' presence has never been more important.
In the past few months, reports have talked of Brees being supremely greedy, possibly even demanding upwards of $21 million per year and possibly even as high as $23 million per year, according to Pro Football Talk.
However, PFT also cites a source that says this is far from the truth and that Brees and the Saints aren't nearly as far apart as reported: "Per a source with knowledge of the situation, that's not the case.  Brees, we're told, has never asked for $21 million. And the Saints are believed to be offering more than $18 million, possibly closer to $19 million than $18 million."
Brees himself was quoted by PFT in mid-May, saying, "The numbers that have been thrown around by ESPN and some of these other places, at times, have been pretty heavily inflated."
If that be case, and of course it could just be posturing by Brees in an attempt to get what he wants, the Saints are foolishly wasting time.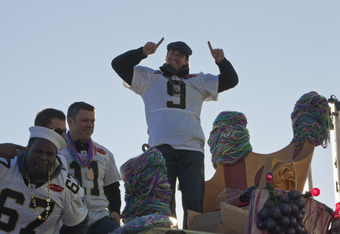 Skip Bolen/Getty Images
This is an organization that has been to the postseason in three straight years, including their only Super Bowl win, after making the postseason only six times in the previous 41 years. It goes without saying that Brees is not only a huge part of that success, but he's the key component of that success.
It's true New Orleans was one of the only teams that showed the signal-caller any love after his disastrous shoulder injury in 2005, but he's repaid the team in full and then some since arriving. How and why GM Mickey Loomis and the rest of the front office feel justified in their stance against the franchise quarterback is still mind-boggling.
Only the Indianapolis Colts were more dependent upon a single player than the New Orleans Saints in recent years, and while that backfired, it did so because of unforeseen circumstances—Peyton Manning had never missed a game in his career prior to last season.
Not only do the Saints owe Brees, but they desperately need him. With head coach Sean Payton and defensive leader Jonathan Vilma suspended for the season, the Saints cannot afford to keep their QB away from the facility any longer.
If this report is accurate and the Saints and Brees aren't nearly as far apart as it seems, then it is time to get this deal done immediately.
"How now brown cow" ... You can catch me on Twitter, too.