Miami Heat: How the Breakup of the Big 3 Will Play out
June 6, 2012

Mike Ehrmann/Getty Images
The Boston Celtics are one win away from reaching the NBA finals for the third time in the past five years.
The Miami Heat, on the other hand, are one loss away from the potential breakup of their 'Big Three,' as if they don't rebound to win the NBA Championship, major changes will likely be on the way.
First of all, the 'Big Three' concept in general is flawed.
If a team's 'Big Three' is built from within, similar to the way San Antonio Spurs did with Tim Duncan, Manu Ginobili and Tony Parker or the Oklahoma City Thunder did with Kevin Durant, Russell Westbrook and James Harden, then it works.
Building through the draft and controlling costs initially allows teams to be able to add quality pieces around those three stars.
Attempting to build a 'Big Three' through free agency doesn't work. Looking at Miami and even the New York Knicks, when three players take up the majority of the salary cap, you end up with poor depth. We are witnessing that first-hand with the Miami Heat, as they have an extremely unproductive supporting cast.
In the playoffs, you need depth, but you also need salary cap space to get that.
Miami's moments come as a result of individual brilliance and nothing that resembles team togetherness. You won't win many titles that way.
When guys like Udonis Haslem and Shane Battier are playing major minutes and not as role players, a breakup is in order in Miami. 
Here's a look at how that could play out.
James isn't going anywhere, as Pat Riley will have to try and build around him in a different way.
Riley knows that he has the best player in the game and he must find the proper pieces that fit. Right now, there's too much pressure on LBJ and it's showing.
To date, things haven't exactly played out the way that Riley envisioned things and James has had way more struggles late in games than anyone would like, but he still has the best player in the game to build around.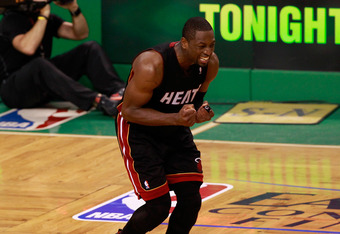 Jared Wickerham/Getty Images
Before LeBron and Chris Bosh came to town, the thought of the Miami Heat ever considering trading Dwyane Wade would have been laughable.
Now it could become a reality.
In fact, Wade is the guy that Riley should be the most aggressive in shopping. 
Wade is 30 years old and even though he is still one of the best players in the league, we've seen some signs this postseason that Father Time is creeping up on him. Once his athleticism starts to fade, what does Wade have left to make him a great player? He's not a great shooter and his game is based entirely on athleticism.
With the injuries starting to pile up, it makes sense to deal Wade and not take the ball out of LeBron's hands any longer.
However, dealing Wade would be unpopular and, even though it's not working, I have a feeling Riley holds onto Wade.
Chris Bosh
Bosh is a guy I think the Heat should keep, as he brings a different element that Miami doesn't otherwise have and that's a legitimate post presence.
The Heat are a much different team with him not on the floor and it has shown throughout the postseason.
Yet while I would shop Wade, Bosh is the likely one to go.
He's the easiest for Riley to move and cutting ties with him won't cause a PR uproar.
One thing most people don't realize, though, is that by trading Bosh's $17.5 million he's due next season, Miami will have to take salary back in return, so it won't be major a player during free agency as it currently has $78 million on the books already for next season.
Therefore, while I think they deal Bosh, depending on what they get in return, Miami will likely have the same problems it has now. It will be small and lacking depth.
Dealing Wade would bring in more of a return than dealing Bosh.
The Best Scenario
The perfect scenario to shake things up in Miami, as Mark Travis of the Corpus Christi Caller Times says, involves dealing both Wade and Bosh to the Orlando Magic in exchange for Dwight Howard, Ryan Anderson and J.J. Reddick.
It's a trade that works for both teams.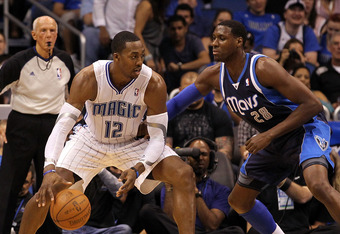 Sam Greenwood/Getty Images
Financially, the Heat would be sending out $31.7 million in salary in Bosh and Wade and taking in roughly the same, depending on what Anderson signs for as a restricted free agent, which is something Orlando would have to do first.
For Miami, think about the possibilities of being able to run the pick-and-roll with LeBron and Howard all game long. Then Reddick and Anderson can spread the floor and actually make shots.
Things could get ugly in the fourth quarter with neither James nor Howard being real clutch shooters, but by adding the additional shooting in Anderson and Reddick, it should take some pressure off LeBron.
As for Orlando, it gets rid of the Howard drama and adds two superstars in the process.
How it will Play Out
While Riley is known to be aggressive, he won't move LeBron or Wade, even though that's probably his best chance to build a winner.
There won't be much of a market for anyone else, so Riley will deal Bosh in an attempt to add more length and size to the Heat roster.
But in the end, it just leads to a similar offense as we see now, with James and Wade holding the ball a lot. They are too similar of a player and it won't work.
In addition to Bosh, Erik Spoelstra is all but gone from the Miami bench, after getting out-coached by Doc Rivers the entire series.
Yet while that may be true, another coach not named Phil Jackson isn't going to do much more with this team. All that's happening is that Spoelstra will be made out to be the scapegoat for Miami's struggles.
It's really not Spoelstra's fault for the lack of cohesion. He has two players who need the ball in their hands and that's not a good recipe for chemistry. LeBron and Wade's failures to make plays in the last seconds of games are not Spoelstra's fault.
But he will be to blame.
So in 2013, expect to see a new coach roaming the Heat sideline, Bosh in a different uniform and the same old problems in Miami.