Heat vs. Celtics: Game 6 TV Schedule, Live Stream, Spread Info and More
June 6, 2012

Mike Ehrmann/Getty Images
The Boston Celtics had a chance to beat the Miami Heat in Miami during Game 2 but let it slip away.
Paul Pierce wouldn't let that happen in Game 5.
Thanks to a late clutch three from Pierce, who had struggled all game, and some clutch free-throw shooting from Ray Allen and Kevin Garnett, the Celtics are heading home for Game 6 with the opportunity to close out the Heat and head to the NBA Finals.
Boston outplayed Miami for the fourth consecutive game, despite the return of Chris Bosh, who scored nine points in 14 minutes of action.
Looking forward to Game 6, for Boston it may be as simple as continue to do what they've been doing.
For the Heat, it's the same old story. Who's going to produce other than LeBron James and Dwyane Wade? Until they find that answer, the Heat are one loss away from failing to reach their goal again.
Can the Heat rebound and send this series to Miami? Or should the Celtics start making plans for the NBA Finals?
Here's everything you need to know about this pivotal Eastern Conference finals matchup.
When: Thursday, June 7 at 8:30 p.m. EDT
Where: TD Bank Garden in Boston, Massachusetts
Watch: ESPN
Live Stream: ESPN3
Betting Line: Miami (-1.5) via 5Dimes
Heat Key Injuries (via CBS Sports)
No Key Injuries Reported
Celtics Key Injuries (via CBS Sports)
Out: Avery Bradley (shoulder)
What They're Saying
ESPN's Jackie MacMullan takes a look at the doubters, including herself, and why the Celtics are in the position that they are in right now. MacMullan writes that it's all about teamwork and trust, and Boston has that. Miami doesn't.
And so here we are. The team nobody said could win this series -- and yes, that absolutely, positively included me -- the team that is too old, too fragile, too hurt, whose margin of error is too small, whose bench is too anemic, whose lack of athleticism is too much of a handicap, is now up 3-2 in the conference finals, with a chance Thursday night to close it out on the parquet floor.

Shame on me for doubting champions who have been there before, who draw from deep reservoirs of pride and experience, who trust each other implicitly, who, as Allen explained, "know what we want to do, where we want the ball, have an idea of the plays we should call. We've been together so long, you see us in the huddle at a timeout exchanging ideas."

We can only guess what the Miami Heat were saying in their huddle. (A guess: What the hell do we do now?)
On the other side of the ledger, ESPN's Israel Gutierrez calls this the worst loss in Miami's Big Three era and comments on LeBron James shying away from the big moments once again.
LeBron James can vary from the greatest player to wear a jersey to the most frustrating talent in league history. Erik Spoelstra constantly shifts from underrated tactician and manager of superstars to overwhelmed apprentice with no feel for the game. Dwyane Wade teeters between the league's best shooting guard and a damaged player past his prime. And as a whole, the Heat are generally viewed as the league's greatest team or its greatest disappointment, and rarely, if ever, in between.

With that in mind, and with no disrespect to the resilient Boston Celtics who might only be fully appreciated whenever this improbable run of theirs comes to an end, Tuesday's Game 5 loss to Boston is the worst loss the Big Three version of the Heat have experienced. That's not an overreaction.

Yes, it was worse than the Game 2 loss to the Mavericks in last year's NBA Finals, in which the Heat blew a late 15-point lead. That Mavericks team was deeper and more talented than this version of the Celtics, and Dallas' best player was in the midst of one of the best postseason runs the NBA has ever seen.

Instead, what you saw was James shying away from the bigger moments in another high-stress game. (James' close-out performances against the Celtics and Bulls in last year's playoffs did not carry the same kind of pressure as Tuesday's series-changing game did, simply because the Heat had the luxury of the 3-1 lead in those other series.)
Most Important Player to Watch: LeBron James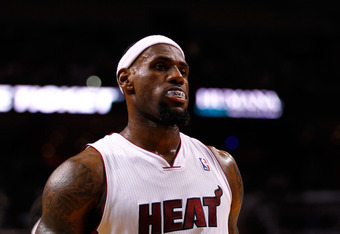 Mike Ehrmann/Getty Images
Speaking of LeBron, he was the best player on the floor once again for the Heat in Game 5, turning in a solid 30 point, 13 rebound effort.
But James had to watch Boston's Big Three make plays in the clutch, while he is constantly criticized for being unable to do the same. In fact, LeBron took just four shots the final 8:10 of the game.
Yet. it's not his fault that he gets no help from anyone else. James may get blame thrown on him, but his group of supporting players missed countless open shots and lost enough battles for loose balls that ultimately kept the game close.
Instead, for the Heat to have a chance to send this series back to Miami, James is going to have to put the entire Miami team on his back. It may take a performance similar to what LBJ turned in during Game 4 of the Pacers series when he turned in one of the greatest postseason performances of all time, scoring 40 points, grabbing 18 rebounds, dishing out nine assists, blocking two shots and recording two steals.
If James doesn't turn in something superhuman, then this could potentially be the last we see of Miami's Big Three.
Key Matchup: Kevin Garnett vs. Entire Miami Frontcourt
KG has been unstoppable the entire series and has destroyed the Heat in the paint.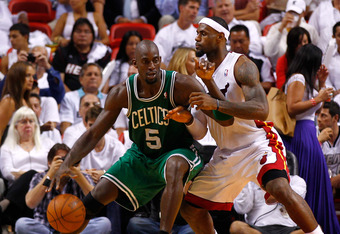 Mike Ehrmann/Getty Images
Heat coach Erik Spoelstra started his third different center in as many games and it didn't matter as Garnett continued to amaze, scoring 26 points and grabbing 11 rebounds. In addition, the Celtics scored 40 points in the paint as a team on the night.
Garnett has averaged 21.6 points and 10.8 rebounds this series while shooting 49 percent from the floor.
It's going to take a team effort from Miami in order to stop him, but I don't think they have it in them.
A key sideline matchup to look at is between the coaches, as Doc Rivers has clearly outcoached Spoelstra the entire series.
Unless Spoelstra can make the necessary adjustments and the Heat can start executing in the clutch, as they are shooting only 29 percent down the stretch of games, this series is over.
Prediction
Celtics 92, Heat 89